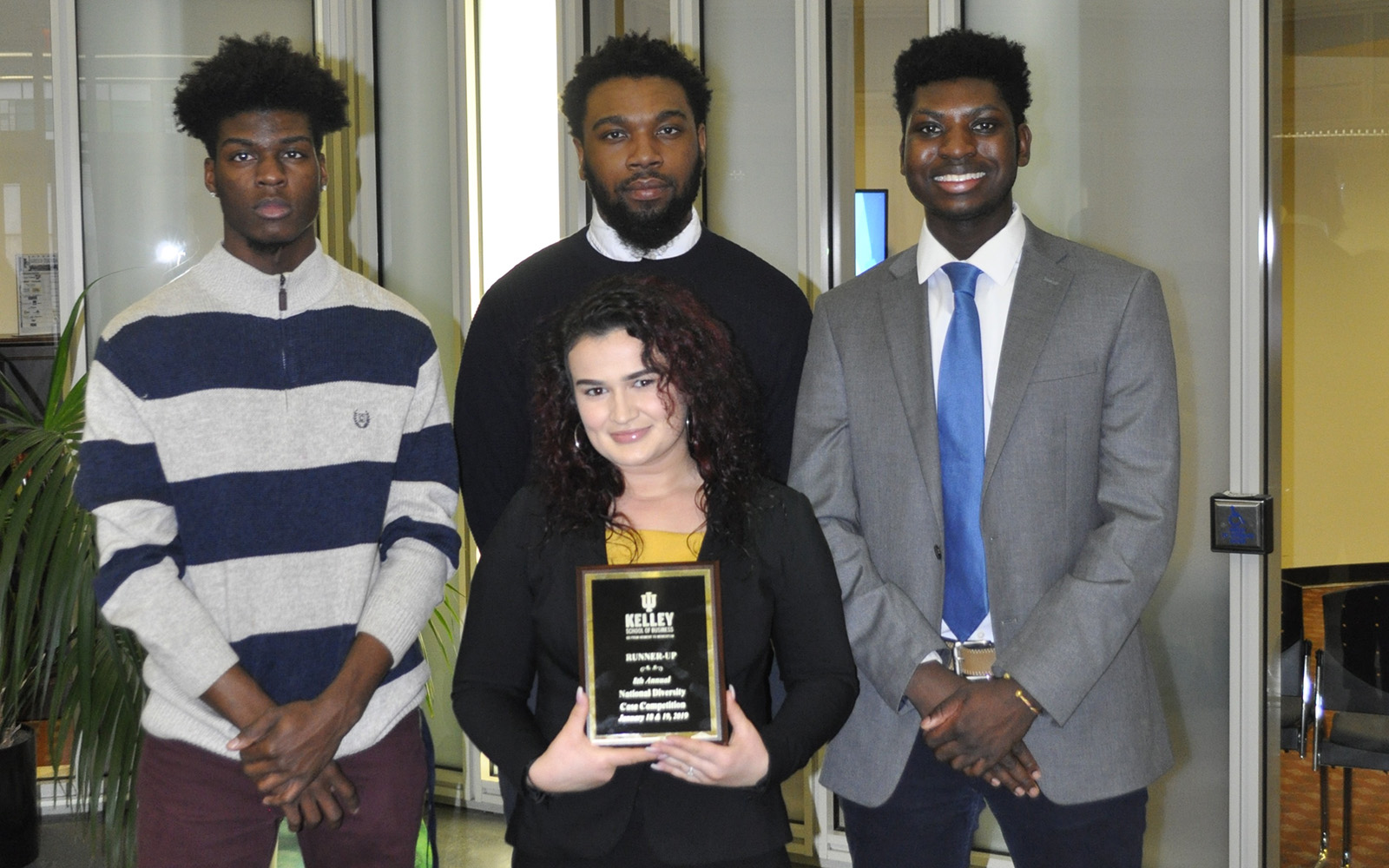 Four UConn students, who all grew up in Hartford, used personal examples of how difficult it can be to find fresh food in the capital city, impressing the judges at the National Diversity Case Competition in Indiana last month.
The team of Nicholas Furlow '21 and Belma Pehratovic '20 (both MIS majors and Travelers EDGE scholars), Sean Brown '20 (finance), and Aaron Hooker '22 (political science), described how Hartford is a 'food desert' and presented the research they had done to back up their claim.
'They Incorporated Their Personal Stories'
"The judges were impressed with the UConn team because they used storytelling to get their message across and personalize their pitch," said team advisor Seanice Austin, who is also the director of Diversity Initiatives at the School of Business.
This year's case was organized by Target, and 42 college teams from across the nation were asked to identify a place where they thought a small Target grocery store would be needed.
"Because they're all from Hartford, they know the struggle without a large grocery store in the city and the difficulty of finding fresh fruit and vegetables. They incorporated their personal stories in the presentation," Austin said. "The feedback from the judges was that they conveyed the knowledge and understanding of diversity well, and offered compelling and purposeful arguments."
The UConn team finished as one of the runners up. Among the 42 participating colleges were: Babson College, Boston College, Brigham Young University, Cornell, Georgetown, Georgia State, Howard, Miami, University of California at Berkeley and Vanderbilt. The 8th annual Diversity Case Competition was held at Indiana University. This is the first time UConn has sent a team.
Brown said the team conducted intense research in to the food issues plaguing Hartford. "Participating in this project opened my eyes to how companies can help enable progress in underserved communities," he said. "This experience has inspired me to continue research in this direction alongside members of the UConn Consulting Group."
Seeking Diversity within Diversity
Pehratovic said in addition to the case competition, the experience gave her a new sense of the power of diversity.
"I have realized that we are taught to see diversity through one lens… I feel that each background brings a very different perspective to teams, which is fundamental to the success of a team. The National Diversity Competition taught me that there is 'diversity in diversity.' As silly as this may sound, it's important to expand that lens we view diversity with," she said.
"Diversity is not simply bringing one person of each background into a team and asking them their perspectives on a case; it is embracing differences beyond just someone's ethnicity and using those differences in perspective to the team's advantage. It is very easy to look at a person's outer layer and determine that they are 'diverse," she said. But diversity embraces various aspects of a person's background and the perspective he or she has acquired in life.
Competition Drew Prominent Corporations
For Hooker, the case competition was inspiring.
"What I saw were a lot of individuals quite like me who wanted better for themselves. After all, isn't that why we were there?" he said. "There were many corporations that were interested in seeing us as students and how we thought. They wanted to know what we could do when given a problem. What unique ways could these students solve the problem?"
In addition to Target, the other corporations in attendance included: Abercrombie & Fitch, Amazon, Bank of America/Merrill Lynch, Dick's Sporting Goods, Ernst & Young, General Electric, Geico, PwC and Whirlpool.
Austin commended the team for its hard work and dedication. Because the case wasn't presented until December, the team had to prepare and practice over the winter recess to participate in the competition, held over the Martin Luther King holiday weekend.
Furlow, who hadn't been on a plane in a long time, said he had done a couple other case competitions, both on campus.
"Having the opportunity to work with a team and competing against other minds from across the country offered another brand of excitement on the trip," he said. "The case competition allowed me to research ways to add the element of diversity to business expertise, while meeting diverse groups of people and companies via the networking sessions."
"All in all, it was a great experience to increase my business professionalism and I definitely look to do it again during my college career," Furlow said.