To say Blockchain is a complex concept is an understatement. But to say it's crucial for savvy business leaders to wrap their heads around it is too.
That's why the UConn School of Business' Connecticut Information Technology Institute (CITI) is grabbing the bull by the horns, bringing insights on the emerging and highly adaptable technology to those who need it through workshops, a DappDevs Blockchain chapter, the first-ever Blockchain symposium, and creating new classes this semester.
"I think this is a really big idea and I think it's going to play out in a lot of interesting ways," said Jeff Marinstein, a UConn instructor and former longtime IBM executive. "There's a lot of people poking at this thing, trying to find out what to do with it. The university is on the cutting edge in being part of it and there's a real breadth to what UConn is doing."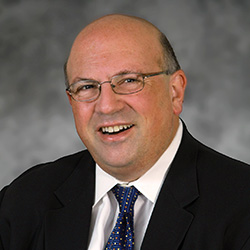 Marinstein, founding principal of the financial advisory firm Marinstein & Co., was the guest speaker for a free workshop on Blockchain geared toward corporate executives. The program was held at UConn Stamford on Jan. 24. More than 70 business professionals crowded the art gallery, eager to hear his insights on how Blockchain might affect their businesses.
For the uninitiated, Blockchain is a system in which a record of transactions made in bitcoin or other cryptocurrency is maintained across many computers linked to a network. It allows digital information to be distributed, but not copied, offering a greater security than other forms of technology.
Tom Heide runs Heide & Co., a Wilton-based strategic advisory practice focused on small- to low- market privately owned companies. He attended the January workshop because he believes Blockchain has the potential to revolutionize the way he and others do business.
He appreciated the opportunity to consider the possibilities the technology has to offer with Marinstein, a trusted expert in Blockchain, the Internet of Things, predictive analytics, artificial intelligence and other emerging technology.
"Being able to turn to a credible resource such as Jeff is invaluable and I'm delighted to see that the UConn School of Business has brought him on board to bring his extensive knowledge and experience to its students," Heide said.
Katherine Kelleher, a senior treasury analyst with Interactive Brokers of Greenwich, plans to attend future UConn Blockchain workshops. CITI plans two classes on Feb. 26 and March 26 that will explore the technology in greater depth.
"From Jeff's presentation, I was able to understand more about what Blockchain is and the potential effect it could have on world economics," said Kelleher, a UConn alumna. "We are already seeing cash's influence decrease around the world. Some people I know do not even have a physical bank anymore, so no ATMS, no bank branches to deposit checks.
"Blockchain is a very complex idea, but Jeff was able to break it down into simpler terms in order to explain it to someone like me, who may not have a strong understanding of what Blockchain is," she said.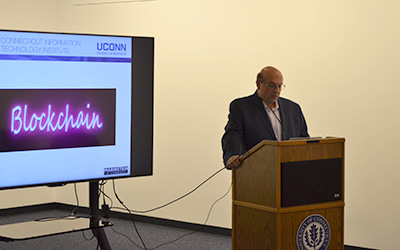 In fact, UConn is at the forefront of helping people better understand Blockchain's effect on businesses and, in turn, the global economy. In August 2018, the School of Business hosted the first-ever academic conference on Blockchain, featuring research presentations from 25 international experts on the topic.
The following month, the School launched its Blockchain chapter, attracting entrepreneurs and leaders from regional companies and startups who wished to share their knowledge, brainstorm and network.
"This is a very new technology and there is a lot of buzz around it," said Sulin Ba, associate dean of research at the School. "UConn is a research institution. We are really interested in exploring what this technology will do for us."
The interest is certainly there. After his presentation, Marinstein was surrounded by attendees interested in asking questions and learning more about upcoming classes.
John Masotti, founder of MM Blockchain Advisory in Stamford, considers it part of his mission to help others in the accounting profession unlock Blockchain's potential.
"He was fantastic," he said of Marinstein's presentation. "I've been obsessed with this for a while. It's nice to help other people understand it."