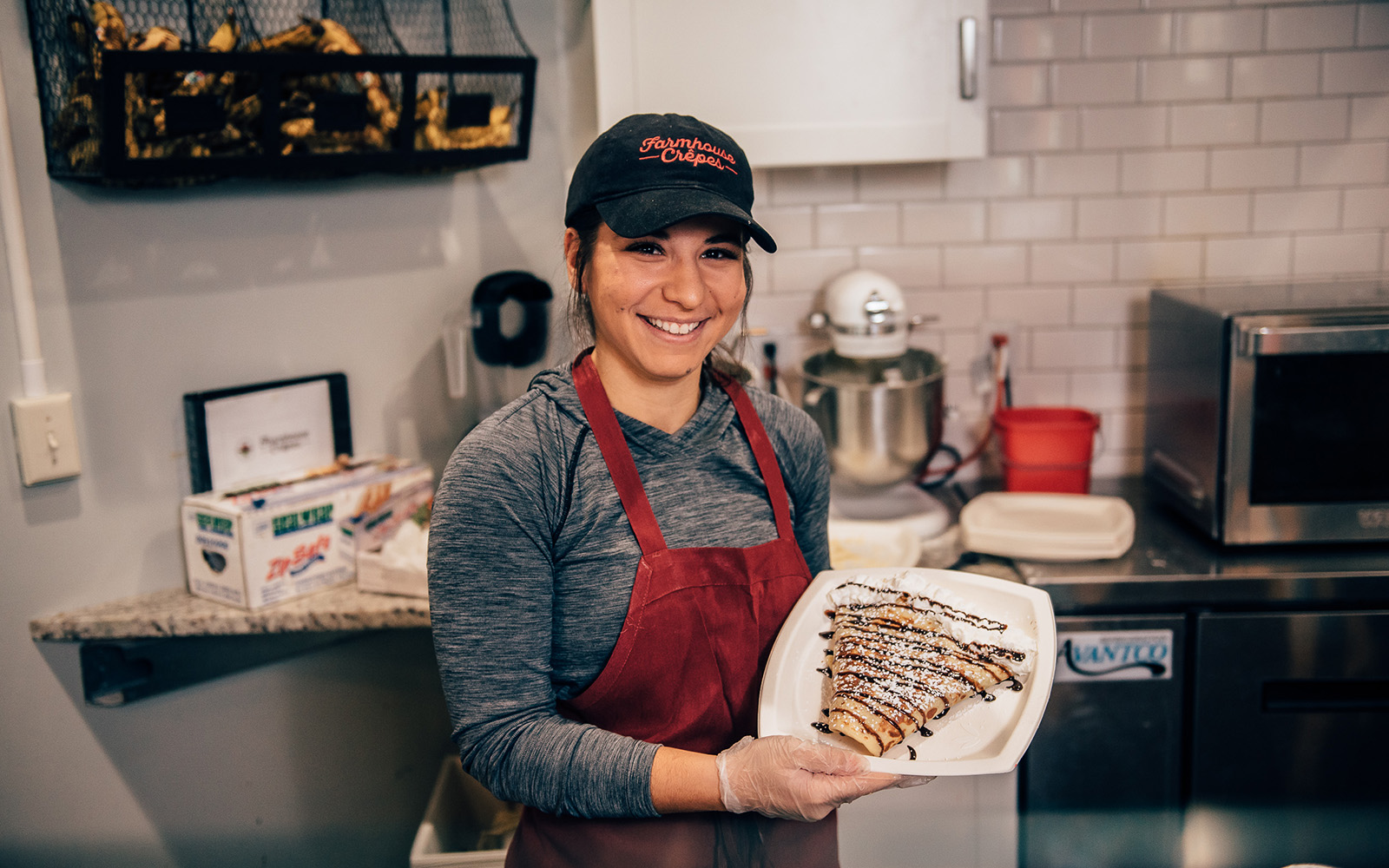 Ashley DeCarlo could best be described as unstoppable.
She's a finance major, captain of the UConn cheerleading team, a top student who holds down two jobs, a crepe expert, and a self-described mom to 32.
DeCarlo is so busy that she uses five day-planners to keep herself on schedule. Yes, five!
"I like to keep my life busy and interesting," said DeCarlo, a senior who grew up in New Fairfield, Conn. "I wouldn't find joy in sitting around and doing nothing."
Her enthusiasm for life is contagious. Her drive developed, in part, from watching others struggle.
"I've seen people in life not taking advantage of what's there for them. I've also seen a lot of people pass away before their time, whether by suicide or in accidents," she said. "I don't want to be 65 and wish I'd done more."
DeCarlo Became an Investor at Age 8
DeCarlo's finance career began at age 8, when her mom, Sue DeCarlo, a corporate executive who now owns her own investment company, taught her daughter about the stock market. They opened a joint investment account, and the younger DeCarlo bought stock in her favorite companies, like GameStop and Dick's Sporting Goods.
"I would invest half of any money I got for my birthday or other celebrations," she said. "I was really, genuinely interested in investing because I watched my mom do it."
Although investing was in her blood, she came to UConn intent on a career in biomedical engineering. "I had my heart set on it," she said. "My grandfather died of a faulty pacemaker and that's what drew me to the field. I wanted to change people's lives."
But several weeks into her first semester, she was drowning in the subject and realized it wasn't for her. Devastated, she didn't know if she would remain in college. She credits advisor Leo Lachut, UConn's director of academic support, for helping her focus on her strengths and switch majors to the School of Business. He later offered additional advice and career connections. She's excelled in finance, earning a near-perfect GPA.
Assisting Other Students Broadened Her Views
During her time at UConn, she has tutored students who are on academic probation about how to manage their time. "That's when I realized I really enjoy working with others and helping them," she said.
"Ashley was an outstanding role model and mentor to the students that she worked with throughout the semester," Lachut said. "Her strong work ethic, coupled with her compassionate nature, made her an excellent mentor to her fellow Huskies."
With the encouragement of Lachut and Professor Lucy Gilson, head of the management department, she added a minor in management to give herself additional options.
She said the faculty and staff have been most helpful to her, not only in the classroom but in establishing her career path, helping her at pivotal moments, and steering her toward internships.
"I would tell incoming freshmen that things aren't always as they seem," she said. "I've started some classes thinking 'This is going to be no fun' and was incredibly surprised. I've had wonderful professors at UConn," she said. "They taught me how to see things differently and how to work effectively with other people."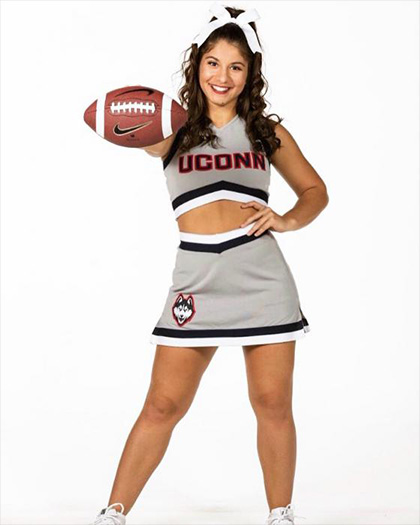 Cheerleading—the Sport that Stuck
DeCarlo started cheerleading in the 8th grade. "My dad [Wayne DeCarlo] didn't have a son, so he put me in every sport he could," she said, laughing. "The one he didn't select was cheerleading, and that's the one I stuck with."
She cheers for UConn football and both men's and women's basketball and has become friends with many of those athletes.
"To put it bluntly, I think cheerleading should be recognized along with every other college sport," she said. "We put in just as much work. Our team is cheering for football and both basketball teams. In November, when they overlap, it is intense."
"What I like most about cheerleading is the fan interaction. I'm the person I am because of cheerleading. I was shy in high school and through cheerleading I learned to talk to people. I especially love the little kids and talking to them about cheerleading," she said. "It has really been an important part of my college experience."
"You get the craziest requests as a cheerleader," she said, including a down-on-one-knee Valentine request that was endearing, but she has a long-time boyfriend in football player Mason Donaldson. "People will ask for kisses, or they'll ask you to hold their babies for a photo. Its nuts! We tell the new cheerleaders, 'You don't think this will happen, but it will. Wait and see!"
Although only 5-foot-2, DeCarlo said she has no issues being heard above the crowd. "I'm full Italian so I talk very loudly," she said.
She has been head captain for two years. "They all call me mom," she said of her cheerleading cohort. "My Instagram bio says I'm the mother of 32!. I literally 'mom' them, making sure they're all comfortable and being safe in the decisions they make."
Learning about Crepes and Mobile Banking
Behind the counter at Farmhouse Crepes in Downtown Storrs, DeCarlo has been known to enjoy an Oreo and Nutella crepe. And, no, they don't make waffles, she said, yet people often ask for them. In addition to cooking for the UConn-student-owned business, she runs the company's social media.
"I still get nervous when customers watch me make crepes," she said. "I've discovered the key to a good crepe is to pour the batter in one smooth motion. I love making crepes. I never thought I'd particularly enjoy it, but it's super fun."
She stacks her classes on Tuesdays and Thursdays, allowing time for cheerleading practice in the evenings and five days for work, internships and studying.
Her second job is at Geezeo, a fintech company based in Glastonbury, Conn., that makes platforms for mobile banking. DeCarlo works in the client success program and learned more about the product and how to talk about it with customers, as well as auditing their contracts with clients to make sure they were being charged correctly.
Final Semester Brings Sense of Excitement and Sadness
DeCarlo has accepted a full-time job with Insight Global, a recruiting firm that will soon open an office in Hartford. The company appealed to her because it offers robust career advancement opportunities. Ultimately she'd like to be her own boss.
"I want to own my own company someday. I have no clue exactly what it will be but eventually that's what I'll do," she said. "I'm very leadership oriented. I like the aspect of not having a boss. But I also like organizing and working with people.
"I'd like to be the kind of leader who has the respect of their people, but still has the compassion…the type of person you know you could call during a crisis at midnight and who would help you out," she said.
But right now she has other demands. She spent part of her vacation in California, visiting her older sister and her three nephews, ages 1 to 5. And she just adopted a pocket pit bull puppy named Theo, who she is eager to housebreak before classes get into full swing. She's also set an ambitious goal to raise $500 for Connecticut Children's Medical Center during this year's Huskython.
But after recounting her UConn experiences, DeCarlo pauses for a moment and is sentimental.
"I will miss UConn so much next year," she said wistfully. "Freshman year, I thought it was so hard I would never get through it. Now I never want to leave!"