Coogee Beach – where I live! (Victoria Myers/UConn School of Business)
After considering the plentiful study abroad options UConn has to offer, my heart was set on studying abroad at the University of New South Wales in Australia. UNSW offers a large selection of classes to choose from, which allows students to take both important classes for their major/minor or explore a vast array of classes they feel passionate about. Choosing a university that allows you to stay aligned with your plan of study is a key piece of advice for students thinking of studying abroad!
My journey to Australia started with bittersweet goodbyes with my family at JFK airport. Study abroad promises an exciting opportunity to explore a new country, but also means saying goodbye to your friends and family for a few months. Being an in-state student at UConn, family has never felt too far away. Studying in Australia removed me from my familial comfort zone, but has forced me to develop even greater confidence in myself and act as a fully independent women.
The flight to Australia was quite extensive, taking over 20 hours -yuck! Upon arriving, I had to shed my winter clothes and adjust to the 80 degree weather. It is peak summer time here in Australia and I am happy to say I will not be trudging through snow to get to class this semester! The university arranged transportation from the airport which took me to my apartment, my new home for the next 5 months in Coogee, a beautiful beach town. In Australia, it is less common for students to live on campus in dorms and instead students use public transportation to commute to school every day. Due to this, there is limited on-campus housing and I was not granted an on-campus accommodation. I flag this as an important point that students who are thinking of study abroad should consider. Depending on the program, accommodation might not be provided, and you may be on your own to find a place to live. Though the search for an off-campus accommodation was stressful, speaking with prior UConn students for guidance led me to find an apartment off-campus which was a 7 minute walk to Coogee Beach. Living in a house with 15 other students off-campus has allowed me to develop friendships and live in a vibrant and fun area.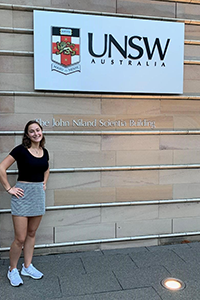 During my first week in Australia I spent the majority of my time attending lectures for my Indigenous Australian course, which is being taught as a 2-week intensive inter-session course. After class my housemates and I have escaped to the beach, explored downtown Sydney, and walked the infamous Bondi to Coogee Coastal walk.
The famous Bondi Beach – popular for surfing. (Victoria Myers/UConn School of Business)
For anyone visiting Australia this picturesque walk is a definite requirement! Overall, I am ecstatic to be studying abroad in Australia and I am excited for all the adventures to come!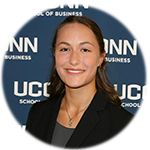 Victoria Myers
Student, UConn School of Business
Hello UConn! My name is Victoria Myers and I am a junior accounting major with a minor in economics. In my free time, I play on UConn's club field hockey team, volunteer for Big Brothers Big Sisters, and I am also a member of the UConn Consulting Group. A fun fact about myself is that I was born on Halloween; however, ironically, I am terrified of horror movies and the scary aspects of Halloween. View Posts