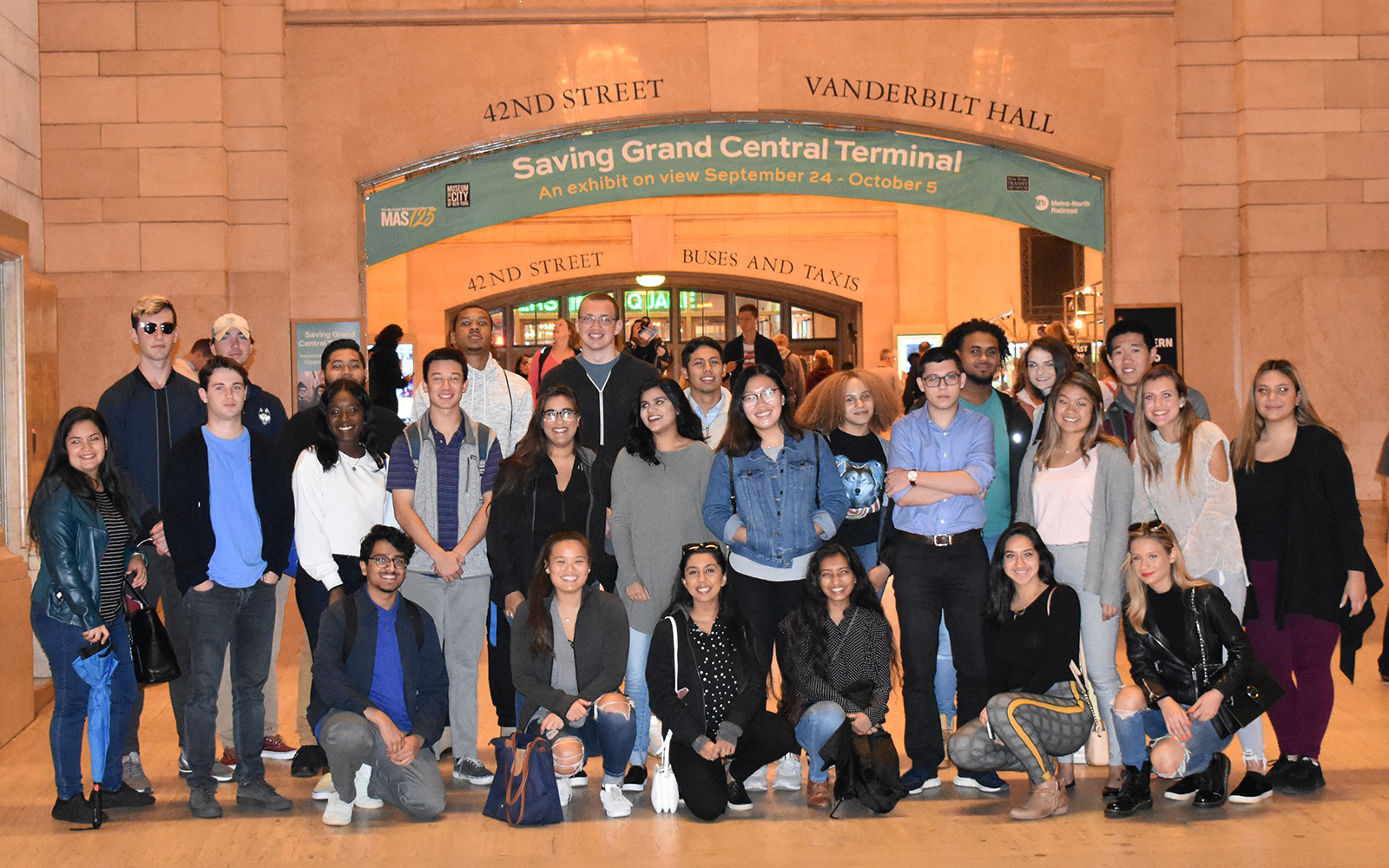 What better way to launch the new Business Connections Learning Community (BCLC) in Stamford than to arrange a trip to New York City for students to get a behind-the-scenes look at how ABC's Shark Tank show is produced?
Thirty students, all members of the new BCLC Stamford non-residential community, had the opportunity to learn more about the program and hear "shark" investors speak at the Tribeca TV Festival. The program features entrepreneurs vying for valuable business partnerships. The students saw five of the six Shark Tank investors in a panel discussion that also included the show's producers.
"I found it interesting when they said that even though the person may not have the best pitch or product, the sharks will invest in that person because he/she has a special side skill that may come in handy," said student Meilene Fung.
"They would look through thousands of pitch applications but only pick a hundred or so," Fung said. "The show's producers would then help them in creating the perfect pitch, making the entrepreneur deliver the pitch to producers before they were put in front of the 'sharks.'"
Student Po Sam said she saw how much hard work went into the success stories.
"I came to understand that the cornerstone of successful business relationships is collaboration," she said.
Stamford Program a 'Passion' Project
The BCLC launched at the Stamford campus this semester. BCLC Stamford is modelled after a similar program in Storrs but without the residential component, said Katherine Ruiz, program manager and Alumni Relations Coordinator for the School of Business.
The goal of the learning community is to provide students with unique opportunities to expand their business knowledge, strengthen their skill set, and network with School of Business alumni, faculty, staff and fellow students. Currently there are close to 70 students enrolled in BCLC Stamford, and Ruiz is building a community of enthusiastic alumni to support the program. "It has become a passion project to ensure that the learning community is transforming the business- student experience in Stamford," she said.
Sam, who is a data analytics major and resides out-of-state, said she was nervous about becoming a business student.
"I have been able to develop closer relationships with my peers, especially (during) the numerous New York City trips," Sam said. Other BCLC trips have included a visit to Jefferies Financial Group and a sit-in on a panel discussion about technology at the World Trade Center.
Fung, a financial management major, also said that joining the BCLC Stamford enhanced her college experience and that she is confident she will benefit from the many connections she is making in the business community.
"The companies are here, the alumni are here, and our job is to pair them with these opportunities," Ruiz said, adding that the students are enthusiastic.
Ruiz emphasized how much networking and mentoring connections are built into the program, especially in the city of Stamford, which has a large population of UConn alumni, many of whom are eager to speak with, and mentor, students. Networking nights are a continuation of exclusive BCLC courses that include First-Year Experience and Developing Career Connections in Business. Other student opportunities include the chance to become certified in Bloomberg Marketing Concepts, participate in an international case competition, as well as chance to spend a week in Macon, Georgia, volunteering with the the charity "Rebuilding Macon," as an alternative winter break.
"I believe all of the events in the BCLC community are great opportunities to gear our fellow business students toward future successes," Sam said.
Alumni interested in mentoring students in the BCLC Stamford program can contact Ruiz at 203-251-8465 or at Katherine@uconn.edu.