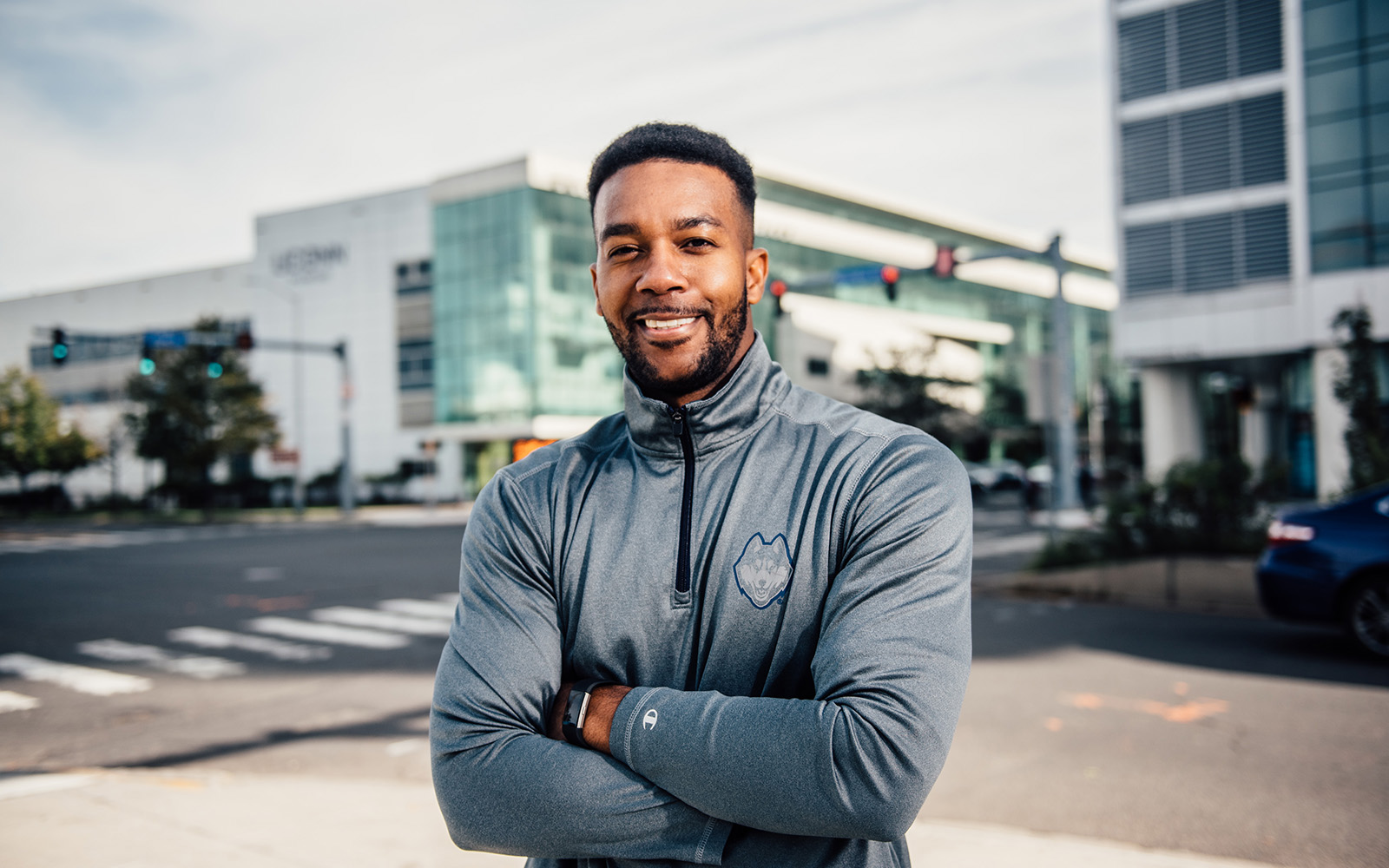 Editor's Note: Junau Boucard completed the NYC Marathon on Sunday in 4 hours, 29 minutes and 54 seconds. Heartfelt congratulations, Junau, from UConn Nation!
Leaving an Impact on the World
During the grueling, 26.2-mile New York City Marathon in November, Junau Boucard, a second-year UConn MBA student, will have plenty of time to think.
And when he's exhausted, depleted, discouraged, and his feet want to quit, his mind will take him back to last March when he visited Vietnam through a School of Business-organized immersion trip.
While there, he developed a powerful connection with the people of his host country. He's dedicating his marathon run, and any donations that he raises because of it, to making a better life for that country's youth. All of his earnings will be donated to Blue Dragon Children's Foundation, which fights poverty, human trafficking and other social issues.
"While in Vietnam, I fell in love with the food, the people, and the culture," said Boucard, who is earning his degree in Stamford while working full-time at FactSet, a financial software company.
"But I also witnessed firsthand the poor condition of so many street kids in Hanoi and Ho Chi Minh, who had no stable housing, food, or access to education."
When a representative of Blue Dragon, based in Hanoi, talked about the organization's mission, and how they are able to rescue children from terrible, abusive situations and return them to their homes, Boucard was moved.
"It really inspired me. I thought, 'Maybe I could help when I get back to the United States,'" he said. "I've always wanted to leave an impact on the world, to make it better than it was when I came in. If I can help the life of one person, it will impact them forever."
'I'm Trying to Make My Parents Proud'
Boucard was born in Haiti, and moved to the United States as a 7-year-old.
"Growing up in Haiti, there was a great deal of political instability. My family moved here so that I could receive a great education and have a brighter future," he said. "I'm trying to make my parents proud. I really love learning. By nature, I'm an intellectually curious person."
Boucard has worked at FactSet for the last five years and is currently in a product development role. He has been in the part-time MBA program in Stamford for two years, taking classes year-round without a break. He expects to graduate in Spring 2019.
"I hope to take my career to the next level at FactSet or join a leadership rotational program at a Fortune 500 company," he said. "I enjoy finance and technology and leveraging data to solve business problems. I love asking big questions, finding connections between things, and solving problems."
He said he enjoys his classes, especially management strategy and learning from mistakes that prominent business leaders have made while trying to build great businesses. He also excels in finance classes, working in diverse teams, and is intrigued by international business.
Upon completing his master's, Boucard will be a two-time UConn alumnus, having completed his bachelor's degree in business administration in 2011 in Stamford.
Pushing His Body to the Limit
The New York City marathon was a 'bucket list' challenge that Boucard had considered for some time. Runners must qualify or enter a lottery to participate, and in late January he learned that he had been selected as one of the more than 50,000 runners to participate in the marathon, which crosses all five of the city's boroughs, on Nov. 4.
"I've always been inspired by people who run marathon or triathlons and push their bodies to the limit. Running a marathon has been on my bucket list for a very long time, but I never followed through or took it seriously until this year," he said.
"My motivation stems from working full-time and taking MBA classes at night for the past two years," he said. "The UConn MBA program taught a lot about time management, setting ambitious goals, and that great things happen when you step out of your comfort zone."
The training has been difficult to fit in to his busy schedule, and he tries to schedule longer runs on the weekend; there is rarely time for extra sleep.
"I've always been fairly athletic, but I'm not a runner," Boucard said. "I like to play pick-up basketball with friends or lift some weights to stay in shape."
He said he's good at pacing himself. But at 200 pounds, he doesn't have a classic runner's body. "Since I started training, I lost about 15 pounds and my pants and other clothes are all too big now,!" he said, adding that he never thought he could run even a half-marathon without stopping. Now he knows he can.
Blue Dragon Tackles Human Trafficking and More
During the 10-day Vietnam trip, Boucard learned about emerging markets finance and supply chain management across the globe. He learned about the Vietnamese government, the currency, and the ties between countries within Southeast Asia. He and other graduate students visited Coca-Cola, Intel, the U.S. Embassy and the Ho Chi Minh Stock Exchange. The country is growing rapidly, thanks to its well-educated people, Boucard said, and its low labor costs.
"The immersion in the Vietnamese culture, and the uncovering of the ensuing problems associated with an emerging economy, during this educational trip were a true eye-opener to the group," said OPIM Professor Jan Stallaert. "The students were extremely moved by the stories of human trafficking as revealed by Blue Dragon, and the whole group is now supporting Junau morally and financially in his endeavors in ameliorating this situation."
"After meeting with the civil rights attorney from Blue Dragon, I was moved by his passion and drive to help kids in crisis," Boucard said. "I wanted to do something to help, but didn't know where to start since I had no prior experience working with charities and fundraising."
He shared his interest with UConn program manager Marlys Rizzi, who recommended using the marathon as a springboard to help Blue Dragon.
"Junau was an outstanding undergrad who always pursued opportunities that were beyond the requirements for classes or activities. He set outstanding goals and achieved them, no matter how hard he needed to work or push himself," Rizzi recalled. "His talents are always shared with others and he has grown into an outstanding leader among his peers. When he came back to UConn for his MBA, he again not only completed the classes but engaged in the international trips to enhance his learning. We wish him the best in the marathon."
Crossing the Finish Line
Boucard said he's very determined to finish the race, which ends in Central Park, but knows the last six miles will probably be the most brutal. "It's going to take a lot of grit, perseverance and adrenaline to finish those last six miles, and a good playlist on Spotify."
"I've been thinking about what it will feel like to cross the finish line," he said. "It's going to be a big accomplishment because of the training, dedication, time commitment, and also doing it all for a great cause. Once I'm done, I know I will celebrate by taking in the moment with my wife and my newborn baby girl (born on Sept. 19), having a nice dinner, and probably eating ice cream. A lot of ice cream!"
To send Boucard words of encouragement, you can email him at junau.bouchard@uconn.edu. To offer financial support for his goal of $3,500, visit his funding page at https://www.crowdrise.com/o/en/campaign/bluedragon-2018-nyc-marathon/