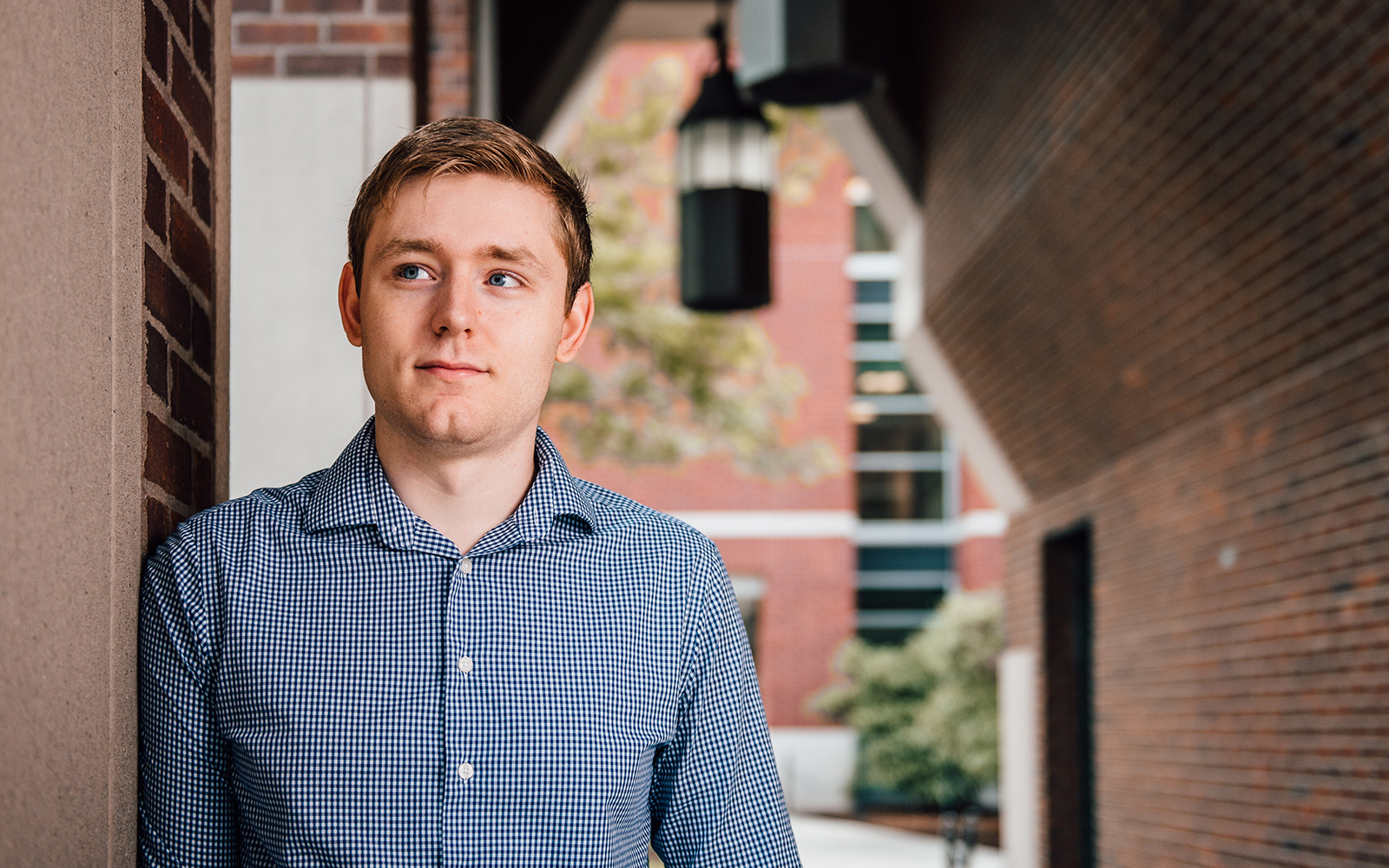 Matt Bradford '16, '17 MSA Earns One of the Best CPA Exam Scores in the Nation
Two-time accounting alumnus Matthew Bradford '16, '17 MSA earned one of the best CPA exam scores in the nation, and the top one in Connecticut, during 2017.
Bradford is one of only 58 CPA candidates, out of 95,800 test takers, who obtained a cumulative score above 95.5 across all four sections of the CPA exam in the national test.
He also earned the top score among the 1,200 CPA candidates in Connecticut, according to the American Institute of CPAs, which just released the results. Bradford received the Institute's Elijah Watt Sells Award for outstanding performance.
Bradford, who is an assurance associate for PricewaterhouseCoopers in Hartford, is low-key about the recognition, saying he was happy to share the news with his family and co-workers. When he started to study for the CPA exam, he realized how well UConn had prepared him.
"The accounting faculty is great. I couldn't have done it without them. Every class offered something that was on the CPA exam," said Bradford, who had a perfect GPA both during his undergraduate and graduate years.
When asked how he achieved that distinction, he was modest. "I don't really know," he said. "A combination of luck and some hard work."
Accounting Faculty Delight in Bradford's Achievement
"This is an exceptional achievement for Matt," said Professor George Plesko, accounting department head. "It also makes me proud of our accounting programs and the faculty here at UConn, who are able to provide a strong educational foundation for our students."
Ricki Livingston, director of Online Programs in Accounting at the School of Business, taught Bradford in two of her classes and said he was clearly an achiever.
"From the initial review of Matt's application to the MSA program, it was clear that we had an exceptional student interested in our program," she said. "Throughout the program, Matt not only excelled academically, but more importantly, he demonstrated upstanding character. In his application essay, he expressed the importance of people helping one another through challenges in life. In his courses, I witnessed this attribute in action as he actively served to support his fellow classmates. I am certain that the Elijah Watt Sells Award is just one of many accolades that Matt will achieve in his lifetime."
She said the faculty were tremendously excited about their former student's achievement, and Bradford has accepted their invitations to return to campus in the fall as a guest speaker.
Bradford said the advice he would offer students is that the CPA distinction is within reach.
"Take your classes seriously, and put effort into everything you're doing," he said. "Many people find the CPA exams intimidating and have a hard time imagining passing them, but they are based on the material you've been learning for years. If you work and study hard, you're almost always going to pass."
Bradford, a native of Tolland, Conn., said his mother has an accounting degree but works in another field, however perhaps he inherited her talent.
"I think one of the misperceptions people have is that accounting is all about numbers, but it is also about understanding how a business works," Bradford said. "I spend more time writing than I do anything else."
As an assurance associate, he audits companies, looking for evidence that their financial statements are accurate. That doesn't always mean everyone is excited to see him.
"I try to be friendly and open with everyone I talk to," he said. "Not everyone is excited to answer questions from auditors, but hopefully it doesn't ruin their day either."
Didn't Become an Accountant to Buy a Yacht
Bradford said one of his life goals is to make a difference in the world.
"To some people it might sound kind of odd for someone who goes into accounting, but my long-term goal is to find a way to make the world a better place," he said. "I'm not focused on making a ton of money and buying a yacht."
He said he would like to get involved in government or a non-profit, or maybe even start a company one day that would help solve a world problem. "I like the idea of solving problems. I'd like to think I can do that in the future. I'm not sure exactly what I want to accomplish—I'm still a work-in-progress on that front."
In his free time, Bradford likes to play acoustic guitar and is taking up golf. But the new hobby hasn't earned him the stellar recognition that his test scores did.
"I'm trying to learn golf, but I'm really bad at it," he said. "But it's great to get outside after a day in the office."