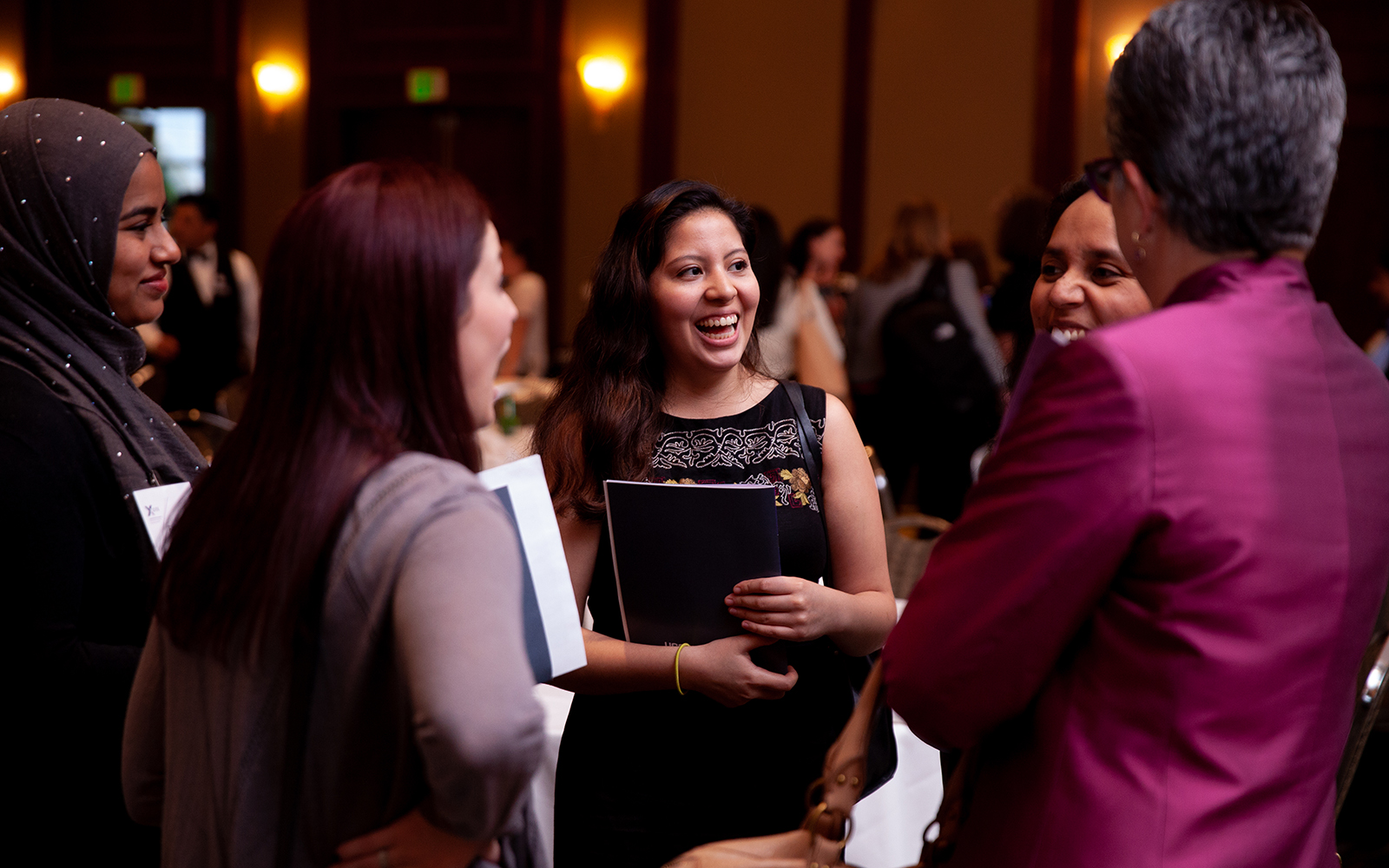 Senior Elizabeth Gallucci '19 already has a long list of achievements on her resume, including working as an undergraduate teaching assistant, volunteering at a startup that serves underprivileged children, and studying in London.
But attending UConn's xCITE Conference for women entrepreneurs was particularly gratifying for her.
"Entrepreneurship is a passion of mine. I'd love to start my own company someday," said Gallucci, a business management major who is interning this summer at Loeb.nyc, a startup lab and early-stage private investment company. "Entrepreneurs have the greatest purpose in the world; they want to change something for the better. For me, meeting women entrepreneurs is empowering."
"Young People Doing Cool Stuff"
Some 180 people attended the annual xCITE conference, sponsored by the School of Business, which focuses on advancing women entrepreneurs, particularly in the technology sector. Guest speakers at the May 23 event at the Stamford Hilton included: Marcia Fournier, founder & CEO of Bioarray Genetics Inc. who spoke about the future of medicine, particularly cancer treatment; Sarah Hoffman, vice president and associate director of Machine Learning at FactSet Research Systems, who talked about the future of machine learning; and Aaron Cohen, senior vice president of Logical Operations, who discussed the Internet of Things.
Other panelists included: Jennifer Openshaw, CEO of Girls with Impact; Denise Yap, vice president of corporate citizenship at Synchrony Financial; Kathy Rocha, director of operations at UConn's Werth Institute, Patricia Meagher, technology business adviser at the Connecticut Small Business Development Center; Tricia Hyacinth '09 MBA, director of the Fund for Women & Girls at Fairfield County's Community Foundation; Michelle Cote '02, '14 MBA, managing director of the Connecticut Center for Entrepreneurship and Innovation; Margaret Feeney '09 MBA, a social entrepreneur; Ali Berman, program manager at Connecticut Innovations; and Belinda Pruyne, CEO of the Business Innovation Group.
In his mid-20s, conference participant Tom Nassr is the CEO and co-founder of Checkmate Digital, a design and development agency that creates web and mobile applications. Nassr is also a mentor for UConn's top students from the Innovation Quest competition.
"This conference had such good energy and brought exciting entrepreneurs in to speak," said Nassr, whose New Haven company is celebrating three years in business. "It's great to see so many young people doing cool stuff."
Blockchain's Efficiency, Trustworthiness Solves Problems
Janine Grasso, vice president of Blockchain Ecosystem at IBM and the event's keynote, began her talk by emphasizing the can-do spirit she inherited from her grandmother, who was diagnosed with polio at 16. She was told she'd be bedridden or dead in five years. She refused to accept that fate and despite her confinement to a wheelchair, finished high school, married and had two children. When her husband divorced her, she didn't let it define her. She went to NYU and earned a bachelor's degree, then a master's degree.
"For me, that was my inspiration," Grasso said. "She said, 'Don't let anything define you. You can do anything you decide.'"
Grasso then spoke of changing technology and its ability to greatly improve people's lives. After working in finance and business development at IBM, Grasso recently joined the Blockchain team. "We believe this technology is game-changing," she said because it solves many of the inefficiencies, expenses and vulnerabilities that have existed in conventional business transactions.
Take for example, food safety, she said. In recent months both romaine lettuce and eggs have been recalled. It can take weeks to figure out from where the contaminated food originated, she said, and often retailers throw out untainted food because they aren't sure of its origin. But a new Blockchain study, done in conjunction with mango farmers, reduced the time to identify the origin of food from 6 days to 2.2 seconds, she said.
"Everything I Have in Life is Because of a Women Entrepreneur"
David Noble, the conference organizer and the director of UConn's new Werth Institute for Entrepreneurship and Innovation, said he feels passionate about women in entrepreneurship, having grown up with a mother who ran several successful businesses.
"Everything I have in life is because of a woman entrepreneur," he said. At the same time he realizes how difficult society has made it for women with entrepreneurial plans.
"From my vantage point, I see a massive disparity," he said. "Women do extremely well in our programs. The challenge is to attract them to these fields early. Our goal is to change the pipeline. Our School of Engineering does this particularly well by going into schools and talking to you girls about engineering. We want to replicate that with entrepreneurship."
"We've Got a Lot to Celebrate"
Fran Pastore, the founder and CEO of the Women's Business Development Council, and a trailblazer in women's business entrepreneurship, spoke passionately about the importance of investing in women's talents. There are 11 million women entrepreneurs in the United States and women launch businesses at twice the rate of men, she said.
"We've got a lot to celebrate," Pastore said, noting that 30 years ago women weren't allowed to access capital in their own name, they needed a male co-signer. She urged the conference crowd to mentor, advocate and sponsor women in business. "When women have a seat at the table, everyone wins," she said.
She noted that after 226 years, the New York Stock Exchange recently named its first woman president, Stacey Cunningham. "Yet less than five percent of Fortune 500 CEOs are women," she noted and less than 10 percent of all venture capital goes to women entrepreneurs. "We deserve a seat at the table," she said noting that companies are more successful when women hold positions of leadership.
The event concluded with the awarding of scholarships to some of UConn's students who are committed to innovation; and the well wishes of three state legislators who serve on the legislature's Commission on Economic Competitiveness, including State Sen. Scott Frantz, R-Greenwich; State Sen. Joan Hartley, D-Waterbury and State Rep. Caroline Simmons, D-Stamford. All of them said they welcome recommendations about how Connecticut can excel at entrepreneurship.
"We want Connecticut to be welcoming to young businesses and young entrepreneurs," Hartley said. "It's inspiring to be in a room filled with such brilliant women and determined entrepreneurs."