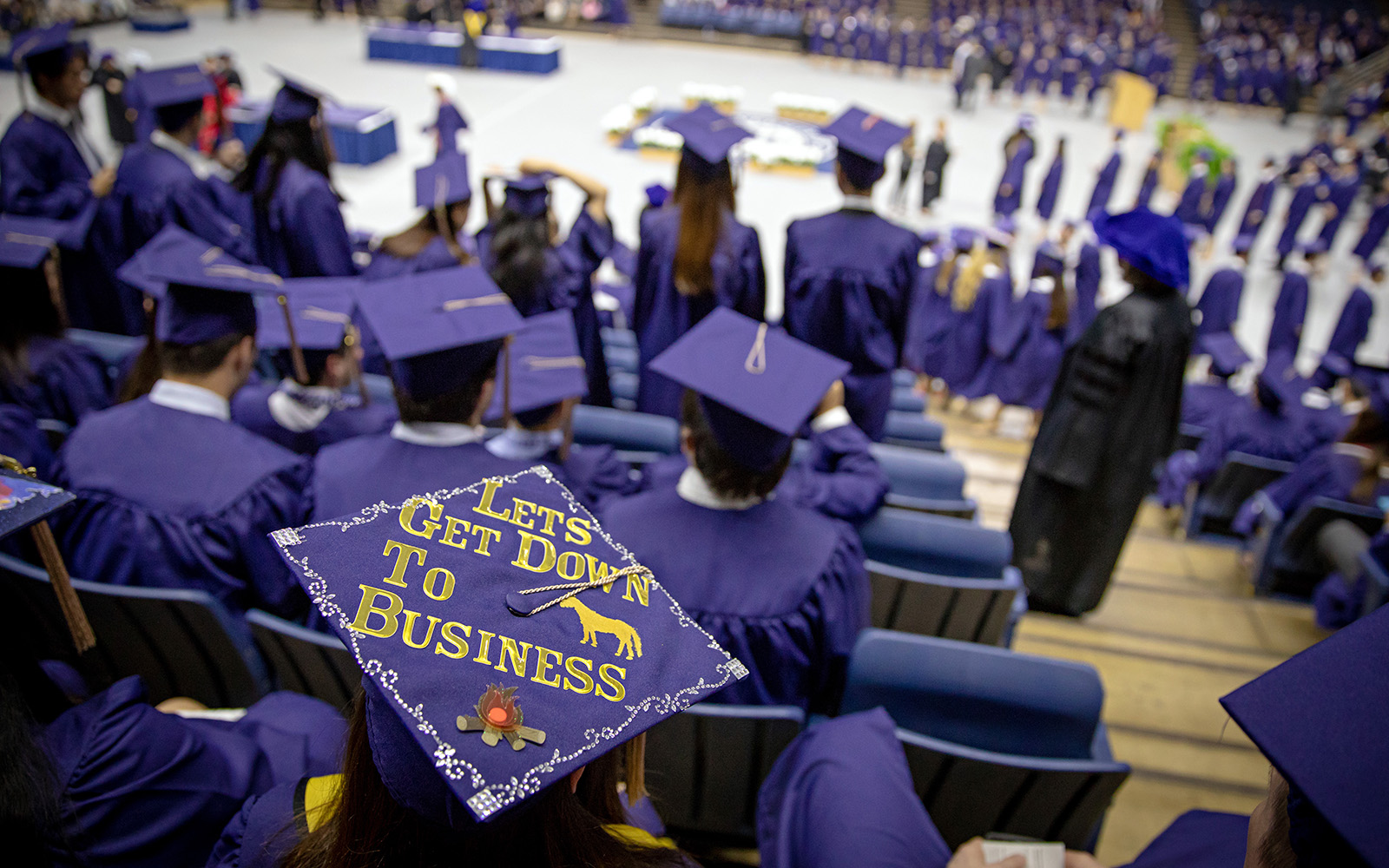 Fidelity Exec Kathleen Murphy '87 JD Tells Undergrads: Live the Life of Your Dreams
Live the life of your dreams, commencement speaker and alumna Kathleen A. Murphy '87 JD told almost 700 ecstatic undergraduate business students, their family, and friends, during the School of Business commencement ceremony Sunday.
Approach the next phase of your life with a robust "business plan" that includes five time-tested strategies for career and personal success, said Murphy, the president of personal investing at Fidelity, who oversees $2.4 trillion in assets, more than 19 million client accounts, and 14,000 employees.
"First, every business needs a clear mission and purpose and the most successful businesses pursue that mission with tremendous passion. What's your mission and purpose?" she asked. "Enduring companies with long-term success don't focus simply on making money… and neither should you. Of course, money is important. It's required to live and it helps fuel your dreams. But it's not your purpose."
"What's important is that whenever you have a choice, choose to do something that fuels a passion," she said. "Don't simply go after the job that pays more."
Murphy earned her juris doctorate with highest honors from UConn in 1987, four years after completing her Bachelor of Arts degree summa cum laude from Fairfield University.
After graduating from UConn Law, Murphy was offered a prestigious job with a well-known Wall Street firm, where she would have made a great deal of money.
"I turned it down for a corporate legal job in Hartford, at nearly half the pay," she said. "'Why?' you might be asking, as my parents certainly did. It allowed me to experience more interesting work and greater responsibility earlier in my career, at a company I truly respected. And I never regretted it."
Make sure you are focused on purpose and passion and being part of something bigger than yourself, she counseled the soon-to-be grads.
Spend Your Time Wisely
The second part of the plan is about how you spend your time, Murphy said, something that will define the trajectory and shape of your career.
"It is the governor of your success and largely determines the fullness of your life. Have clear priorities about how to spend your truly precious time," she said. Pursue your passion with "absolute excellence" and remember that if it's worth your time, it's worth doing well.
She said UConn Women's Head Basketball Coach Geno Auriemma demands excellence from his players and staff every day. "Channel your inner Geno and know, as he does, that excellence also demands hard work," she said. "Continue to embrace the grind that it takes to succeed."
Step 3: Take a Risk; Don't Settle
Don't ignore the need to take a risk, Murphy said. "Simply put: Go for it! Don't settle."
"The biggest regrets in business, and in life, are often the risks not taken. Everyone will fail at something. It's part of personal growth. Don't let a lack of self-confidence narrow your world and have you miss out on trying new things," she said. "If it doesn't challenge you, it will not change you."
This is the time to take calculated risks, to disrupt traditional approaches and to reimagine the future of business. "More change will happen in the next decade than in the last 50 years," Murphy said. "The opportunity is that big. Push yourself—you are worth the risk."
You Can't Outrun Your Reputation
Next, Murphy talked about each student's "personal brand."
"Your brand is built every day by how well you conduct yourself. Are you honest? Do you treat people well? Do you cut corners? Are you a person of rock-solid integrity and honor?" she said. "You can't hide from your brand—it follows you everywhere."
Murphy serves on the Board of Governors of the Financial Industry Regulatory Authority and the Board of Directors and vice chair of the National Football Foundation. She has repeatedly been named one of the "50 Most Powerful Women in American Business" by Fortune Magazine.
"I remember one of my law school professors always saying, 'It's a long life in a small state.' He was underscoring the point a long time ago that you can't outrun your reputation in the relatively small state of Connecticut," she said. "But since then, the whole world has actually gotten very small in this digital age. As you well know, it's hard to hide from anything today. Be proud of your brand and make sure it's consistent with your core values."
Make Time for Fun in Your Journey
The last ingredient in the business plan is fun, Murphy said. "Make sure you laugh a lot along the way of life's journey and have fun. Find the joy and humor in life, and stay positive. Be a force of positive energy. And don't take yourself too seriously," she said.
"My time today is up…and your time is just beginning. The world awaits you. Your opportunity to build and shape the future is literally unprecedented. It's exciting, it's energizing and it's exhilarating."
"My hope for each of you is that you, too, put a heck of a lot of life in YOUR years. Push yourself to achieve excellence and spend your time achieving more than you ever thought possible. Live the life of your dreams."