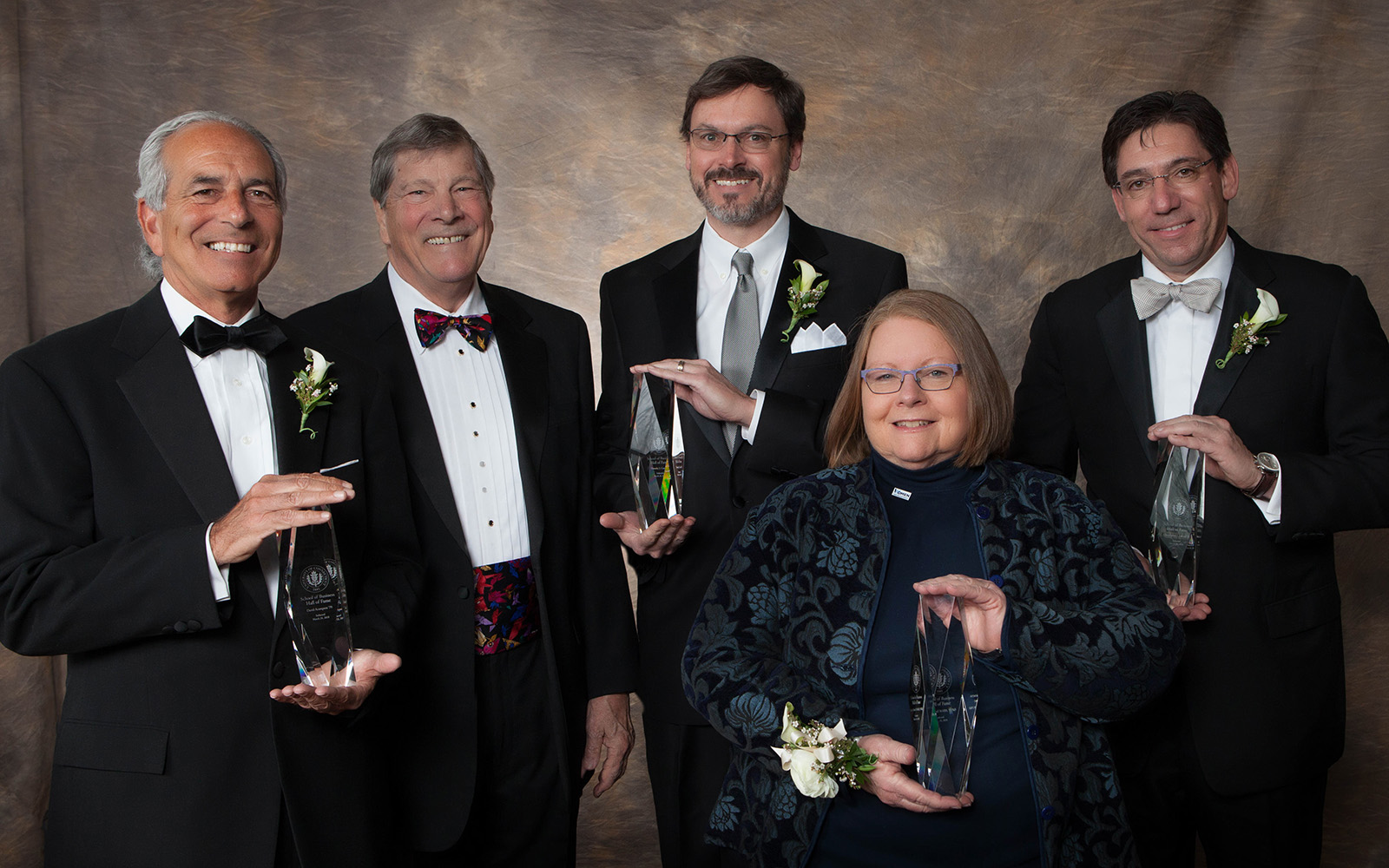 The School of Business inducted four accomplished business leaders into its Hall of Fame on Saturday, March 24 in a joyful ceremony that included memories of favorite professors, 50-cent UConn basketball tickets and enormous Dairy Bar hot fudge sundaes.
The event, held at the Connecticut Convention Center in Hartford on Saturday evening, marks the 25th anniversary of the creation of the Hall of Fame. More than 100 alumni, recognized for their professional achievements, community service and UConn pride, have been inducted into the Hall.
The newest members include: David Acampora '79, a CPA and Senior Partner with Deloitte Tax; Timothy J. Curt '84, Managing Director at global private equity investment firm Warburg Pincus; Christopher J. Lafond '87, CFO and member of the Board of Directors at Hartford-based Insurity; and two-time alumna Gayle Russell, '88 MBA, '95 Ph.D., a financial adviser and a proud supporter of women scholars at UConn.
In addition to the alumni honorees, the School also inducted Student Fellows to the Hall of Fame, including undergraduates Jeffrey Noonan '18 and Lindsey M. Soderstrom '18; Allegra E. Klein '18 MBA, Akhil Rana '18 MSFRM and Mikhail A. Wolfson '18 Ph.D. (MGMT).
Professor Kochanek Helped Guide Career
Curt said when he entered UConn he considered both biology and political science for majors, but after two accounting classes, he knew a business degree was right for him. He credited Professor Emeritus Dick Kochanek, whom he described as an amazing professor and who was in attendance, for steering him on the right path.
"UConn gave me a great foundation. I went to UConn because I had no idea what to do in life. At UConn you could focus on any path and find a very formidable program and the business school was at the top of the list," Curt said. "I felt like I had a well-rounded academic career. I learned to write well, which is enormously beneficial in business, and I had challenging classes."
Curt, a father of three daughters, said he has learned some valuable lessons over the years that he willingly shares with students and young professionals.
"Center your plans around what really matters to you. Not everything you encounter is black and white. Set your moral compass now and live by it," he said. "Manage your career, find a mentor and be a mentor; look at every situation as a learning opportunity. Have confidence, ask questions and never sell yourself short. Be part of a team, learn from your peers and help them along the way. And make sure you have a good [life] teammate along the way."
You Went to School in Alaska?
Lafond, who is very involved with UConn's Financial Risk Management graduate program, joked that when he accepted his first job in New York City, and told people he was from UConn, they asked if he went to school in Alaska, mistaking UConn for the Yukon. Surrounded by Ivy Leaguers, he said his education was never second to theirs.
"I had an amazing experience at UConn," he said, before addressing his remaining comments to other alumni in the audience of 300. "I hope you take a moment to pause and think about what you can do and how you can give back to the students and the university."
Dairy Bar, Basketball, an Unsurpassed Education
Acampora said he has fond memories of the oversized hot fudge sundaes at the Dairy Bar, going to UConn men's basketball games when tickets cost only 50-cents, and struggling to find food on the weekends because the dining halls were closed.
"But college is supposed to be about the education and and I had great professors, including Mo Hussein and Dick Kochanek," he said. "When you're in college, you don't realize how valuable an education is. The value and quality of education at UConn is unsurpassed, and the caliber of UConn business students keeps getting better."
Two-Degree Recipient Now Supports Other Women
Russell, who raises money for scholarships for women attending UConn, said she was humbled to be part of an exceptional group. Her mentor, she said, was finance Professor Emeritus Tom O'Brien, who urged her to pursue her doctorate. "I thought, 'This will be fun!'" she said, drawing laughter from the crowd who realized the tremendous amount of work she had taken on.
"My two brothers and I were the first in our family to earn college degrees, so I know first-hand what a difference education makes in the opportunities available to people, especially women," she said previously. "Education and money give you choices."
"I'm a big supporter of women, especially women in higher education," said Russell. "I think we have it tougher than men do. We don't take enough credit for the good things we do."
She accepted a job as a professor at Eastern Connecticut State University while completing her dissertation. After earning tenure and promotion, she applied for an unpaid leave of absence to teach for two years at the American University of Sharjah in the United Arab Emirates, which she described as a transformative experience.
Upon returning to the U.S., she opted to pursue a career as a financial advisor. She works at TIAA-CREF as a financial adviser to individuals who work in the education and medical fields.