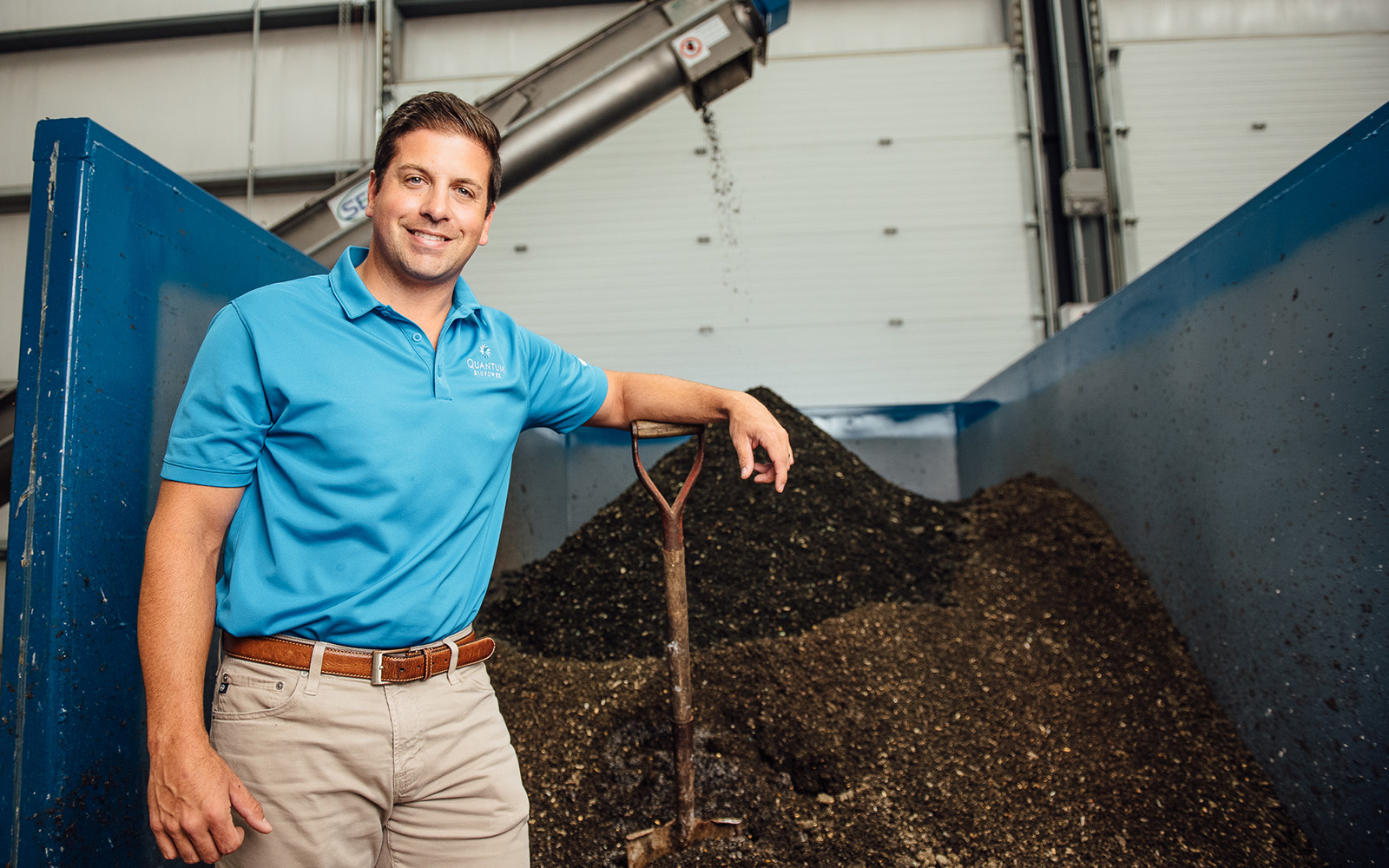 Alumnus Brian Paganini '03 Designed, Runs State's First Food Waste-to-Energy Facility
When a truck carrying 78,000 pounds of frozen chicken crashed on I-91 in Meriden, Conn., last summer, the food was deemed unsafe to eat and had to be destroyed.
A year prior, the chicken would probably have been incinerated.
But, thanks to Quantum Biopower, the state's first waste food-to-energy plant, the inedible chicken wasn't a complete loss. It was turned into high-quality fertilizer for farmers, and energy to power the police station, firehouse and other municipal buildings in Quantum's hometown of Southington, Conn.
The man at the helm of this revolutionary technology is Brian Paganini, Quantum's vice president and managing director, and a 2003 School of Business alumnus.
And while Paganini is excited to operate Quantum, which is one of only a handful of food-recycling facilities in the country, he is still taken aback by the volume of food waste that Americans accept as normal.
"It's truly been an awakening for me. People say that America is a 'throw-away' society," he said. "Well, it is staggering what we throw away."
Wasted food is the biggest contributor to American landfills, according to the EPA. As much as half of all U.S. produce, some 60 million tons, is thrown away, much of it edible but imperfect. The average American family of four discards nearly $1,600 worth of produce a year, according to the U.S. Department of Agriculture.
Paganini is pleased to be able to offer a sustainable solution.
"To lead a new industry in the United States is both a humbling and exciting experience. There's not a day I don't wake up without a sense of purpose and worth," he said in his Quantum office, located on 60 acres not far from Interstate 84.
"I think we've started a business right here in Connecticut that will help transform the way the country will handle its waste for years to come," he said. "Thirty years from now, this will no longer be a novel form of recycling, it will be mainstream."
Reducing Food Waste in Connecticut
In 2011, the Connecticut legislature passed a food-diversion act, requiring large facilities, including hospitals and hotels, to segregate food waste from the rest of the trash. Yet, at that time, there was no facility capable of recycling it, hence the idea for Quantum came to fruition.
"The Quantum Biopower facility is a 'first of its kind' in our state and will make a real contribution to meeting both our waste reduction and energy goals," said DEEP Commissioner Robert Klee. "Our agency is pleased to see new ideas and technologies coming on-line that are providing innovative solutions to environmental and energy issues that we have been working to address."
Quantum, a $14 million facility which started operations in December 2016, accepts up to 140 tons of food waste a day. The food can range from expired meat, bread or bakery items to cafeteria waste or spoiled food from a commercial freezer.
Whole Foods, Dunkin Donuts, the Hartford Marriott Downtown, Yale University, and several supermarkets are among Quantum's customers. By 2020, the state regulations will broaden to include small restaurants, some school systems and other food producers. The state's goal is to remove up to 60 percent of food waste from the traditional waste stream by 2024.
The disposal fees for Quantum are about 20 percent less than commercial garbage fees, further incentivizing customers. Commercial haulers collect and deliver the food waste to Quantum.
Paganini said he wasn't a staunch environmentalist before joining the company. "My family and I enjoy rural living in Harwinton, where there are more cows than people. We like the outdoors, and believe in responsible measures that keep our environment safe for years to come," he said. "I don't think you have to be a 'greenie' to think that if you can take waste and make electricity, why not do it? Not only is this easy on companies' wallets, but helps them reach their sustainable goals."
"It's the way of the future and Connecticut is leading the charge, along with New Hampshire, Vermont, California," Paganini said. "New York and Massachusetts are following suit. But in Europe, they've had this technology for years. It is surprising to me how much the United States lags behind."
"I think it is important to challenge the status quo—to challenge the way things are done. We're a 'disruptive' technology, harnessing Mother Nature and using technology to get the job done," he continued. "Sustainability and green energy are two industries that are exploding. The concept of being 'green' and saving money is impactful. Twenty-five years ago, there was only one option. Now we're unlocking the value in the waste stream."
Born into Business
Paganini learned some of the fundamentals of running a business during his childhood, lending a hand at his parents' Terryville TrueValue Hardware. His parents are Linda and Marty Paganini, and his father is a 1977 UConn alumnus.
"I spent Saturday mornings moving concrete bags around the store and sometimes pulling weeds from the parking lot," Paganini said. "My Dad loved the saying, 'Do the job, big or small. Do it right or not at all.'"
It was a formative time in his life, said Paganini, who grew up in Torrington, Conn. The lessons he learned about business, customer service, clear communication and the importance of family have remained with him today.
Paganini was accepted to UConn, his top choice, and in 2003 he earned a bachelor's degree in business administration.
It is also where he met his wife Lindsay, who earned her bachelor's degree in human development and family studies, and now teaches 5th grade. They frequently return to campus with their two children and visit the UConn Dairy Bar where Paganini once worked. "I gained a lot of weight that semester!" he quips.
His undergraduate work at UConn set him on a good path. "UConn taught me how to think, how to ask questions and be inquisitive, and to seek answers," he said, noting that Professor Greg Sottile was among his favorites.
"Even today when I get back on campus, there is this energy. It's palpable," he said. "I love going up there. It's like recharging your batteries."
After graduation, Paganini went to work for pharmaceutical giant Pfizer, and spent a decade in sales operations and management.
"I had found success in the corporate world but there was a piece of me missing," he said. "At the hardware store we could have an immediate impact on our customers. I think that was the element that was missing in my work life."
A family friend told him about entrepreneur Kevin Boucher, who wanted to start a food-to-energy plant. Boucher owned two companies, one a land-clearing business that created rights-of-way for utility companies, and a second one manufacturing compost, playground fiber and mulch. He was already invested in recycling.
Paganini was enthusiastic about the business opportunity. But it took more than three years of hard work to design the complex and earn the regulatory permits required to open the facility.
Earlier this month, Paganini, 37, was honored by the Hartford Business Journal as a "40 Under Forty" award recipient, which recognizes young professional leaders in Greater Hartford who are excelling in their industries.
"I was extremely honored to be recognized by the Hartford Business Journal, but I have to thank the team at Quantum. Without them I would not be successful," he said. "The 40 Under Forty is a prestigious group and it reaffirms what talent we have here in Connecticut. It is a great state, with a lot to offer. We have academic brain trust that's tremendous."
How Quantum Biopower Works
The Quantum Biopower facility is set back from other businesses at the end of an industrial lane. The grounds are immaculate. There is no smell of decaying garbage until a visitor is about 15 feet away from the waste-food intake area.
Paganini describes the entire operation as working like a cow's stomach.
Once the food waste is brought to Quantum, it is ground into a pump-able "disgusting milkshake" and then put in a tank that resembles the conditions in a cow's belly. It's hot (135 degrees Fahrenheit), with no oxygen. The waste is mixed and begins the process of anaerobic digestion, with microscopic organisms aiding in the breakdown of the food, which transfers through a series of tanks. The process takes about three weeks.
During this time, methane is captured, cleaned and used to fuel an engine and create power. There is enough electricity generated now to supply the equivalent of 775 homes with electricity. The electricity is currently being used to light municipal buildings in Southington.
Over the course of the year, Quantum's facility will recycle enough methane, that normally would end up in our earth's atmosphere, to displace the equivalent of 5,000 tons of carbon dioxide a year–equal to taking 1,000 cars off the road.
The hot water and heat generated by the process is recaptured and reprocessed. The remaining product is a fertilizer, rich in nitrogen and phosphorus, which is in high demand by farmers and greenhouses to supplement nutrient needs.
Paganini developed expertise on food-to-energy plants during travel to similar sites in Europe. Germany alone has 6,000 food-waste plants. He took the best of what he saw and modified it for the Quantum facility.
"We wanted to prove that an American company can take European technology, customize it and get the job done," he said. "Now that we've proven we can do it, Quantum will finance, develop and construct these facilities for anyone who wants them. We've had interest everywhere from New York to overseas. We have the know-how and the skill sets to develop and construct them."
The facility, which is already at 60 percent of capacity, prides itself on cleanliness, safety and performance, he said. It operates six days a week and employs four operators.
When it builds additional plants, the company won't try to establish a food-to-energy center in a city or town that doesn't welcome it, he said. Additional facilities also must be in a densely populated area that generates enough food waste to support the plant.
The company is working with the UConn School of Engineering to develop new technology within the food-waste business, and with the School of Business to quickly take those concepts to market.
"It is fascinating to be a part of an industry that's forming in front of our eyes," Paganini said. "We have a tremendous amount of entrepreneurial spirit here at Quantum and are eager to share it with the UConn students."
The Future of the Planet
Paganini hopes to grow Quantum to a national leader in food-waste recycling and to expand both the company's recycling and energy initiatives.
A greener earth and smarter energy is something that Paganini thinks will be embraced by young and old. He smiles when he thinks of his young children, who now scrape food leftovers into a small compost bin in their kitchen. Years ago, their great grandfather would scatter food scraps in his garden to fertilize the soil. As we move into the future, Paganini said, we are taking some of the wisdom of the past with us.