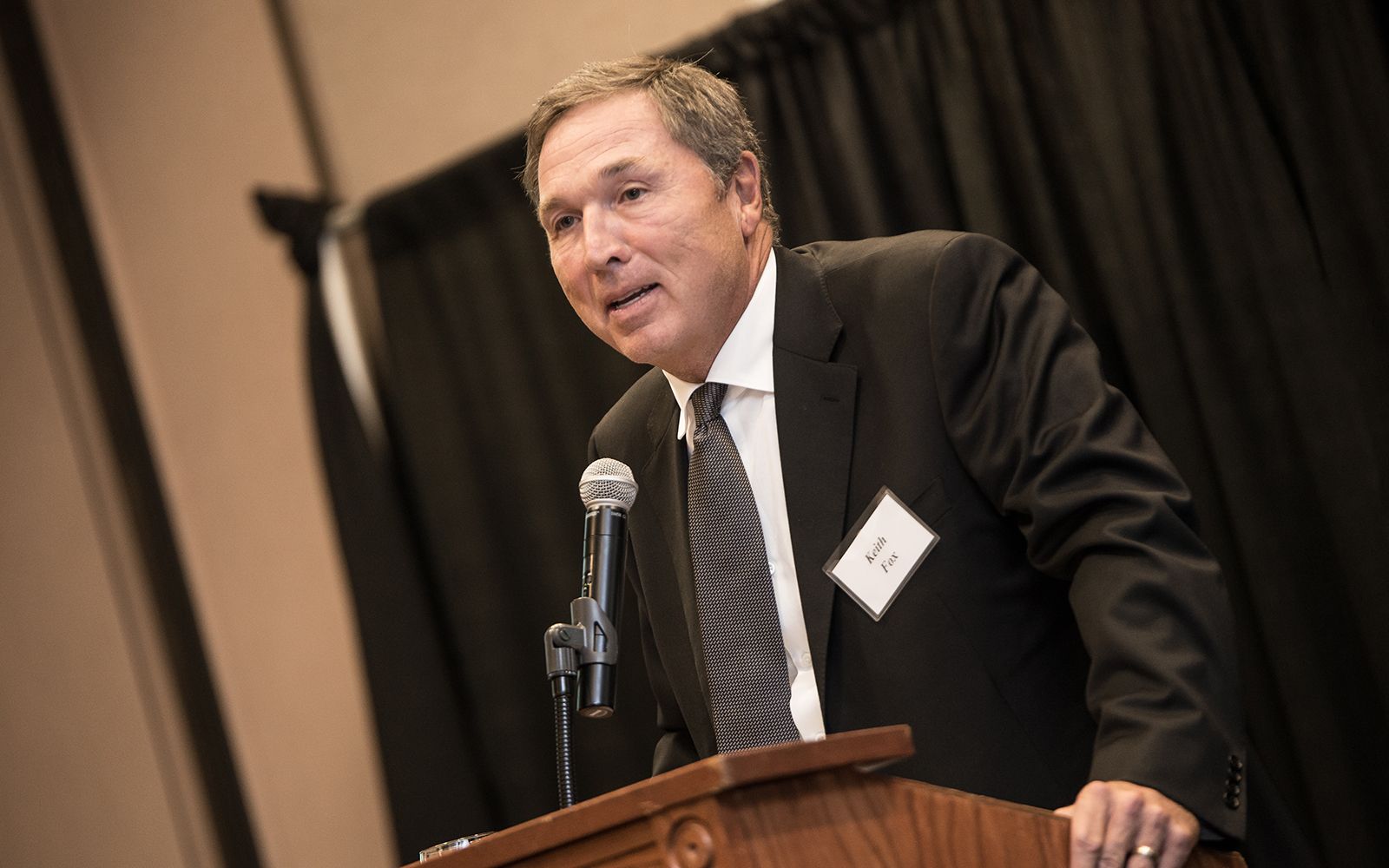 Students' "Insatiable Appetite" to Invent Led Entrepreneur Keith Fox '80 to Champion Innovation Quest
Before he became a senior executive at Apple, or helped Cisco grow to "The Worldwide Leader in Networking for the Internet," Keith R. Fox '80 was a newly minted UConn business graduate embarking on a journey to become an entrepreneur.
A family friend was opening a computer store in Norwalk, Conn., one of the first in the nation, and Fox and his brother, Curt, jumped at the chance to become partners and business owners. It was a decision that Fox never regretted, and one that catapulted his career into the big leagues.
Today, he is sharing that entrepreneurial spirit and knowledge by mentoring UConn students who have a mindset for innovation. Fox brought the Innovation Quest (iQ) program to UConn seven years ago. He continues to partner with the School of Business to fund the competition and mentor its students.
iQ allows UConn student innovators from all disciplines to compete for a chance to develop their ideas, learn business skills from gifted mentors, and potentially earn seed money for their businesses. Each year the number of participants swells. More than 80 teams made up of undergraduate, graduate, and Ph.D. students from all schools, vied for top slots in this past year's competition.
"There's an insatiable appetite in this generation to innovate, and especially to solve problems that would improve our society. They want to create and build things for the good of the planet," Fox said.
Inventions Abound: From Artificial Limbs to a Beverage Company
The program has led to the pursuit of many diverse businesses, from artificial limbs to employment apps, tattoo-removal kits to devices to keep stethoscopes bacteria free, high-resolution imaging systems to a new beverage company.
iQ works because of the caliber of students at UConn and the dedication of a core group of outstanding advisers and mentors willing to give of their time, Fox said.
"I see super-smart, super-motivated students," Fox said. "In this program, you see their soul. They put their whole heart and soul into what they're doing," Fox said during a telephone conversation from his home in Silicon Valley. "I want the UConn students to know they don't need to be here, in Silicon Valley, to start a business. In today's connected world, you can be anywhere."
The Making of an Entrepreneur
Fox didn't hail from a wealthy family, but his parents gave him the skills he needed to succeed.
"I grew up in a small, two-bedroom Cape in Stratford and my two brothers and I shared one room," he said. "My Dad's philosophy was that keeping us busy would keep us out of trouble. We all played sports and we spent a lot of time with our dad, working on cars, home projects, and camping together in the summers."
Living on their father's salary, at a time when industrial arts teachers were not well paid, wasn't easy, but there was always food on the table and the home was filled with love, Fox said.
"We grew up respecting the value of a buck," he said. "We caddied at golf courses, mowed lawns, and did what we could to help out."
His father, Auran J. Fox, not only taught him how to tinker, but also how to dream. He and their mother, Shirley, instilled in the boys that their opportunities were limitless, if only they were willing to work hard.
Although entrepreneurship isn't a path for everyone, Fox said he is passionate that anyone with an interest in entrepreneurship should pursue it. Fox was on the executive advisory board for the President at California Polytechnic State Institute when he re-connected with a good friend, Carson Chen, who developed iQ there. Fox helped Chen with the program and later, on one of their annual fishing trips, asked his friend if he thought Fox could duplicate the program at UConn.
"iQ gives UConn students another choice as they ponder career paths. It's their life journey, from an idea to a prototype to a company," he said. "Regardless of the color of your skin, your gender, faith or economic background, not only can you be an inventor, you can be an entrepreneur. It's the story of my personal journey."
"I was lucky enough to have my parents' support and the right opportunities. I want to give that back. You don't have to work at a big institution in a 9-to-5 job if you don't want to," Fox said. "With this program, the UConn students can chase their dreams."
A Bet, A Keg, A Determination to Win
Fox entered UConn with thoughts of becoming a physical therapist, an architect or an accountant. "I was all over the place," he said with a chuckle. Soon, he found himself drawn to business, especially marketing.
"I had a ton of fun at UConn. I was there to experience life. My philosophy was to play hard, work hard and study hard. I'm still doing pretty good at it!" he quipped. He played rugby during all four years and also worked as an RA his junior and senior years.
Before the beginning of his first semester, Fox's father bet him a keg of beer he couldn't make it to every class.
"No matter how late I was out the night before, I always made it to class," Fox said. "I was very, very competitive. I didn't want to lose!"
A Little Company, Apple Computer, Came Knocking
After graduation, he stayed at the Norwalk computer store for about a year. The store did well, but with competition increasing, the Fox brothers wanted to expand, but their father's friend was unwilling. The brothers were getting restless.
When Fox told an Apple regional sales manager that he was thinking of leaving the Norwalk business, the man asked if he would be interested in supporting the independent network of Apple stores in New England and upstate New York. Three weeks later, Fox had accepted the job and moved to Boston.
"By God's will and some luck I was able to make a smart decision," he said. "I knew personal computers were going to take off and I knew that Apple made good, cool stuff."
Before he was 30, he was a regional manager for Apple. He soon became Director of U.S. Sales, then Vice President of Business Marketing, followed by General Manager of the Consumer Division, spearheading $1 billion in growth in just three years.
"My Apple career was in my formative years and my dearest friends came from Apple," Fox said. "We all grew up at Apple together."
In 1996, with Apple struggling against Microsoft, Fox moved to Cisco Systems, the multinational technology company that develops, manufactures and sells network hardware and software. As Vice President of Worldwide Corporate Marketing, Fox helped the company to grow from $2 billion to $22 billion in just six years, by launching the brand in a broader way and reorganizing and rebuilding its marketing team.
"My six years there were crazy fast," Fox said. "The Internet was exploding."
Eventually the demands of family, fatherhood, and a longing for a normal life took their toll. Fox embarked on a long-delayed plan to open his own business, Brandsoft Inc., an enterprise software and services company.
Today, he resides in California with his wife, Pamela, and is focused primarily on philanthropic work through their private family foundation, particularly with children's hospitals. Their oldest daughter, Katelyn, is a 2010 UConn graduate with a degree in fine arts. Their youngest daughter, Jillian, is a graduate of Cal Poly, and also a recent graduate of Hult International Business School with an MBA.
In 2001, Fox was inducted into the UConn School of Business Hall of Fame and served two terms as a board member on the UConn Foundation. He also honored his father, who passed away in 1997 and whom he still misses terribly, by creating the Auran J. Fox Chair in Business at UConn, currently held by Dean John A. Elliott.
"It Keeps Me Young"
Fox said he is pleased with the results of the iQ program and is thankful for the support of UConn President Susan Herbst, Dean Elliott and a long list of mentors who have been with the program since its inception at UConn.
In particular, he credits iQ Executive Director Rich Dino, a School of Business faculty member, who "runs the program, heart and soul, day-to-day on campus. He's been leading the charge on entrepreneurship long before iQ and was a natural choice as director."
Fox said he has tried to set it up so that UConn iQ will live on in perpetuity.
"We make it clear to the all participants that we are creating 'a family of iQers.' The program is offered to all university students at no charge but we ask them to pay it forward to the program, to come back after graduation and give of their time and share their wisdom with the next cohort of teams," he said.
Watching the next generation of innovators and entrepreneurs has been exhilarating, he said.
"I'm truly honored to do it," Fox said. "As I get older I think that I get more out of it than the students do. I find myself motivated, inspired and excited for them. And it does keep me young!"
To learn more about the iQ program, please visit: innovationquest.uconn.edu or UConn Innovation Quest on Facebook.