After Completing CCEI's Summer Fellowship Program, Students Prepare for Wolff Competition and $15,000 Grand Prize
Ten aspiring UConn entrepreneurs delivered final business model presentations on Aug. 3, marking their completion of the 2017 Summer Fellowship program, sponsored by the Connecticut Center for Entrepreneurship and Innovation (CCEI).
The program is designed to help students and faculty develop the skills needed to bring new products and technologies to market, and provide them with networking, professional services, and dedicated mentorship to maximize their chances of success.
Based on their presentations, and the progress that teams made over the course of the Summer Fellowship program, five of the ventures were selected to compete in the Wolff New Venture Competition, which will be held on Sept. 26. The winner of that event will receive $15,000 to support the development of his or her venture.
For CCEI Summer Fellows, however, an opportunity to earn the Wolff Prize, is just one benefit of the program.
Veneta Qendro, a Ph.D. student in cell biology at UConn Health and the CEO of Hans Health, described the experience as invaluable.
"It has been such a growth opportunity from the very beginning. We started our venture with no idea of the business aspect, and now we know about market size, market maps, customer acquisition and value proposition," Qendro said. "All of those elements are such important pieces in that bigger puzzle for the whole picture to come together. I couldn't pick one element of the program as more important over another."
"Over the course of eight weeks, participants have an opportunity to practice core business concepts and skills, meet one-on-one with experienced entrepreneurs, and get introduced to leaders of professional firms that can offer them pro-bono assistance during the startup and the critical first year of their businesses," said CCEI's managing director, Michelle Cote. "Many of our mentors and program partners are UConn alumni. They tell us that they get as much value out of the program as the aspiring entrepreneurs do."
2017 Summer Fellowship participants included:
Hans Health
Veneta Qendro, Ph.D. student, UConn Health
GRAW Sports
Colin Miller, undergraduate, NEAG School of Education
Quantum Purification
Dong Yu, graduate student, School of Business
Eir Medical Devices
Kostyantyn Partola, graduate student, School of Engineering
SwiftRevu
Eli Gates, undergraduate, School of Engineering
SquareOne
Mahir Rana '17, School of Engineering
Dermatat
Faizan Khan, undergraduate, College of Liberal Arts and Sciences
NataSure
Dr. Courtney Townsel, fellow, UConn Health
Lavina Tang, graduate student, School of Business
Potentiometric Probes
Dr. Corey Acker, faculty, UConn Health
Rishi Sharma, graduate student, School of Business
Zapployment
Jaclyn Paride '17, School of Business & College of Liberal Arts and Sciences
Wolff Finalists include: Eir Medical Devices, Hans Health, NataSure, Potentiometric Probes and Quantum Purification.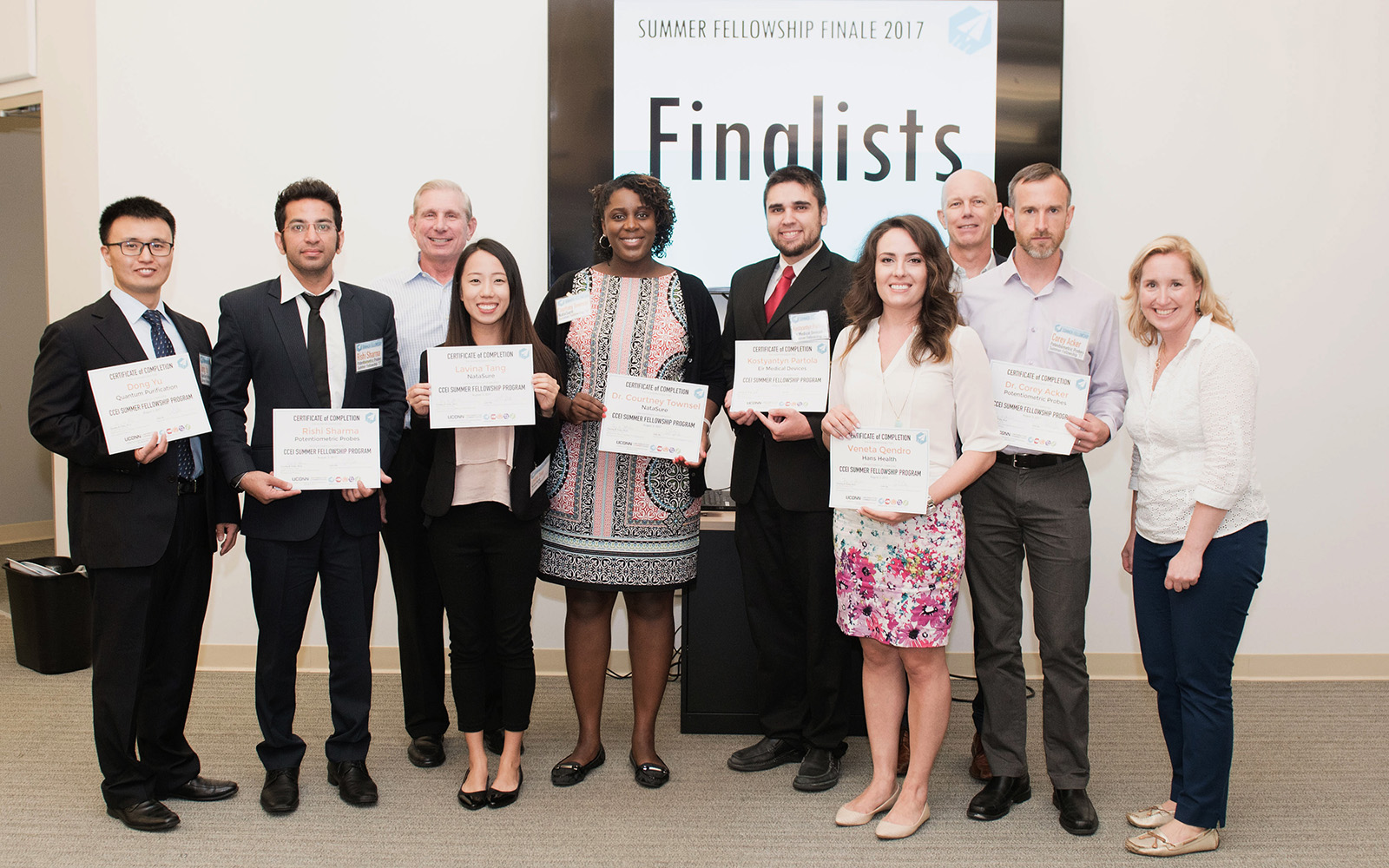 The Wolff Prize is endowed through the Thomas John and Bette Wolff Family Chair in Strategic Entrepreneurship, established to provide leadership for teaching and research in the field of strategic entrepreneurship. The Wolff family has a long tradition of business success, personal philanthropy and commitment to the University of Connecticut, the UConn Business School and future entrepreneurs.
For more information about the Wolff New Venture Competition, please contact CCEI program manager, Jennifer Murphy at jennifer.murphy@uconn.edu.