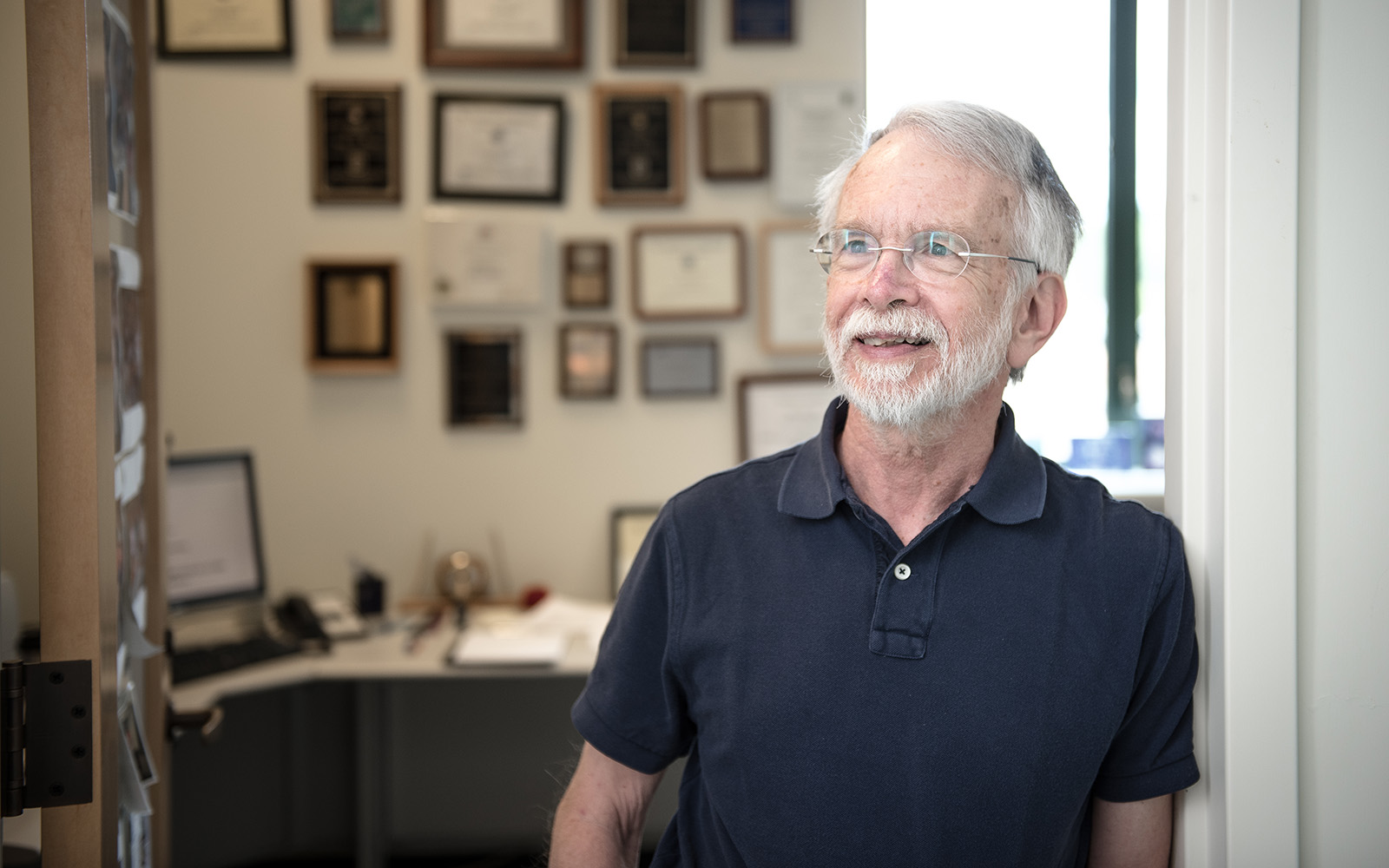 Retiring Professor Gary Powell, Expert in Gender Equality in the Workplace, Recognizes Some Progress in 40+ Years, But Not Enough
Management professor Gary Powell has spent most of his 41-year UConn career as an expert on gender differences in the workplace, and is widely recognized as a pioneer in the field.
Powell announced his retirement on June 1, but will remain active at the University, teaching in the fall semesters and continuing to add to a lengthy list of research achievements.
Women in the Workforce
"For women in the workforce, some things have changed and some have remained very much the same," Powell said. "In 1970, about 16 percent of all managers were women, and now it is 40 to 42 percent. There have been big changes in the composition of management, but when you look at the top ranks, there are still very few women.
"The first woman became CEO of an S&P 500 company in 1996. Today there are 28. That may seem like progress, but it's not much," said Powell. "There's still a lot of seedy behavior in the workplace, including sexual harassment and discrimination, and people who take pride in not being politically acceptable and in degrading others. There is still an element of the work place that is not so good for women."
Powell's Work
Powell has written a four-edition series on "Women and Men in Management," with a fifth in preparation. Available in multiple languages, it is considered the authoritative collection on the topic.
He is also the Special Issue Editor for the Academy of Management Review volume on work and family, due out next year. He has several manuscripts in preparation and under review by scholarly journals.
"There's no time to rest," he joked recently. In his office, he has a wall of plaques and awards that reflect Powell's many achievements, including 110 scholarly articles, 25 book chapters, 150 conference papers, five School of Business teaching awards, and citations for outstanding scholarship.
In 1983, he won the Association to Advance Collegiate Schools of Business (AACSB) Equal Opportunity for Women Award for his innovative course, also titled "Women and Men in Management."
"Early in my career, the women's movement was in full swing. I guess I identified with people who were discriminated against or oppressed. I was curious about the changing status of women," he said. "I had always hoped that we would become a society in which everyone was treated equally and there was no further need for my research."
Sexual Discrimination Still Exists
While sexual discrimination still occurs behind closed doors, when exposed publicly it usually isn't tolerated, he said.
"The interesting thing is that many of the undergraduate students don't think that gender discrimination exists today. They believe you are treated solely based on your merits," Powell said. "But the executive and evening MBA students, they get it. They've been in the working world and they've seen it."
"I tell students to build their networks and don't allow themselves to be mistreated," he said. "We can't stop until no one is passed over for a promotion because of her (or his) gender. The glass ceiling remains, but there are ways of getting around it. We have plenty of theories—from patriarchy to prejudice to discrimination—but I think today we need research on how to shatter the glass ceiling, not just why it exists."
An Amazing Career
Lucy Gilson, head of the management department, said she finds it hard to imagine UConn without Powell. Since 1976, he has been a fixture in the School and is well known for his love of the UConn women's basketball team and the business Ph.D. program. Powell served as the director of the business Ph.D. program from 2006 to 2014, a job that he said was impactful and satisfying. He looks forward to the 30-year Ph.D. alumni reunion in the fall.
"Gary has had an amazing career, he has worked in an incredibly important area, and he is known throughout the academy and world for his work on women at work," Gilson said. "But, and more importantly, we as a department will miss him. We wish him all the best as he transitions to his new role and are so happy and fortunate that he will continue to teach for us."
Changes Over the Years
Through his time at UConn, Powell said he has seen the campus buildings change from dilapidated to splendid; has switched from overhead projectors to PowerPoint presentations, and enjoyed the convenience of the Internet. It's far different from 1976, he said, when, as a UMass doctoral candidate, he wrote his dissertation long-hand and then paid someone to type it.
"There's been a lot of change over the years, but the common denominator has been the excitement of exchanging ideas and the enjoyment of work with great people at UConn, from faculty and students to staff and administration," he said. "The teaching has been fun and the research challenging, but rewarding."
"I've had many good experiences here that have kept me thriving," Powell said. "There's a lot of energy in the school and the university, and people look out for each other in caring and professional relationships. I'm still very glad to be a part of this place."