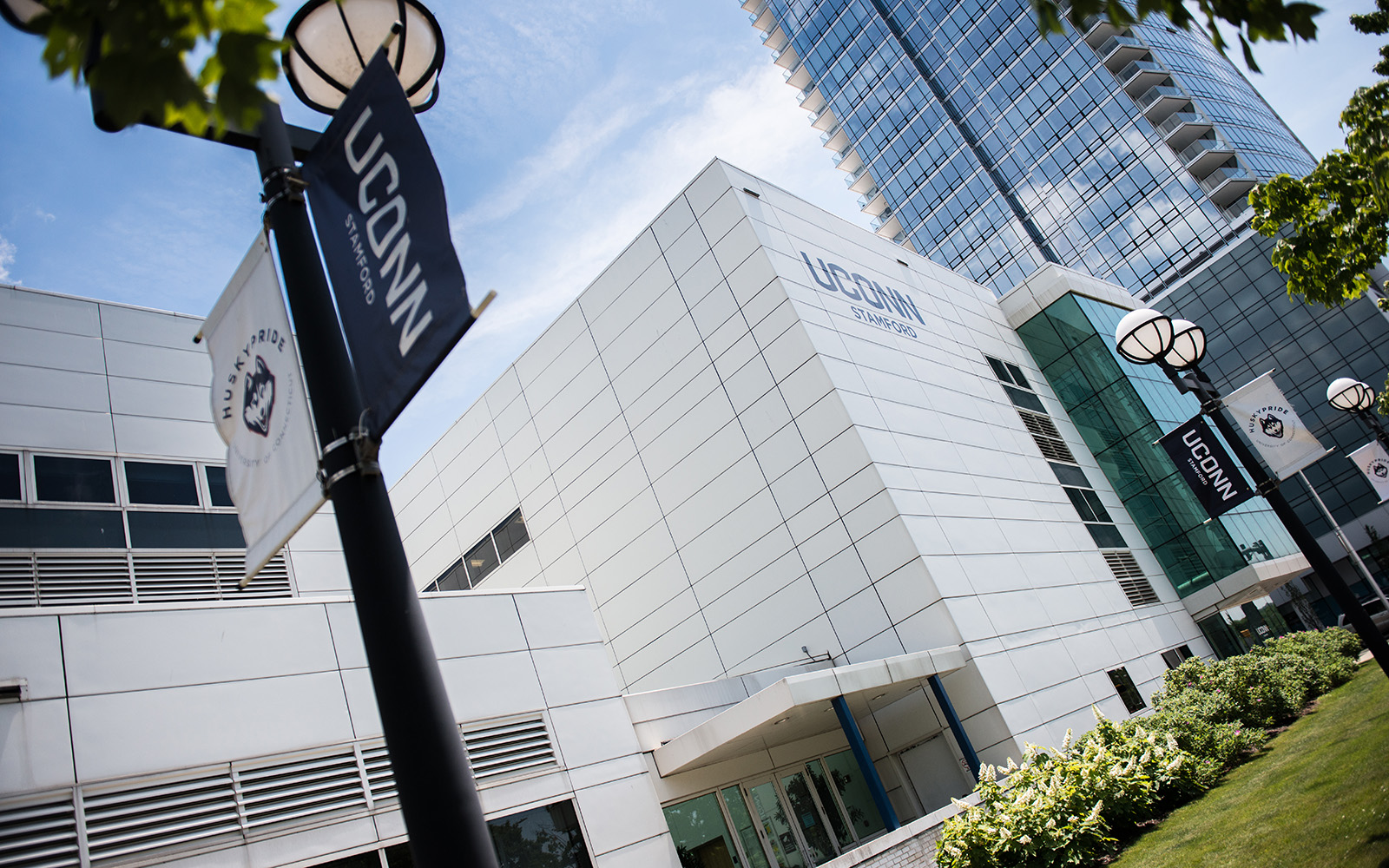 The University of Connecticut's downtown hub stands about 100 miles from its main campus. But it is no distant outpost.
UConn's business school exemplifies the increasing prominence of the university in Stamford. Enrollment is growing and a major conference held last week reflects university officials' view of the Stamford campus as an equal to the one in Storrs.
"It wasn't so long ago that many people thought of Stamford as a regional campus where you started but everyone wanted to end up in Storrs," John Elliott, dean of the business school, said in an interview last week. "But in the last five years in particular, we have made the Stamford campus a destination, a place to not only begin your connection to UConn, but finish your connection to UConn. That is, in large part, because of the economic vitality and excitement in Stamford."
Growing prominence
In the past few years, enrollment of Stamford-based students in UConn's business programs has grown significantly. Its 2016-'17 undergraduate contingent in the city totaled 188 this year, more than double the number in 2010-'11. After a drop at the beginning of the decade, graduate business participation has surged nearly 80 percent in the past four years to 466 this past year.
At the same time, the business school's local course offerings have expanded. This fall, the business school is opening in Stamford another section of its graduate program in business analytics and project management that had been available only at the Hartford campus. Also in the fall, the school will introduce upper-level accounting courses for undergraduates.
"Data analytics is simply so important to the corporate community; they're dying for talent to support those needs," Elliott said. "We believe that there will be a lot of students in Stamford who want to take advantage of the program."
Across all UConn campuses, undergraduate business-school enrollment has risen 36 percent since 2012 and about 77 percent in the past four years. At the end of last month, the business school had enrolled a systemwide total of 2,115 graduate students and 2,541 undergraduates.
The business school draws students from around the world. Albaraa Alyamani, 26, a native of Riyadh, Saudi Arabia, just graduated from the master's financial risk management program.
"What really caught my interest with this program is how unique it is," said Alyamani, who plans to go into financial services. "I believe it would allow me to stand out. Every day the need for more specialized people is growing."
UConn's business school still trails by a significant margin in several standings the b-schools of the most selective universities in the area. In this year's U.S. News and World Report rankings, its graduate program placed No. 65, compared with a tie at No. 9 for Columbia University and Yale University and the No. 12 spot for New York University.
"We're not Columbia, Yale or NYU in absolute ranking, but we're a strong public business school," Elliott said. "By and large, the students in our part-time MBA program are Connecticut residents employed by Connecticut companies. And, by and large, the undergrad students who join us in Stamford are Connecticut residents who are likely to graduate and end up employed in Connecticut. We have deep relationships with the corporate community in Connecticut."
Local executives also said UConn business graduates compete well in the job market.
"The overwhelming majority of the workforce coming out of college or graduate school come from schools other than the Ivies and 'baby Ivies,'" said David Lewis, founder and CEO of Norwalk outsourcing and consulting firm Operations Inc. "The reputation of the school is very solid. I don't think people have concerns that imply that grads coming out of UConn are any less compelling or less qualified than the rest of the market."
Larger presence
Amid its rising enrollment, the business school has also emerged as a backer of major business gatherings in the city. Its fifth annual Risk Management Conference at the Crowne Plaza hotel last Wednesday featured presidential historian Douglas Brinkley.
At the same venue, the business school held last September the first Xcite Conference, which aims to support entrepreneurship and innovation among Connecticut businesswomen.
As enrollment and programming expand, so has the infrastructure. The Stamford campus' first residential hall, which would house about 300 students, is set to open for the start of the 2017-'18 academic year.
The growth of the business school and other programs raise the question of the capacity of UConn's approximately 300,000-square-foot building straddling Broad Street and Washington Boulevard.
"At some point, we start to get crowded," Elliott said. "We're not there yet, but it's something we have to plan for. So far, we're in balance, but if the growth continues that's a problem with space we'll have to solve."
pschott@scni.com 203-964-2236; twitter: @paulschott
This article originally appeared in the Stamford Advocate on Sunday, June 25, 2017.