Innovation Quest Tops Participation Record; Winners Present Vastly Different, Creative Startup Ideas
The winners of this year's Innovation Quest (iQ) competition had a unique set of people to credit for inspiring their success, including:
A friend with a teddy bear tattoo, emblazoned with his ex-girlfriend's name;
A waitress who was trying to handle a mad-house of customers during a blizzard, when the rest of the wait staff didn't show up;
A little brother who leaves his EpiPen home because it is too bulky to carry;
Americans who have very polarized beliefs about political events, depending on which news source they follow.
"The iQ competition, now in its sixth year, broke another record, with 81 teams participating from all majors and degree levels across the university," said Director Rich Dino.
"The 40 mentors/judges were amazed by the level of sophistication found in the team proposals."
The top finalists share $30,000 in prize money, an invitation to a summer business development "bootcamp" and encouragement and mentoring from experts in business incubation and strategy.
Alumnus Keith Fox '80 founded and supports the iQ program at UConn, which he said is all designed to serve students. The program seeks to foster innovation, develop entrepreneurs and help innovators follow their dreams. "Our successful family of previous UConn iQ winners come back to help, and are a testament to UConn, and the UConn iQ program, for years to come."
"We are celebrating iQ's sixth year and as each year unfolds the proposed ideas and innovations increase significantly in both competitiveness as well as in the elegance of the teams' solutions to market problems," Dino said. "What better evidence that our future is in good hands?"
The winners are:
1st Place: Apployment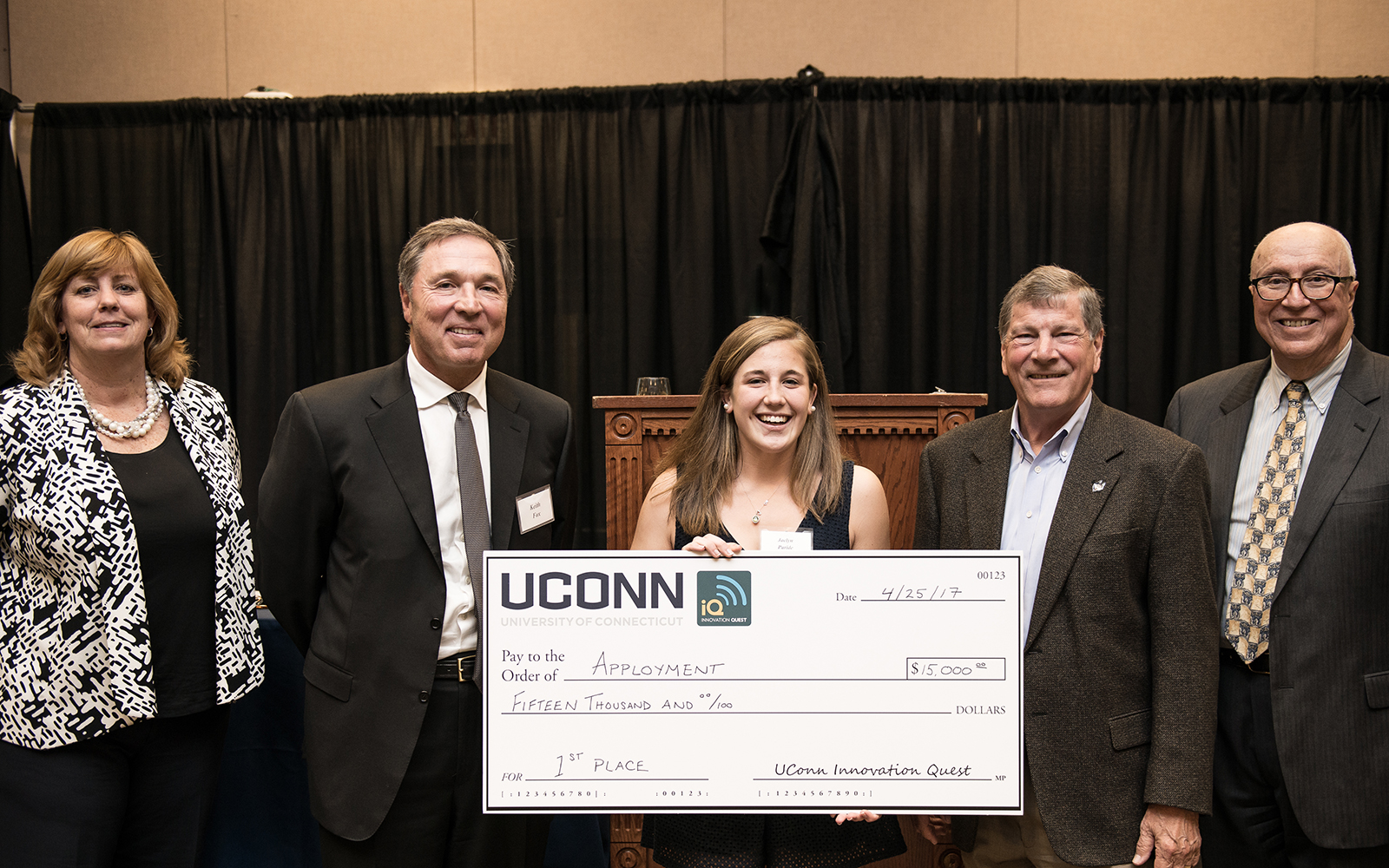 Diner's Staffing Disaster Creates New Business
Apployment, an app that serves as a centralized "on call" part-time job tool for employers and job seekers, took first place.
"The idea came to me when I went to a 24-hour diner during a Nor'easter," said Apployment team member Jaclyn Paride. "The place was packed, and there was only one waitress in the restaurant because the others couldn't get out in the storm. I wanted to go help her, but of course I couldn't."
"I think this app is a way to bridge the gap in service, so establishments wouldn't have to be understaffed and customers wouldn't have to wait an hour for their food," she said.
Currently, managers have to call people one-by-one when they need substitutes, said Paride, a double major in business and psychology, who once worked as a pizza delivery driver.
The app would allow them to reach several, pre-vetted employees who are willing to pick up shifts on short notice. Initially targeting fast-food restaurants and employees, she thinks it would also be helpful for retail establishments.
Additional team members include Chantal Rodriguez, Elizabeth Valencia, Fernanda Ferrari and Heilly Barbosa. All are undergraduate students, except Ferrari, who is a graduate student.
Paride said she has always been a bit of an inventor.
"When I was 10, I wanted to make a TV belt. I thought you could attach a small TV to a belt and just flip it up when you wanted to watch," she said, laughing so hard she could barely speak. "We've come a long way!"
2nd Place: LOKI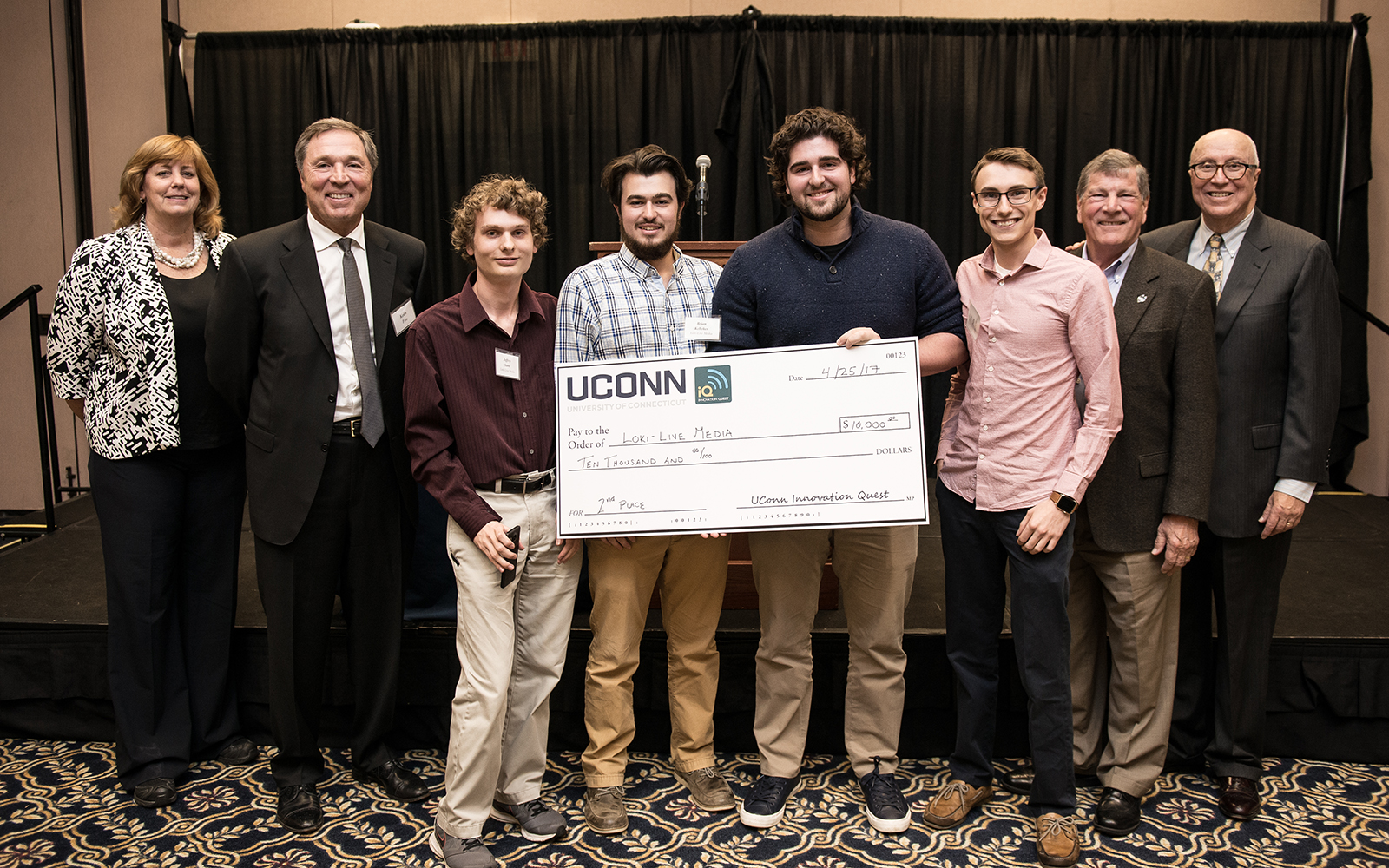 Event Coverage Minus the Bias
The second-place award went to LOKI, a live media innovation developed to evolve the live-streaming market, as well as revolutionize the news and media industry. Through broadcasters/app users, LOKI can provide full coverage of events with no production costs, and also provide viewers individual and customizable ways to watch any live event.
"We saw a mobile app as the solution to changes in the current live media industry," said Andrew Ginzberg '16, who earned a bachelor's degree in digital media and design from UConn.
He saw a trend of the media covering events from one angle, leaving a large disconnect between reality and interpretation and creating political polarization.
"Live events should only be covered by the people who are there," Ginzberg said. "Our end goal is getting people to understand that everyone has their own interpretation of events. There is no universal truth. Giving people access to an array of information gives them more empathy. That's our mission."
The LOKI team also includes undergraduates Case Polen, Brian Kelleher and Jeffrey Santi.
The app is in an advanced development stage, with the team getting ready to present its first content to users and analyze their reactions. Anyone interested in evaluating the app can sign up at .
3rd Place: Dermatat-X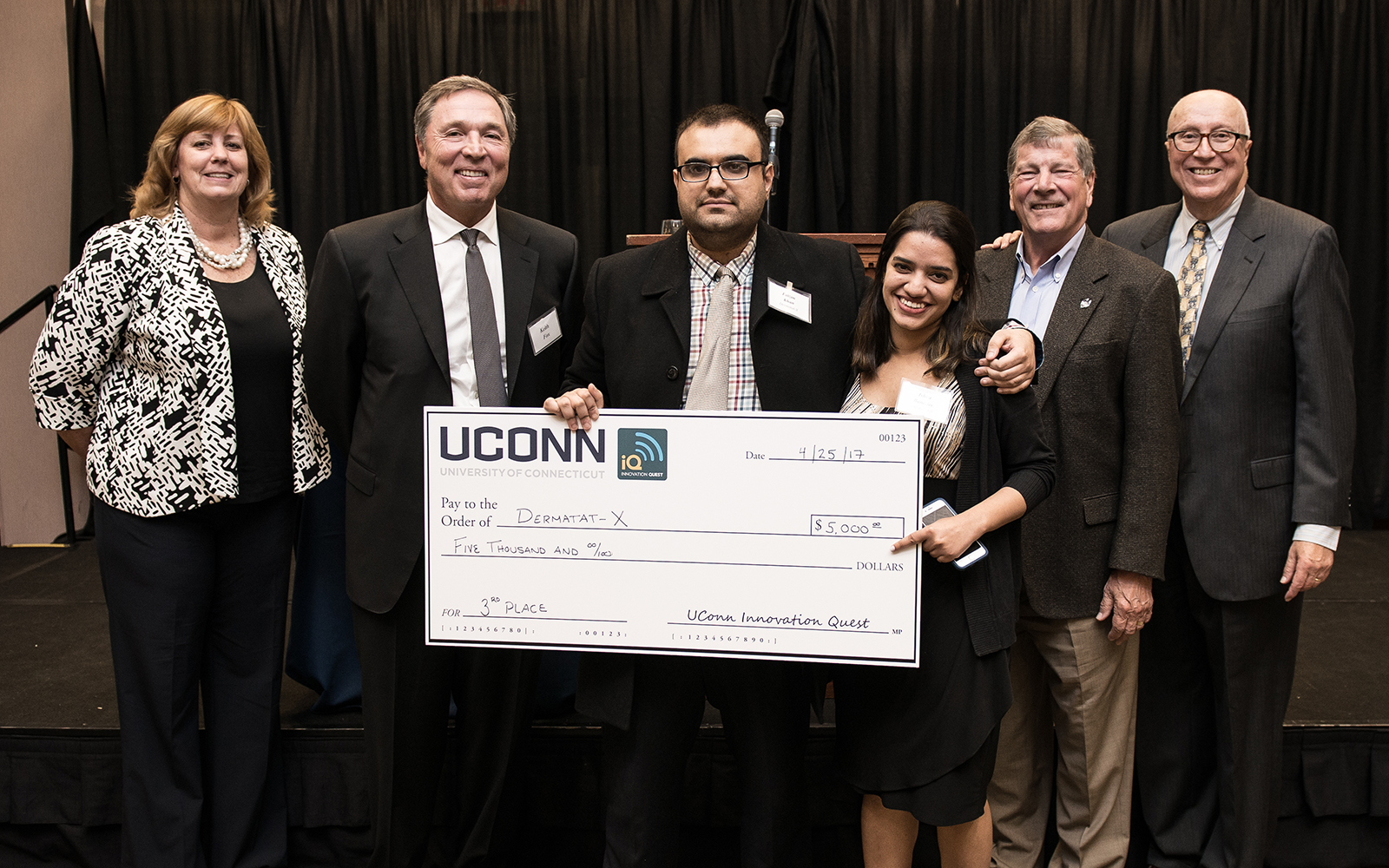 When The Tattoo Has Got to Go
Faizan Khan's buddy had decided to get a tattoo of a teddy bear with the name of his now ex-girlfriend written across the bear's belly.
"His current girlfriend is giving him problems about it," Khan said. "I thought, 'What if there was a better way to get rid of it somehow, instead of laser tattoo removal?'"
The dilemma gave rise to a conversation in a biomedical entrepreneurship class and ultimately led to the creation of Dermatat-X, a tattoo-removal patch, which acts quickly and painlessly to remove tattoos of all colors from the skin. The invention is the third-place winner at the iQ competition.
"What looks cute at 18 doesn't necessarily look great at 36," Khan said. "We think there will be an increase in people who regret their decisions, and are interested in our product."
Conventional tattoo removal can take up to six months, is painful, and can cost up to $2,500, which is not covered by insurance.
"Our product is different. It is a patch that you slap on each day and it removes the tattoo in five to seven days, with no burned skin or pain," Kahn said. The cost is up to $250 per patch, and a new patch must be applied each day. But it is quick, painless and can be done in the privacy of home, he said.
Khan said he was always intrigued by entrepreneurship, and describes himself as a competitive go-getter who is surrounded by all-star teammates, including Ishita Banerjee and Natalie Miccile. Khan is an undergraduate studying math and physics, Miccile is an MBA candidate with a doctorate in pharmacy, and Banerjee is a Ph.D. candidate in immunology at UConn Health.
"We are excited about iQ, absorbing as much as we can from the talented people around us, and gaining the knowledge and wisdom of the mentors, something so valuable you can't put a price on it," he said.
Judges' Award: EpiGo
A Younger Brother Who Won't Carry His EpiPen Inspired 'EpiGo' Startup
Matt Lombardo's younger brother has a severe allergy and is supposed to carry an EpiPen with him wherever he goes. But often, the medical device gets left behind because it is too big and bulky to carry around.
"We understand the huge need for epinephrine, which treats allergic reactions, including anaphylaxis, which would be terrible, and potentially fatal," said John Brindisi. "What we want to do is make it more marketable and appealing to parents who are afraid of an extreme allergic reaction."
EpiGo, which won the Judges' Award, a special designation, is a wearable piece of medical technology that dispenses epinephrine, and then provides an easy means to replace the used medication. The inventors think it would serve as a cost-effective, reliable, and portable alternative to the EpiPen™.
Brindisi, Lombardo and Anuehav Dhar, became interested in this project at the UConn Hackathon 2017, a business-brainstorming event that this year focused on allergies and other health issues. In coming weeks, they will apply for a provisional patent.
Brindisi said the team is excited to benefit from the Summer inQbator, a business bootcamp for entrepreneurs, that he believes will provide the legal and business knowledge necessary to bring EpiGo to market. Although he loves the idea of shaping his own career destiny, Brindisi said that the idea of helping to save people's lives is even more exciting.