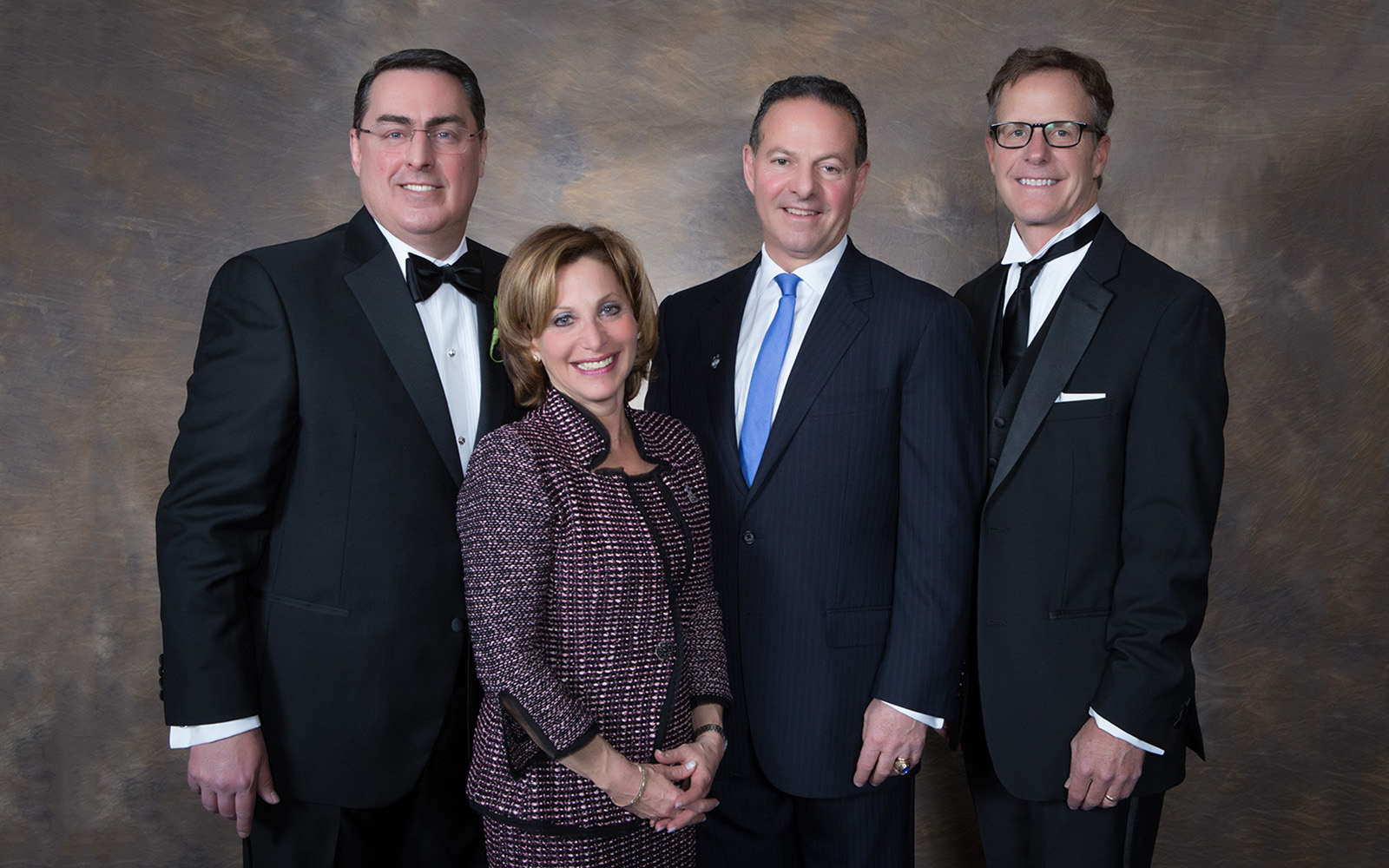 Hard Work, Civic Engagement, Good Advice Characteristics of Four New Inductees
As the four new inductees into the School of Business Hall of Fame came to the podium on March 24, each turned to the students in the audience to offer a bit of wisdom.
Their advice included: Step out of your comfort zone and speak to someone who doesn't look like you; become a lifelong learner; remember that success is a team sport; and give back to UConn to help someone in poverty rise to a better life. 
The inductees included:
George R. Aylward '88, president and CEO of Virtus Investment Partners, Inc. of Hartford, one of the nation's fastest-growing asset management companies;
Shari G. Cantor '81, mayor of the Town of West Hartford and a three-year member of the UConn Board of Trustees;
John R. Fodor '85, an investor and entrepreneur, and the recently retired EVP of the Capital Group/American Funds, who also serves as a member of the Dean's Advisory Cabinet; and
John P. Malfettone '77, senior managing director at Clayton, Dubilier & Rice of New York City, one of the Top 10 leveraged buyout private equity firms, and a member of the UConn Foundation for 17 years.
"These are all extraordinary people," Dean John A. Elliott said in his remarks to the 330 people in attendance at the Hartford Marriott Downtown. The annual celebration is the School's signature event and UConn President Susan Herbst was among those in attendance.
Malfettone Urges Audience to Lift Others with Scholarships for Education
In accepting his award, Malfettone couldn't mask his joy.
"It doesn't get any better than this!" he said, hoisting his trophy above his head. Malfettone, who earned a bachelor of science in accounting, graduating magna cum laude, met his wife, Rina, at UConn. Their five children attended the ceremony, traveling from across the country.
He spoke passionately about the importance of giving back to your university, telling the audience none of them would have enjoyed the success they have without higher education.
"A lack of education creates an unpassable bridge for the poor to move into the middle class," he said and a despair that contributes to crime, drug use and even terrorism. "Be part of the solution and give back to your school."
Cantor: Connect With Someone Who's Different from You
Cantor said when she enrolled in accounting courses in the late 1970s, only about 20 percent of the students were women. But she said she never felt unwelcome in the classroom, and remembers the warm and congenial atmosphere established by Professor Mo Hussein and Professor Dick Kochanek's quest to help the students excel. "We had so much encouragement, we felt we could do anything," she said.
Today, as mayor of West Hartford, a town that Money magazine recently ranked #15 in the nation for Best Places to Live, she adopts some of those techniques to reach a large and diverse population.
"To students I would say: 'Talk to someone who doesn't look like you. Be open-minded and be respectful. If you understand where someone is coming from, you can connect with them,'" she said.
Cantor told the audience she was celebrating her 32nd wedding anniversary with husband Michael, also a UConn alumnus, patent attorney and member of the School of Engineering Hall of Fame. The couple met as undergrads. She was also joined by her four sons, mother and brother.
"As a Trustee I must say UConn students today are smart, capable, accomplished but also humble, committed, part of the team and ready for the workforce," she added.
Fodor: International Economics Class 'Ignited Something in Me'
Fodor came to UConn as a scholarship athlete and said in the early days of college, his main interest was football. But second semester of sophomore year, he took an international economics class with Imanuel Wexler and everything changed.
He probably couldn't pick me out of a lineup, but he ignited something in me," Fodor said. "And with higher education, that's what it takes. To this day I love learning and discovering. I would tell students to be a lifelong learner. It's such a joy, and I thank UConn because I found that passion here."
Fodor, who earned his bachelor of arts in economics, serves on the Dean's Advisory Cabinet and is a frequent guest lecturer at the School of Business. "Time is only an issue if you don't have passion," he said. "If I can help UConn to grow and get better, I'm going to do it."
Aylward: Success Isn't an Individual Achievement
Much has changed, Aylward recalled, since his first day at UConn when he had to park his car in a mud parking lot. He went on to earn a bachelor of science in accounting from UConn and an MBA from UMass. A CPA, he served on the board of the UConn Foundation.
The alumnus welcomes many UConn interns and graduates into his firm, Virtus Investment, which spun off from The Phoenix Companies.
"Success, whether in business, politics or sports isn't an individual achievement," he said. "I'm thankful to the Virtus team that's created an incredible company. People are our greatest asset. We get many of our new employees from UConn because they have great talent and the passion to be successful."
Student Fellows Inducted Too
In addition to the alumni inductees, five Student Fellows were inducted including: Adegbenro Awojulu '17 MSFRM, Brian Fox '17 Ph.D., Katie Cavanaugh '17, Romanna Romaniv '17 and Trevor Tomko '17 MBA/MSBAPM.
Sponsors of this year's Hall of Fame induction ceremony included Presenting sponsor: Clayton, Dubilier & Rice; Platinum sponsor: Virtus Investment Partners; Gold sponsor: Stanley Black & Decker; and Bronze sponsors: Andersen Tax, Cantor Colburn, Deloitte, KPMG and PwC.