Presidential Historian/Author Will Discuss Political Risk at UConn's Annual Risk Forum in June
U.S. presidential historian and New York Times bestselling author Douglas Brinkley will be the keynote speaker at the 5th Annual Connecticut Risk Management Conference, sponsored by the University of Connecticut School of Business and its risk management program. 
"The Current State of Risk Management" will be the theme of the day-long event on June 21 at the Crowne Plaza Hotel in Stamford. The conference will address a range of business challenges, from financial to operational risk, enterprise risk to emerging business concerns.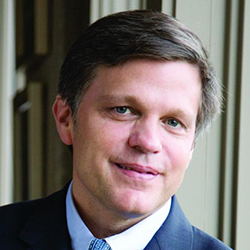 "We've worked with a team of business experts to design a conference that addresses the rapidly changing and expansive concerns of business in a fast-paced global economy," said conference Executive Director Jud Saviskas. "Certainly a changing political climate impacts businesses of all kinds. Doug's knowledge and insight into the role of politicians and the impact of their political leadership is second-to-none, and offers glimpses into the strategies that companies are seeking in a time of dramatic change. Political transformations, whether domestic or international, have a profound impact on business today."
Visit the CT Risk Management Conference website to register, or for additional information, please contact Katherine Ruiz at (203)251-8465 or at katherine.ruiz@uconn.edu.
Brinkley, a professor of history at Rice University and the CNN Presidential Historian, is the author of Rightful Heritage (2016) a New York Times bestseller which chronicles Franklin Delano Roosevelt's passion and drive and analyzes the tension between business and nature with regard to our natural resources.
He has also written books on U.S. Presidents Richard Nixon, John F. Kennedy, Gerald Ford, Jimmy Carter, Ronald Reagan and others. His work has offered exclusive insight into presidential personalities and strategies. CNN has declared Brinkley as "a man who knows more about the presidency than any human being alive."
He has also written about well-known American figures, including CBS anchorman Walter Cronkite, Ford Motor Co. founder Henry Ford and civil rights activist Rosa Parks. His work has also included such diverse topics as Hurricane Katrina and efforts to preserve Alaska's wilderness. He is a contributing editor for Vanity Fair and a frequent writer for the New York Times, The New Yorker and Atlantic Monthly. Brinkley earned his doctorate in U.S. diplomatic history from Georgetown University in 1989.