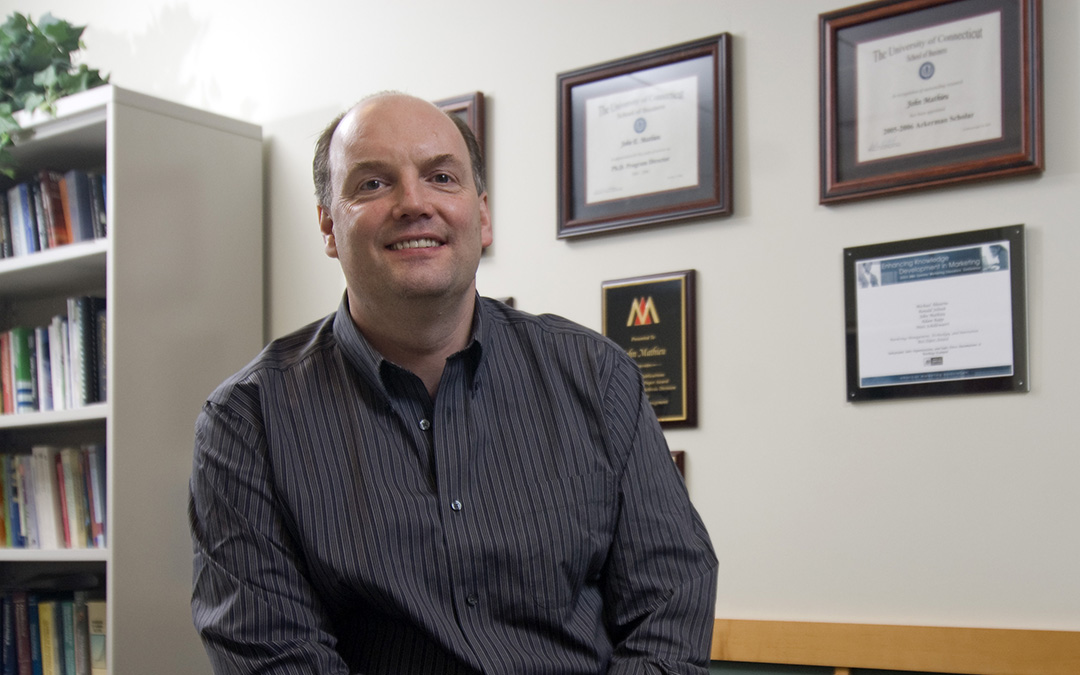 Professor Mathieu Wins Two Lifetime Achievement Awards—In Two Months
Management Professor John Mathieu has received two lifetime achievement awards, in two months, recognizing his work in the field of leadership and organizational management.
The Center for Creative Leadership, a nonprofit educational institute devoted to leadership research and training worldwide, presented Mathieu with its 2016 Walter F. Ulmer Jr. Applied Research Award in October. It is given to a researcher who demonstrates a lifetime commitment to applied research and who builds connections with other professionals whose work and commitments mirror those of the organization.
"I'm very flattered," Mathieu said. "Being recognized as someone who does valuable research by an applied outfit such as The Center for Creative Leadership is exceptionally gratifying."
In November, Mathieu learned that he had also been awarded the 2017 Distinguished Scientific Contributions Award by the Society for Industrial and Organizational Psychology (SIOP), a lifetime achievement honor bestowed by the 6,000-member international organization, which is dedicated to improving the effectiveness of people and organizations.
"The Society for Industrial and Organizational Psychology is one of my two academic affiliations, along with the Academy of Management. To be recognized as having made distinguished scientific contributions over the course of my career by the Society is the ultimate professional accomplishment," he said. "This means a great deal, and is clearly the by-product of my having worked with excellent colleagues and Ph.D. students, both here at UConn and previously at Penn State University."
Coincidentally, the selection committee this year decided to honor two candidates and also selected Mathieu's friend, Professor Steve Kozlowski of Michigan State University, as a co-recipient. The two friends do not, however, collaborate on research.
Mathieu is a Board of Trustees Distinguished Professor at UConn, the highest honor that the University bestows on faculty who have demonstrated excellence in teaching, research and service. He is also the Friar Chair in Leadership and Teams, and is well known on campus and beyond for his research in preparing strategies for astronauts to use to minimize conflict during long trips, such as a future journey to Mars.