Hi! My name is Nicole C. Jones Young and I am an Assistant Professor of Organizational Behavior at Franklin & Marshall College in Lancaster, Pennsylvania. I graduated from the UConn School of Business in May 2016 with my Ph.D. in Organizational Behavior. Can you believe I made it this far in life and have never "blogged" before? In any case, someone I really found helpful while at UConn was Nancy Crouch. She is amazing! She was such a supportive person for me throughout my time at UConn, and she asked me to contribute to the blog, so this is the least I can do.
Interestingly, after I left from UConn and moved into my first Assistant Professor role, I found myself looking for another "Nancy." Becoming an Assistant Professor is exciting, but it can also be a time of self-doubt. It is a HUGE adjustment. Many people told me that it would be an adjustment, but I think (like many things), I needed to go through it myself. If Nancy were here I would have likely run to her office about 200 times by now!
Everything takes longer because you literally do not know where anything is and finding out takes time. You will ask around for some things, but by September I felt like people were getting annoyed of my questions. So I tried to take matters into my own hands. For instance, I forgot to ask about hanging my diplomas and I didn't want to keep sending emails, so I brought in my hammer. I was about to do it myself when my department coordinator came in and said, "No! Let me call operations for you." How was I supposed to know? I also just messed up with spring registration. I didn't quite understand the process. Even though I asked questions, I guess I didn't ask the right ones because I have a funny feeling my class next semester may be over-enrolled.
Despite these longer processes, once you do get acclimated with a process it's exciting! I successfully submitted an IRB application and had it approved. I finalized realized that no one can successfully use the thermostats in their offices, so it's not just me!
I guess what I'm saying is that everything takes time. Finishing your Ph.D. and getting an Assistant Professor position is definitely exciting, but it also presents another opportunity for adjustment. I don't think I will ever find another Nancy, but I do think I have started to find some type of comfort in my new role (and definitely in my new office because it is WAY bigger than those Ph.D. offices!!!).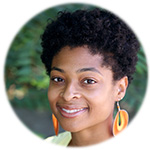 Nicole Young '15 Ph.D.
Assistant Professor of Organizational Behavior, Franklin & Marshall College
Nicole C. Jones Young is an Assistant Professor of Organizational Behavior at Franklin & Marshall College in Lancaster, Pennsylvania. She earned her Ph.D. in Organizational Behavior from the University of Connecticut. Nicole loves doing fun and new activities with her 19-month-old daughter. View Posts