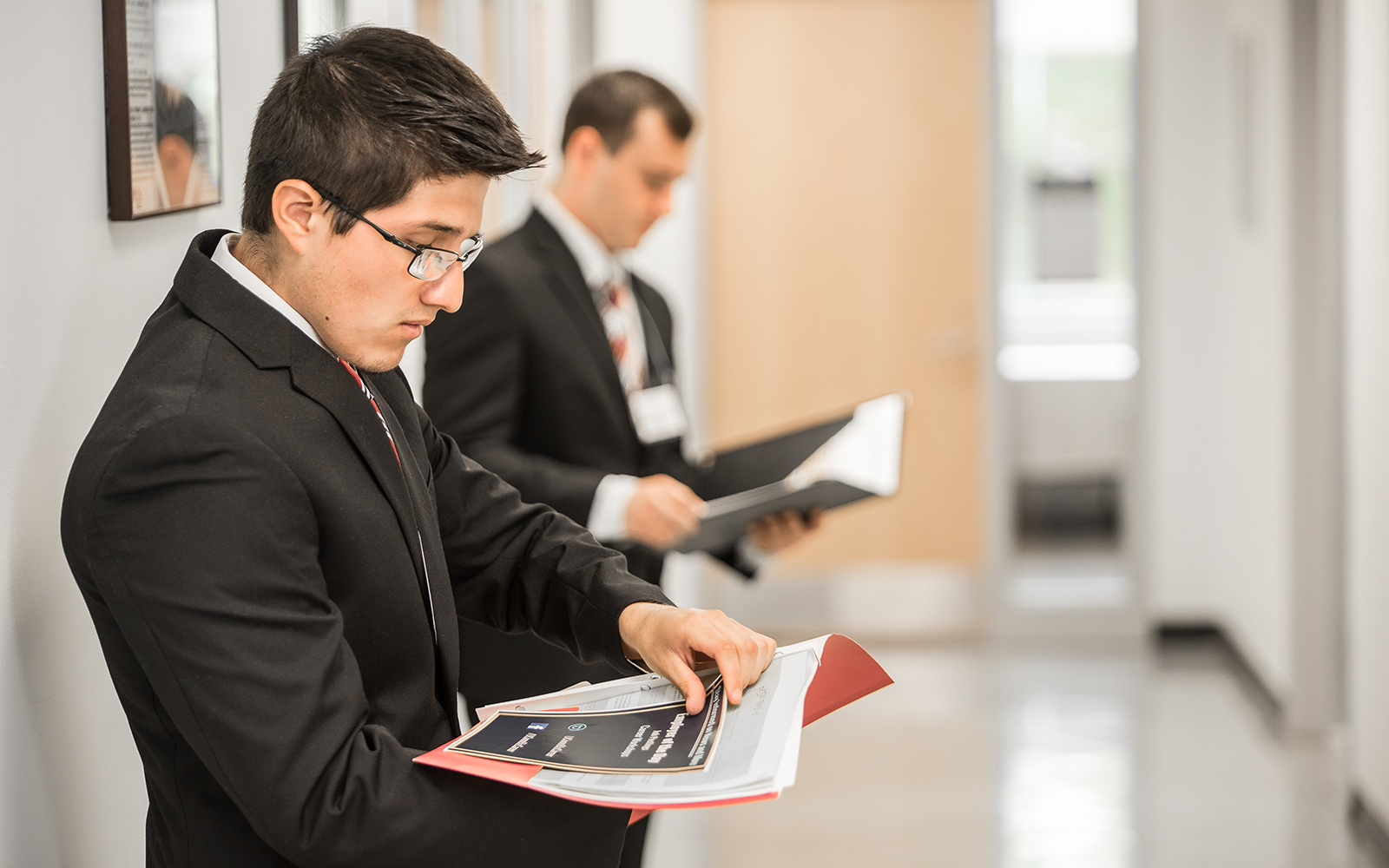 September Career Expo Gives Students, Companies a Jump-Start on Hiring Search
Junior Auna Harvey arrived 15 minutes early for the School of Business' popular Career Expo—prepared with a clear strategy and an optimistic attitude.
Harvey is looking for a summer internship in human resources and is particularly interested in programs offered by Travelers, Aetna and United Technologies.
"I'll try to get across that I'm very personable and comfortable talking to people, and that I can represent a company well," said Harvey, who developed professional and networking skills as a freshman in the Business Connections Learning Community and later served as a resident adviser there.
The Sept. 23 event drew almost 50 top employers to the Student Union, all of whom had a vested interest in meeting future employees.
"They are coming here because they know the School of Business students have the leadership skills, the academic knowledge, the work ethic, drive and passion to be the new leaders in their organizations," said Kathy Hendrickson, assistant director of the Undergraduate Career Development Office.
The Expo is advantageous because it is early in the recruiting season, giving both employers and students a 'jump-start' in the job search and also small enough to allow for some thoughtful connections, she said. The event was open to all undergraduate business students and military veterans.
Employers who attended the Expo included Unilever, Moody's, Lego, UTC, Statoil Inc., Hershey's, Whirlpool, The Hartford, Travelers, Cigna, Stanley Black & Decker, Altria and more. They offered everything from job shadowing to co-ops, summer immersion, internships and full-time jobs.
"We are so excited to be able to offer this opportunity to our students," Hendrickson said. "We have employers who are holding open jobs for UConn students."
Steve Holm-Hansen '87, '99 MBA, vice president of portfolio credit monitoring and analytics at Synchrony Financial in Stamford, was pleased to be recruiting at his two-time alma mater.
"We are looking for great students with good skill sets and a strong work ethic," he said. The company offers leadership programs in IT, risk management and finance and is looking for interns and full-time employees.
Daniel Garofalo '15, a project manager in the IT business leadership program at Synchrony, said the culture of the company appealed to him and that's why he thinks other UConn students should consider working there.
"You can walk in and talk to people at all levels," he said. The company offers a team approach and even the top executives are approachable and humble, he said.