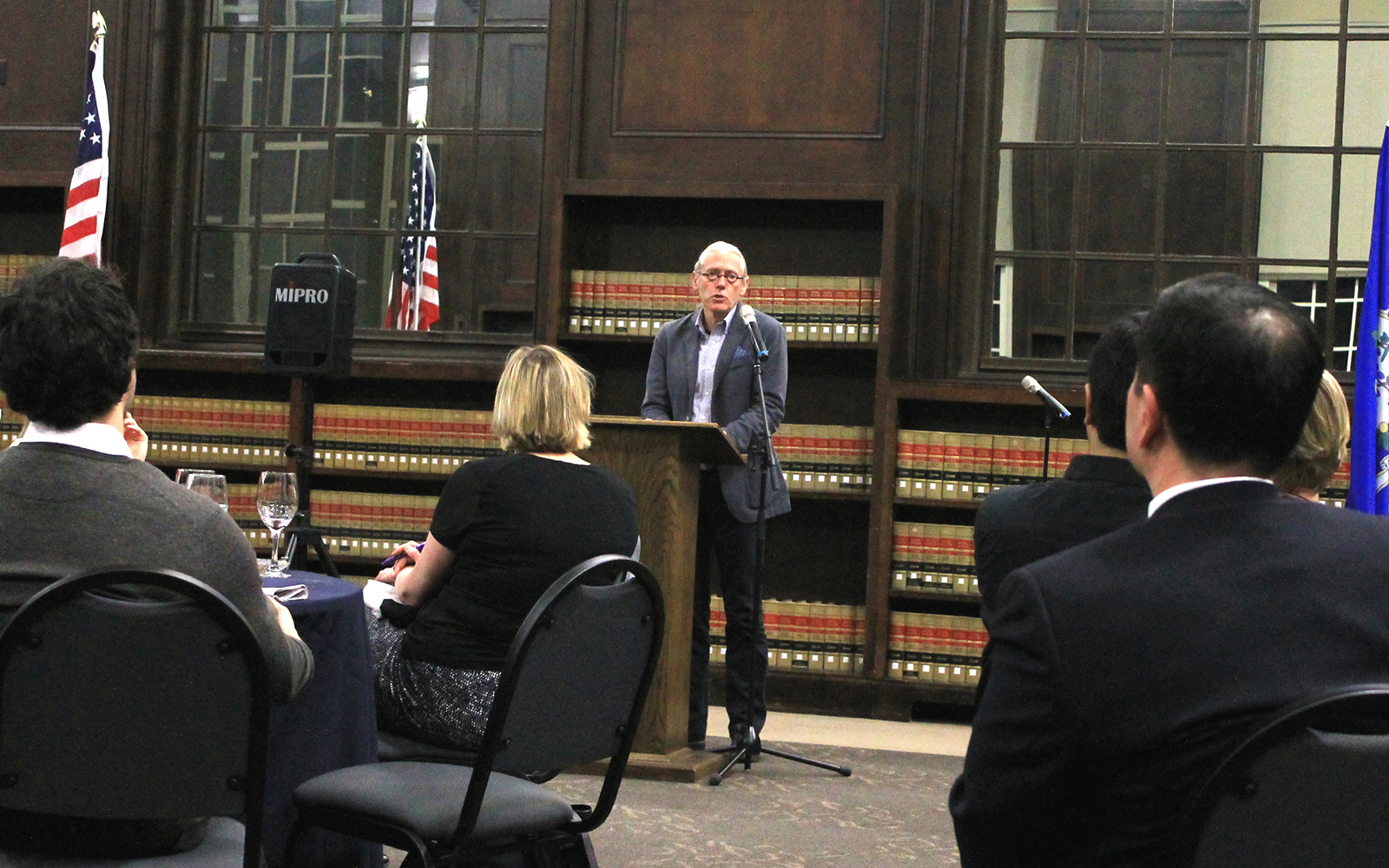 Business Law Conference Draws International Experts, Sparks New Ideas
Experts in business law, management and a range of social science disciplines attended a two-day conference at UConn titled, "Public Regulation and Private Governance: Competitors or Collaborators?"
Conference participants, from North America and Europe, presented 14 papers that tackled the complex topic of how public regulations and private governance can complement each other.
The keynote dinner featured remarks by UConn Provost Mun Choi and a keynote address by Auret Van Heerden, former president and CEO of the Fair Labor Association, a non-profit dedicated to promoting adherence to international and national labor laws. Established in 1999, it evolved out of a task force created by President Bill Clinton following a series of child-labor and other sweatshop scandals involving major apparel and footwear brands.
"The relationship between public regulation and private governance is often overlooked," said Stephen Park, professor of business law.
"Firms, various stakeholders, and policymakers can immensely benefit from a deeper understanding of the tradeoffs, conflicts, and opportunities arising from the growing use of private standards in government regulation to address human rights, environmental sustainability, and other global social issues."
"The conference brought together scholars from a variety of disciplines," said Robert Bird, professor of business law. "The result was a unique perspective on how legal and ethical issues can act in concert to solve a number of important societal problems."
The event was organized by Bird and Park, as well as Vivek Soundararajan, a post-doctoral international fellow at the University of Birmingham in the United Kingdom and a Universitas 21 fellow at the University of Connecticut.
The program, hosted by the School of Business on April 14-15, was sponsored by the Eversource Energy Chair in Business Ethics, the UConn Office of Global Affairs and the UConn Center for International Business Education and Research.
"The conference was most collegial and engaging, bringing together disparate faculty from the U.S. and abroad around a common question sparked a variety of new and provocative ideas," Bird said. "As conference organizers, we were more than successful in meeting our goals. We didn't just host a conference, but created a cohort of scholars who will remain in future contact and continue to work to enhance multidisciplinary perspectives on this important topic."