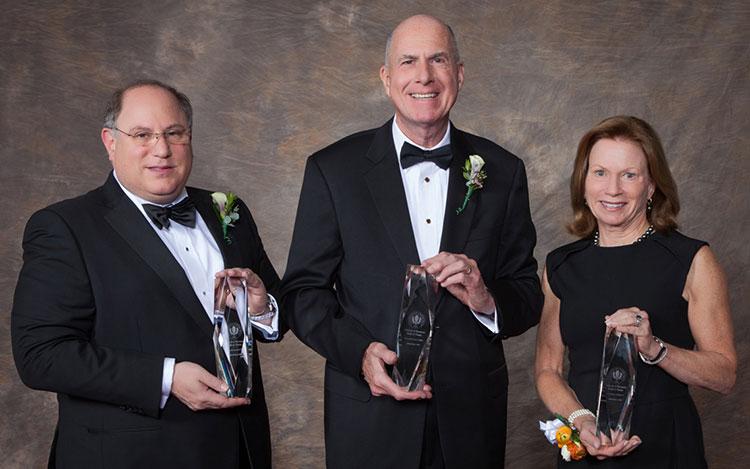 Alumni Say Though Campus Has Changed, the Camaraderie at UConn Remains the Same
The School of Business welcomed four new members to its Hall of Fame and paid tribute to veterans of the U.S. Armed Services in a May 8 ceremony at the Connecticut Convention Center in Hartford.
Among the inductees were: David B. Greenfield '84; Norman W. Lacroix '72 MBA, Wendy Reeves Watkins '74. The late Brigadier Gen. James S. Creedon '53 was inducted posthumously.
Dean John A. Elliott noted that this year's inductees have not only achieved tremendous success in their careers, but have made a personal commitment to the betterment of their communities by advocating for and supporting higher education, theaters and museums, food banks and many other deserving institutions.
David B. Greenfield '84: 'My Goal is to Help as Many as I Can'
When David B. Greenfield was a freshman at UConn, some 35 years ago, he formed friendships that he very much cherished. When he got inducted into the School of Business Hall of Fame, his former roommate and friends from Jefferson residence hall came to share the celebration.
Greenfield said he grew up in a family that placed great importance on education. He currently serves on the Board of Directors of the UConn Foundation. When asked why he invests his time, Greenfield said he is grateful for the opportunities he has been given and wants to share his good fortune.
"One of the things that I'm passionate about is helping people be successful," he said. "My goal is to help as many as I can."
Greenfield is executive vice president and CFO for the international Hanover Insurance Group. He is responsible for all aspects of the company's financial management and serves as a member of the executive leadership team.
Before joining The Hanover in 2010, Greenfield had a similar role with AXIS Capital Holdings Limited of Bermuda. Previously, Greenfield had worked for 22 years at KPMG LLP, the audit, tax and advisory firm, where he rose to be a senior partner of the firm's financial services practice.
He is active in several professional and civic organizations, including serving as a board member and treasurer of the Hanover Theatre for the Performing Arts. He earned his bachelor's degree in accounting from UConn in 1984.
Greenfield and his wife Cheryl are residents of Weston, Conn. They have three children: Jason, Melissa and Aaron, who is entering his senior year at UConn.
If he were to offer advice to UConn students or recent graduates, Greenfield said it would be to continually seek to expand their abilities. "Never stop learning, and always try to improve your knowledge and skills," he said.
"My favorite memories all involve my friends from UConn, and both our experiences in school and outside of it," said Greenfield. "For me, my college years presented the opportunity to meet many people and form relationships and friendships that have survived for decades."
Norman LaCroix, '72 MBA: Supports Veterans Program
When Norman LaCroix, '72 MBA, heard that his alma mater was interested in starting an Entrepreneurship Boot Camp for Veterans with Disabilities (EBV), he had one thought: "That's spot on!"
LaCroix, an Army veteran, said he loved the idea of providing disabled American veterans with the education, skills and contacts that will help them start and maintain a business. He has been an avid supporter of the program since.
"It's a remarkable program," LaCroix said. "For all the young veterans who served in Iraq and Afghanistan, returning to civilian life can be difficult. If they have a passion for entrepreneurship and starting their own business, we should support them in every way possible."
LaCroix served in the U.S. Army during the Vietnam era. He earned his bachelor's degree from Fordham University. In 1972, he earned his MBA from the UConn School of Business after just one year in the classroom. "I worked very hard," he said. "I was eager to enter the workforce and catch up with my peers."
LaCroix, who is a CPA, began his career at Arthur Young & Co. in the Stamford office. He broadened his skills working for several companies in various financial management positions. He spent 20 years in the legal industry as the CFO and Chief Strategy Officer at Weil, Gotshal & Manges, one of the world's leading law firms.
In 2013, he became CEO and a founding partner of Decision Analytics Group, a start-up provider of business intelligence, analytics software and technology to law and other professional service firms.
His wife of 40 years, Celeste, describes her husband as the smartest person she's ever met. "What I love is that at this stage in his life, while others are slowing down, he's created a new career for himself," she said. "I'm very impressed with Norm. I always have been."
LaCroix and his wife reside in Westport, Conn., and they have three grown sons. He is also proud of his work on the Board of Directors of the Connecticut Food Bank, which distributes food and other resources to nearly 700 community food assistance programs, feeding up to 50,000 meals a day to Connecticut residents.
Wendy Reeves Watkins '74: Professors, Classmates Shaped Values
Wendy Reeves Watkins '74 recalls giving her first donation to the University of Connecticut—a check for $25, contributed shortly after she graduated cum laude with a bachelor's degree in accounting.
She has donated to the University every year since, and her generosity earned her a place in the 1881 Circle of the Founders Society, open only to an elite group of donors. She is also a member of the Board of Directors of the UConn Foundation.
In 2000, Watkins helped establish the Richard F. Kochanek Faculty Excellence Fund to provide an annual award to exceptional faculty in the accounting department. Her final two years at UConn were Kochanek's first years as a professor, and she has a photo of him swinging a baseball bat during an Accounting Society picnic.
"He was a wonderful professor and he made me want to to be an accounting major," she said. "He had an amazing ability to make complicated problems seem simple."
She was joined by Kochanek and another friend, former UConn men's basketball coach Donald "Dee" Rowe, at the ceremony.
"My professors and classmates shaped my values in my personal and professional life," she told the hundreds in attendance. "Although the campus has changed, the essence of it, the caring people, remains the same."
Watkins began her career with Arthur Andersen & Co. and later worked at Martin Marietta Corp. and Continental Illinois National Bank. For the past 20 years she has been active in volunteer work and has held board positions with several Chicago-area nonprofit and philanthropic organizations. In addition to her UConn degree, she earned an MBA in finance from George Washington University in 1979.
Her involvement with the Foundation has enhanced its fundraising success. As a member of the Athletics Fundraising Steering Committee, Watkins was integral in raising over $33 million, making the Werth Family UConn Basketball Champions Center the first at UConn financed entirely by private donations.
Her husband, Tom Watkins, described his wife as 'a very proud alumna.'
"UConn is a world-class university now and my wife is very proud to have been a student here, and, particularly, of having that affiliation with the business school," he said. "It is a real honor for her to be recognized like this."
Brigadier General James S. Creedon '53
When James Creedon enrolled at UConn, attending on an athletic scholarship, he was already a bright and hard-working young man. But through the ROTC program, he discovered his path in life, said long-time friend Rocco Murano '53.
"Jim came from humble beginnings," he said. "He worked hard to get through UConn. I remember that he sold grinders four nights a week, going from dorm to dorm, in order to pay for his education. The combination of his hard work and determination got him where he wanted to be. He found his niche in the Air Force."
After earning a bachelor's degree in business from UConn in 1953, Creedon, a native of Watertown, Conn., was commissioned as a second lieutenant in the Air Force. During his Air Force career, Creedon served as a command pilot with more than 4,400 hours in small jets. He served in Japan, Vietnam and Europe.
At 5-foot-5, Creedon wasn't a powerful physical presence, but was a strong military commander, Murano recalled.
In 1976, he was promoted to a general and and became commander of the Flying Training Wing in Columbus, Miss. He retired in 1981, as brigadier general and highly decorated officer.
"Jim lived a distinguished life in the service of his country," Murano said. "He worked to the rank of brigadier general, served as a combat pilot and worked at the Pentagon."
Creedon, who passed away in September 2014, was inducted posthumously into the Hall of Fame. "I'm sure he would have been extremely proud to add his induction into the School of Business Hall of Fame to his resume," Murano said. "He was a genuine friend and good person all his life. He was well worthy of the honor."
Following his military career, Creedon was director of the Arizona Department of Transportation for 11 years. Then, from 1993 to 2011, he was executive vice president of Landry, Creedon and Associates and more recently worked as president of his own company, Creedon Consulting.
Creedon earned a master of science degree in international affairs from George Washington University in 1966. He also graduated from the National War College in 1981, from the John F. Kennedy School of Government at Harvard University and the Transportation Executive Institute at the University of Virginia.
Creedon and his first wife, Carol, of 45 years, had five grown children and seven grandchildren. Following her death in 1997, he married his second wife, Dixie, an Air Force widow, and they enjoyed 15 years together. Creedon was close to her four grown children and six grandchildren and they both enjoyed their large, extended family. Creedon passed away at the age of 83.
Murano said he and Creedon became fast friends during their freshmen year. They had a shared interest in business and sports. Creedon was captain of the swim team and Murano co-captain of the football team.
"He was willing to help others in any way he could," Murano recalled. Many people turned to him for advice and he was willing to offer any assistance he could, Murano said.
"He was always proud to be a University of Connecticut grad," Murano recalled. "He was a great human being and I'm proud to have been a part of his life. And, I think UConn should be proud to claim him as one of its graduates."
Paige Gregory '15, Justin Knight '15 MBA, Margaret Luciano '15 Ph.D. Student Fellows
Three students were also inducted into the Hall of Fame as Student Fellows. They are: Paige M. Gregory, who earned her bachelor's degree in marketing. Among her many accomplishments were serving on two staff-and-faculty committees. The first promoted an underserved university scholarship fund, leading to a 260 percent increase in applications. The second restructured requirements for students applying for admission to the undergraduate business program to broaden consideration beyond just GPA. She also served as vice president of event coordination for Pi Sigma Epsilon, a national business fraternity, where she managed and executed more than 15 projects. She will soon begin full-time employment as an assistant brand manager for Whirlpool Corp.
Justin Knight, carried one of the top GPAs in his class, while earning his MBA. He completed this rigorous program while working full-time for Tiffany and Co. A Navy veteran, Knight was also active in school events, championed the program and offered tours of his company to students, staff and faculty interested in luxury manufacturing. He is well-liked and respected by his peers and faculty and is a proven leader in class.
Margaret Luciano completed her Ph.D. in organizational behavior and her dissertation focused on quality of patient care. Her work has been widely presented and published and she has won several prestigious awards. She is a two-time recipient of the School of Business Outstanding Ph.D. Student Scholar Award and was the student speaker at the Graduate School Commencement ceremony. She has accepted a faculty position at Arizona State University beginning this fall.