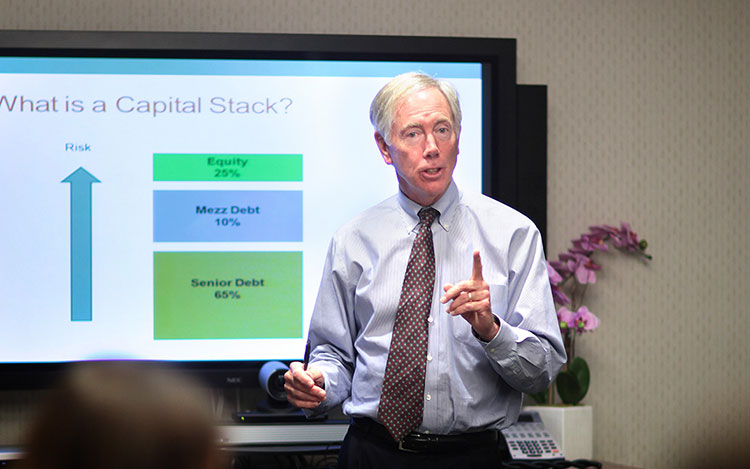 International Real Estate Moguls Share High-Stakes Tactics with UConn Protégé
As the CEO of one of the largest real estate advisory firms in the world, David J. Reilly has plenty to keep him busy.
His company, Cornerstone Real Estate Advisers, is immersed in the development of the much-anticipated Fan Pier—an upscale, 21-acre office, retail, residential and restaurant complex along Boston Harbor.
But despite his many commitments, the man at the helm of a $44 billion, Hartford-based real-estate empire, along with three members of the company's executive team, devotes one evening a week to teach a realistic, challenging and pragmatic course to UConn real estate students.
"Real Estate: The Practical Approach" forces students to decide whether to invest in a tempting piece of property, to analyze the income that can come from various developments, to learn the art of negotiation, to explore the costs of maintaining a building, and to devise strategies to protect their interests in a complex business partnership.
"The Cornerstone course was the best class I had at UConn," said Austin Smyth, a senior and president of the Real Estate Society. "It gave me experience that you would normally only get on the job. It was a game changer. It was a really unique opportunity that other colleges don't offer."
Smyth said learning about real investments, from the people who are making them, pulled together all the components he had learned in the classroom. "It's like becoming a doctor," he said. "You learn all you can from the books, but eventually you have to get in there and do it."
The course is the brainchild of Reilly, who said over the years he has interviewed students from across the country who had graduated with book knowledge but without the ability to "think on their feet." A former middle-school teacher, Reilly saw an opportunity to enhance a real estate program. With company headquarters in Hartford, and a dozen key staff that are UConn alumni, he proposed the course, which has now been offered for two years in the fall semester.
"The course is designed to provide the students with a wide range of practical information—weekly presentations by Cornerstone professionals, plus two intensive case-studies that require the students to work in small teams and challenge them to 'think outside of the box,'" Reilly said.
"Most real estate programs are designed around textbook knowledge, and it is very important to have that part of the equation in the program," he continued. "However, how do you then impart to the students the art of negotiation—or the ability to sense the potential of a deal just by looking at site plans and preliminary financials? The entire course is focused on the practical approach, so that wherever the students end up after graduation, they are entering the work force better equipped with the knowledge of how investment firms really work."
The UConn Center for Real Estate and Urban Economic Studies has been ranked in the Top 10 in the nation for the last 15 years by U.S. News and World Report. In November, a team from the UConn real estate program won third place in a prestigious international case competition, sponsored by Cornell University. Not surprisingly, all of the team members have taken the Cornerstone course.
John Glascock, director of the real estate program, said the Cornerstone class is extremely popular with students.
"Many of our students have an entrepreneurial spirit, and once they get into real estate, they love it," he said. "The experts at Cornerstone treat our students like colleagues. They ask, 'How would you handle this?' The course has really captured, and held, their attention. Dave [Reilly] really wants them to be engaged. The experts at Cornerstone have gone the extra mile for our students."
On a Monday evening during the fall semester, some 20 students filed into the plush Cornerstone offices in Glastonbury, dressed in business attire. There's an excitement in the air, mixed with a serious tone. It is clear the students want to make a good impression.
Reilly's jacket has come off, and he's sipping a Coke. The more engaged he is in the conversation, the faster he speaks. It is obvious he is a man who loves what he does for a living.
In lieu of a final exam for the inaugural class, the instructors presented a case study, telling the students they were to "buy" a piece of real estate for retail development, and asking them to devise the financial plans. Then, three days later, they emailed them and said that the project's largest tenant had just filed for bankruptcy.
"We like to throw a little monkey wrench in," Reilly said with a mischievous smile. "'What are you going to do?,' we ask. 'How will you get a new tenant?' There are a lot of nuances to think of. We want them to work through the issues and solve them."
Frances "Frankie" Gibbons '14 remembers that experience well. Today, she can laugh about it.
"That's exactly what happens in the real world," said Gibbons, who is a real estate analyst at Cigna. "I felt the course helped prepare me for different scenarios and investment situations."
Another part of the curriculum involves touring one of Hartford's premiere landmarks, the Gold Building. But the students aren't there to see the view from the top floor, said Marty Kane, Cornerstone's vice president of acquisitions and a UConn alumnus.
"Students who read about operating expenses and energy efficiency get to see the chillers, cooling towers, high-efficiency natural gas boilers and elevator mechanical rooms that provide service and comfort to the customer, the tenant," Kane said. "They can see that there are capital needs in these real estate assets—it is not just numbers on a page."
Reilly, whose company employs 350 in the U.S., Europe and Asia, said he tries to impress upon the students that real estate is a 'people business.' From presenting plans to a zoning commission to dealing with a tenant issue, the job requires an enjoyment of working with others.
"People say that real estate is about location, location, location," he said. "But the real estate industry is all about people. You need location, good people and capital, but of the three, people are the most important."
Jim Clayton, head of investment strategy & analytics at Cornerstone and a lecturer in the UConn MBA program, agreed.
"The real estate profession, in general, seems to me to be unique in terms of the willingness of people to be involved in university programs, such as the one at UConn," Clayton said. "People like what they are doing in the real estate area and want to make sure students are aware of the myriad of opportunities in real estate."
Clayton, who taught real estate at the University of Cincinnati as well as two Canadian schools prior to moving to Connecticut, can claim an additional affiliation with UConn. His daughter, Brittani Clayton, graduated from the real estate program in 2013.
Reilly noted that all his colleagues are volunteering their time and all have remarked that the students are engaged and interested.
"I always felt it important to give back to our home state, thus being able to help support UConn's real estate program became a personal mission on my behalf," Reilly said. "Sponsoring a program allows Cornerstone a terrific opportunity to meet and interact with students who might be interested in either interning or joining Cornerstone at some point."
Joe Iadarola, vice president of commercial mortgages and another UConn alumnus, was enthused about teaching his first session this fall, despite staying at work well in to the evening. "The reward for me is interacting with engaged, bright, young adults who demonstrate the desire to learn and mature, so they have a skill set that complements the classroom with practical experiences that are marketable upon graduation."
"It seems like each year the [UConn] talent pool is better and better," Kane said. "We now have 'legacy' students—children of experts in the field who show up with intimate knowledge of the business. Their base is solid and they build off it, delving into the portfolio management issues and market changes affecting our industry. The recent students have demonstrated an abundance of confidence and professionalism as they present their cases to us."
"As a UConn alumnus, I recognize the national prominence of our highly-respected program," said Kane '86, '89 MBA. "Bill Kinnard, Beryl Boyce, Steve Messner and so many other great professors have brought professionalism to the program, it is the least we can do to help carry on the tradition of developing excellence in our industry."
Kane said he, too, is sometimes in awe of the opportunity.
"When Dave Reilly, CEO of Cornerstone Real Estate Advisers and an industry giant, spends a three-hour class providing UConn students with practical, high-level, tactical and strategic concepts, you can't help but reflect upon this program's success," Kane said. "Dave imparts his career lessons of running a $44 billion real estate firm to young students who are just in the infancy of their careers. I advise them to absorb as much as they can from each session—and I sometimes find myself scratching notes, learning from his experience."
Dave Reilly recently retired as Cornerstone CEO, but remains active in the organization and will continue to teach the UConn class that he established.