Since we have returned from Guatemala our project has gone from a project to a passionate pursuit, a fire has been ignited within us. Before our trip Dr. Lisa Eaton told us that we had to 'get our feet wet' and bring Parrot MD to an impoverished country. We didn't realize how important this advice was until we were in a small village seeing firsthand the problem and how useful our device can be.  There's a lot to be said for sitting and planning out details but at one point you have to be there to fully understand what needs to be done.
Anyways, as you might be able to tell we had an incredible trip; the people, place, and organization Partners In Development (PID) was incredible. We went down to interview doctors at the clinic, and got far more out of it than that. For a few of the days we traveled around the local town San Antonio and interviewed every medical professional we could. While Steve was impressive with his Spanish speaking ability, we have to thank PID for letting us bring along one of their translators.
In all, we interviewed healthcare workers, nurses, doctors, pharmacists, and locals, anybody who we could get the chance to sit down with, even if it was for just a minute. Even talking to the translator on our trips to the city enlightened us on many aspects of the culture.  In the city we interviewed private practice doctors that worked with a variety of patients from higher and lower income classes. One doctor liked the idea of our device because he works with Mayans who don't speak Spanish. We also got the chance to sit down with the local municipal clinic doctors who see more patients than I can count. All the health care workers said they had seen the need and thought Parrot MD would be a great solution.
Many of the health care workers said that they would prescribe prescriptions only to have the patient come back repeatedly to ask how to take the medication. This was especially true with patients that would receive multiple medications. Imagine trying to remember to take a pill a couple times a day, apply a cream x times a day, half a cup of this medicine a day, and so forth. The pharmacist at PID's clinic, Meli Maldonado, said she would have patients come back on a daily basis asking for a reminder. This takes up the time that clinicians could be spending with other patients. What worries us are the patients who don't come back because it is too far or don't have the ability and end up taking the medications in a wasteful or even harmful way.
Looking back this trip was helpful in so many ways, it taught us a lot about the environment these clinics work in and the patients they work with. Though, the most important take away was seeing the impact medical missions like PID have on the surrounding people. While we were only there for a week, we could easily see how the quality of life of the surrounding villages has drastically improved due to PID. With this we have become incredibly motivated to do everything we can to help missions like these. We hope to start with Parrot MD and get it to people that need it but we are now motivated to continue on a life long pursuit.
If you want to contact us or find out more information about Parrot MD, check out our website at www.ParrotMD.org.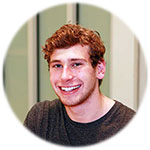 Steven Graf '15
Senior, UConn School of Business
Steven Graf is a UConn senior majoring in healthcare management. He is the former president of the UConn chapter of Global Brigades, a student-led organization that provides medical, public health, clean water, and environmental relief trips to countries such as Ghana, Panama, Nicaragua and Honduras. With the goal of saving lives, Graf has recently embarked on an entrepreneurial venture to help patients receive the correct doses of their medications. View Posts