More than 100 UConn business students were inducted into the Beta Gamma Sigma scholastic honor society during a dinner and ceremony on Sunday evening.
Beta Gamma Sigma recognizes students with the highest academic achievement at the undergraduate, masters and doctoral levels. Students from Storrs, Stamford, Hartford and Waterbury attended the ceremony in the Dave Ivry Seminar Classroom at School of Business. Keynote speaker was Dean John A. Elliott.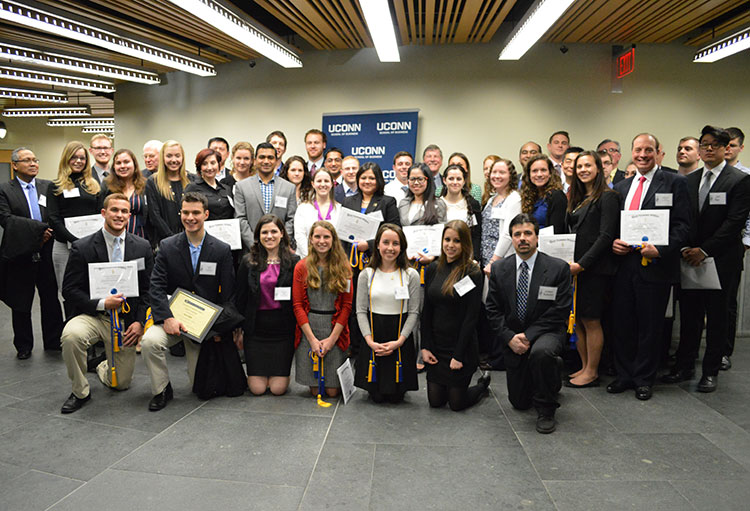 The following students were inducted:
Mark Adams, Brian Ajodhi, Holly Akerberg, Muhammad Al Mounayer, Ray Anderson, Michael Atamanuk, Erin Badillo, Rohit Bethmangalkar, Ankeet Bhatt, Adam Cassidy, Jeffrey Casucci, Anindya Chakraborty, Erica Chrisis, Faith Corbo, Eric Czapor, Ming Dai, Rostyslav Datsko, Gregory Debarba, Patrick Duplice, Lisa Earnest, Danielle Feldman, Michael Ferrigno, Megan Firmani, Victoria Gitelman, Marie Goyal, Paige Gregory, Fangfei Guo, Aaron Hagewood, Bryan Hansen and James Henson.
Also, Anna Jansson Vredeveld, Kayla Kamerer, Lilit Karayan, Colleen Kelly, Stephanie R. Kernozicky, Elizabeth Kohl, Naveen Kolagatla, Ashish Kumar, Rachel Laffitte, Jason Langeway, Matthew Luppi, John Mackiewicz, Kamila Magiera, Nishant Mahajan, David Mailly, Mawra Malik, Jonathan Marziale, Luke Massetti, Elizabeth Mattern, Namrata Mazumder, Kelly McCourt, Kathleen McKinnon, Michael McManus, Katherine Mooney, Michael Morabito and Edward Murphy.
Also, Timothy Murphy, Fumihiko Muto, Andrew Novitski, Andrew Oberson, Tejiri Okeregbe, Robert Paniccia, William Passarelli, Nimesh Patel, Ravi Peddinti, Leon Peschel, Noel Petrolati, Anthony Quattropani, Samantha Ragusa, Robert Alan Riccio, Kaitlin Rice, David Rifkin, Kristia Riggs, Danielle Rodgers, Romanna Romaniv, Rebekah Ruhe, Jun Ryu, David Saunders, Joseph Sciarra, Qi Shen, Adam Sher, Stacia Smart, Jacob Snarski, Sai Madhukar Srinivasa, Amanda Stanton and Rebecca Szpekman.
And, Alexander Szwakob, Thanapol Tanprayoon, Aileen Tobin, BaoTram Tran, Mikxalis Tsikis, Emily Vasington, Xing Wang, Michaela Wheeler, Brian Wilczynski, Shuai Yang, Kaitlyn Yule, Amanda Zappulla, Yiyao Zhang and Michael Ziebka.