The University of Connecticut School of Law hosted the first UConn Law School-UConn Business School Joint Negotiation Competition last month.
The event fostered professional achievement and collaboration among the students, with four MBA students continuing on to a regional competition at Villanova University in April.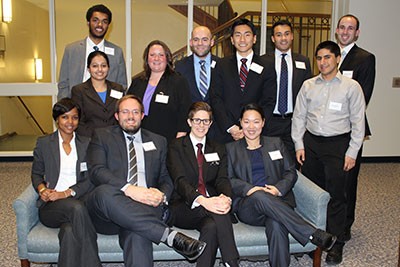 Competition organizer, Management Professor Nora Madjar, said the successful teams pulled together and integrated the complementary skills of law and business.
"What also helped the winning teams was that they demonstrated mastery of the facts and were prepared with a suitable strategy and tactics," she said. "They were very responsive and flexible as the negotiation unfolded, but stood firm and defended well their goals and interests."
One of the winning teams included MBA students Cassandra Cortese and Rebecca Ortinez, along with law students Aaron Baral, Pamela Bass, Thomas Holmgren and Jenna Montesano (alternate).
The second winning team included MBA students Armond Hodge and Andrew Ouellet (alternate) and law students Joshua Correia, Ryan Huntsman, Malcolm Ranger-Murdock and Bianca Slota.
On the first day, the competition required students to collaborate the preparation and negotiation of a merger-and-acquisition deal. On the second day, the finalist teams negotiated a real-estate deal related to community development and preservation, in front of a team of judges.
"The students from the two schools really complemented each other with the different skills that they brought to the table and generated more appreciation for their schools," Madjar said. She organized and administered the event with Law School Professor Jessica Rubin.
Business alumni, transactional lawyers, UConn Business professors Robert Bird, Nicole Jackson and Ramesh Shankar and UConn Law faculty Jennifer Mailly and Jeremy McClane judged the negotiations and provided feedback to competitors. Graduates of both schools enjoyed judging and complimented all competitors. In addition to the winning team, the judges selected the best negotiators and formed an "All Star" team.
Both teams will be working hard to prepare and represent UConn at a national event, the Villanova Law School/UCLA Business School Case Competition on April 11.