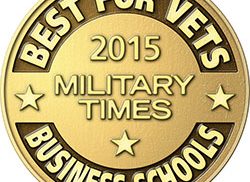 The UConn School of Business is among the "Best for Veterans—Business Schools 2015" according to a report released Monday by Military Times.
UConn ranked No. 54 nationally, in a year that saw record applications and a process that was highly competitive. It is one of many recognitions that the University has received for its veteran programs, which include an Entrepreneurship Bootcamp for Veterans with Disabilities (EBV). Last year, the UConn EBV and School of Business were recognized by Newman's Own Foundation as one of the five best veteran non-profit organizations in the country.
"For the past year, the UConn School of Business has continued its commitment to veteran students and being a part of the re-integration solution for this post-9/11 generation of combat veterans," said Michael Zacchea, director of the program and a retired Lieutenant Colonel in the Marine Corps.  "We graduated 26 veterans from our EBV program – our best ever. Our EBV graduates have started 88 businesses, employing more than 150 and producing more than $8 million in gross revenues; and 18 have found full-time employment."
Zacchea said military reintegration programs, like the one at UConn, are paramount.
"As the military downsizes in the next five years, the UConn School of Business is ideally positioned to create economic and social value for veterans seeking a business degree and workforce re-entry opportunities," he said.
Military Times published its list of Top 75 Business schools based on veteran culture and curriculum, cost, veteran policies and available quality measures. This is the second consecutive year that UConn placed in the rankings.