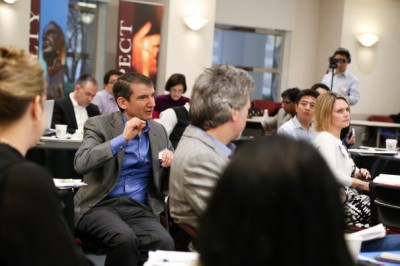 Nicholas Lurie and Joseph Pancras, associate professors of marketing, were invited to the Thought Leadership Conference on "Mobile Marketing and its Implications for Retailing" held at the Mays Business School, Texas A&M University on Jan 21-23. Leading researchers in mobile marketing and industry practitioners participated in work group discussions on five different areas of mobile marketing.
Lurie's work group discussed trends in mobile gaming while Pancras was team leader of the mobile promotions work group. The mobile gaming work group discussed how game design principles can be used to enhance consumer engagement with mobile services. As part of this discussion, the group developed a set of testable propositions about the effects of design elements on consumer engagement and marketing performance. The mobile promotions work group discussed the advantages and challenges of using mobile platforms for promotion activities. The group suggested ways that future technologies and approaches might change mobile promotions from annoyances to activities that add value to both consumers and marketers.
Presentation decks and videos can be accessed here. The intensive two-day workshop included a plenary session where work group findings were presented to the entire conference and which will appear as discussion papers in the Journal of Interactive Marketing.