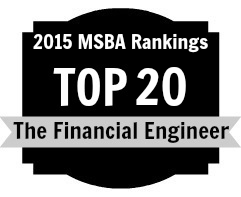 Students, faculty and alumni of the School of Business' Master of Science in Business Analytics and Project Management (MSBAPM) program are celebrating its double recognition as a top program in its discipline.
The Financial Engineer.net ranked the UConn program No. 11 in the nation in 2015, putting it in the company of other prestigious colleges, including New York University, University
of Southern California, Rensselaer Polytechnic Institute, Fordham and Villanova universities.
Meanwhile, the MSBAPM program was ranked No. 20 for 2014-15 by Eduniversal, rising 14 places from last year's ranking. The UConn program competed with business programs from 154 nations to earn that distinction.
Associate Professor Jose Cruz, MSBAPM program director and a UConn Ackerman Scholar, said he is excited about the rankings.
"Our program seeks high-caliber, motivated students who, after completing their degrees, continue to achieve great accomplishments as our alumni," Cruz said.   "We owe a debt of gratitude to our dedicated faculty and staff who work tirelessly to maintain and enhance the quality of our program."
In selecting the top colleges and universities, the staff at The Financial Engineer.net evaluated undergraduate GPA, scores on GMAT exams, acceptance rates, average starting salaries and bonuses for recent graduates and the rate of employment both at graduation and within three months afterward.
The UConn program accepts 42 percent of MSBAPM applicants. The average GMAT score was 648, the average GRE score was 311 and students had an average 3.3 GPA as undergraduates.
The average salary for recent MSBAPM grads was $87,500, with sign-on bonuses ranging from $1,000 to $20,000 and/or stock options. Three months after graduation, 99 percent of the program alumni have jobs. In December 2014, the program graduated 48 students, with another 50 slated to graduate in May 2015.
Eduniversal is a Paris-based company that offers global rankings in higher education. It has a three-step selection process, which culminates with peer selection by administrators from other universities.
The significant jump in the UConn ranking reflects the efforts of faculty and staff to provide MSBAPM students with an outstanding education, both in the classroom and with real-world experience, said Ram Gopal, department head of operations & information management and the GE Capital Endowed Professor of Business.
In the classroom, students learn cutting-edge technologies and analytics skills, can enroll in specialized electives and are challenged by real-world project work, he said. In addition, the program takes pride in its career development workshops, company-sponsored analytics competitions, networking events and career fairs, professional certifications, internships and experiential learning, and skills workshops, he noted.
"This early and continued engagement with the industry and the professional community enables our students to enhance their in-class learning, and graduate fully prepared to enter the workforce ready to contribute," Gopal said.