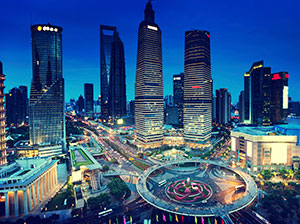 If you were trying to market a chocolate product in China a few years ago, you'd have had a very difficult time. That's because, until recently, the Chinese believed that eating chocolate could cause nosebleeds.
That was one of many stories that international marketing expert Dara MacCaba shared during a program titled "Building Innovative Brands—Insights from Asia.''
If you don't understand the Chinese culture, your efforts to promote even the best products will probably fail, MacCaba told 70 students and faculty during a January 14 program at the Graduate Business Learning Center in Hartford.
MacCaba is the founder of Lucid360, an innovation consultancy company, with offices in New York and Shanghai, which helps global companies position their products in new markets. Lucid360 has represented such industry giants as McDonald's, L'Oreal, Unilever, Wrigley's, Colgate, Coca-Cola, Microsoft, GlaxoSmithKline, Nestle, Philips and Castrol.
"You must empathize and walk in the shoes of the people you're dealing with, and try to understand what it's like to be a Chinese consumer,'' said MacCaba, who typically spends two weeks in Shanghai every other month.
He described China as a big, competitive and challenging market, with rapidly changing trends. The business opportunities are further complicated by legal regulations, cultural beliefs and regional preferences.
MacCaba's presentation offered insights into the many ways that Chinese culture differs from American beliefs. He began by displaying a map of the world, which showed China in the center and the rest of the world on the periphery. It illustrates how differently Americans and Europeans view their positions in the world, he said.
He also displayed an image of a Chinese beach where people donned colorful UV-protection masks which might resemble a Halloween mask to an American. It is important to keep an open mind when dealing with cultures that are different from yours, he added.
Lucid360 uses many ways of tracking trends, from traditional research to conversations with people on the streets, he said. In China, it is not unusual to select brands that are recommended by friends.
For instance, if you were trying to market baby formula in China, where there has been great mistrust, you would need to know that many new mothers turn to experienced friends–not their own mothers or advertising–for advice on which product to select, MacCaba said.
When Quaker Oats wanted to sell its product in China, the company discovered that breakfast cereal is a very tiny market in China. But because there is a bigger demand for snacks, Quaker Oats was able to devise an oatmeal shake that could be sold as a healthy, portable snack, and it sold well, MacCaba said.
One of the biggest challenges for MacCaba and his team was trying to introduce Glenfiddich whiskey to the Chinese market. The whiskey was the top brand in the world, but unknown to Asian consumers.
The problems were plentiful. In Chinese nightclubs, inexpensive whiskey was mixed with green tea as a fast-track method of getting drunk, MacCaba said. Its reputation wasn't good.
Lucid360 recognized that Glenfiddich needed to present itself as a premium beverage and distinguish itself from other brands. Instead of competing with other whiskeys, it would vie for its place alongside cognac, long considered a luxury beverage in China. New packaging was designed by Glenfiddich that was more in line with the cognac bottle.
The last piece of the puzzle was recognizing that the Chinese place great importance on gifting, he said. So Glenfiddich was marketed as a desirable gift to give when deepening a relationship—perhaps with an architect or an entrepreneur. The positioning worked and the brand was embraced, he said. The lesson, MacCaba said, is don't assume that similar products are your competition.
"You need to be distinctive and know why people like your product,'' he said. Investigate how other companies have successfully integrated their products, he said.
For instance, when Wrigley's wanted to introduce a new gum in China, it didn't take the approach it might have in the United States—with an expert wearing a white lab coat, touting the benefits of oral hygiene. Instead, it promoted the vitamin benefits in the product, which appealed to Chinese consumers.
MacCaba said it is also important for U.S. companies to know "where they have permission to play.'' One firm that tried to combine the benefits of Eastern and Western medicine and failed terribly. Another company that manufactured safe home-cleaning chemicals encountered unsurmountable legal regulations, he said.
To illustrate the competitive nature of the country, MacCaba described how Lipton created a "milk tea,'' a drink that is popular in China. It did well in Shanghai but soon competitors were producing a product in similar packaging. Smaller companies were also able to introduce new flavors more quickly than the U.S. company. So over time, it became less profitable for Lipton.
One student asked about the "product copycat'' issue in that country and MacCaba said there certainly are knockoffs. One beverage company he represents gets more bottles returned than it sells, so that indicates the prevalence of the problem.
Digital media is exploding in China now, he said. Facebook—currently barred from China—may never make it to that country, he said, because already the Chinese are integrating new, more sophisticated technology that may make it obsolete.
"The fact that China changes so rapidly,'' MacCaba said with a big grin, "is very good for client retention!''