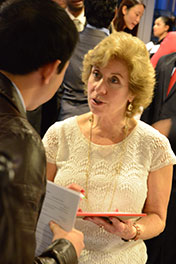 Alexion Pharmaceuticals, Blum Shapiro, Travelers and Priceline.com were just some of the companies seeking employees and interns at the inaugural Career Connections event for graduate business students at UConn.
More than 200 candidates earning advanced degrees in business—including MBA, Master of Science in Business Analytics and Project Management, Master of Science in Financial Risk Management and Master of Science in Human Resource Management—attended the November 12 event, which was at the UConn School of Business Graduate Business Learning Center (GBLC) in downtown Hartford.
Also among the 16 companies in attendance were: Aetna, Boehringer Ingelheim, Fiduciary Investment Advisors, Fitch Ratings, GE, The Hartford, Henkel, Infosys, iTech Solutions, Northwestern Mutual, Stanadyne Corp. and VoiceGlance.
All companies were represented at the career-fair style gathering on the Observation Deck, where students were able to talk individually with each company representative. Almost half of the companies also chose to offer a presentation in one of the adjoining classrooms, where interested students were able to learn more about each organization and possible career paths. In addition, companies were able to interview immediately in private conference rooms.
"This highly attended, successful event demonstrated the positive impact of having all graduate business programs together in Hartford," said Meg Warren, assistant director of the Graduate Career Development Office. UConn's Full-time MBA program recently moved from Storrs to Hartford. "Recruiters and hiring managers alike were pleased to see the range of graduate business talent all under one roof, in one venue."