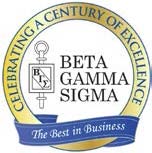 The University of Connecticut chapter of Beta Gamma Sigma, the nation's oldest and most widely known business student association, will celebrate its 55thanniversary this year. To commemorate the occasion and in keeping with the society's mission of recognizing and encouraging academic excellence, the UConn chapter will conduct its annual induction ceremony on April 25, 2014, as part of the larger School of Business Academic Honors and Awards ceremony.
One hundred and forty-three (143) students have been invited to become members into the Society by the BGS faculty committee and School of Business Dean John Elliott. The guest speaker this year will be Marcia Marien, a Partner and CPA at O'Connor Davies, LLP. Scholarship awards also will be presented to rising seniors who have compiled particularly distinguished academic records. The 2013 Beta Gamma Sigma scholarship recipients Jasmine Lui and Marc Schuman comment on their experience:
"It was an honor to be awarded the Beta Gamma Sigma Scholarship last year. We have always felt that the business community at UConn has supported us, but this scholarship was a form of tangible support, for which we are very grateful. Beta Gamma Sigma had many bright and talented inductees last year, so we are honored to be recipients out of such a qualified group. This scholarship has inspired us to give back to our community, and we hope that one day, as successful professionals, we will be able to help others as Beta Gamma Sigma has helped us."
Only the top 10% of 6th semester juniors and top 10% of seniors are eligible to join Beta Gamma Sigma. Being invited to join Beta Gamma Sigma is a sign of excellence. Receiving a BGS Scholarship in addition indicates that a student has earned the right to be considered as best of the best at one of the world's finest business schools.
Membership in Beta Gamma Sigma provides recognition for a lifetime. This lifelong commitment to its members' academic and professional success is defined in the Society's mission: to encourage and honor academic achievement in the study of business, to foster personal and professional excellence, to advance the values of the Society, and to serve its lifelong members.
The Beta Gamma Sigma designation sets an individual apart from the crowd. Corporate recruiters actively seek individuals who have been elected to membership into Beta Gamma Sigma. Benefits of membership in the Society can continue long after graduation and professional life. Programs such as the BGS CareerCentral job board, BGS On-Line Community and the Alumni Network offer alumni members opportunities to stay connected and benefit from their commitment to academic excellence.
Beta Gamma Sigma was founded as a national organization on February 19, 1913. The first national honor society in business was a merger of three separate societies established to honor academic achievement in business at the University of Wisconsin, University of Illinois and the University of California. BGS celebrated its 100th anniversary last year.
With collegiate chapters on five continents, Beta Gamma Sigma today is truly an international society that remains dedicated to recognizing the most outstanding students of business and management. The Society serves business schools accredited by AACSB International in the 21st century knowing that its membership of more than 625,000 comprises the brightest and best of the world's business leaders.