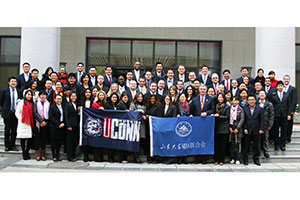 As the world's second largest economy, it's no wonder China is a compelling travel destination for global business programs such as those offered at UConn School of Business.
Thirty-seven MBA students traveled to China over the last Thanksgiving holiday for an intensive, 11-day study program designed to supplement their foundational business education with an understanding of the business and cultural aspects of the influential global nation.
"UConn's travel program to China was an experience of a lifetime for me," commented Namita Joshi '15 MBA, manager of Drug Safety Operations at Purdue Pharma. "I had many perceptions about China regarding their business model, culture, food, population, cleanliness, etc. I literally got a 'reality check'."
Global Camaraderie
UConn is one of only a few MBA Programs in the U.S. to offer a study program in China that encompasses three cities. Now in its 12th year, the travel program includes visits to Beijing, Shanghai, and Jinan—the capital of Shandong Province—where the UConn School of Business has enjoyed a five-year relationship with Shandong University, with multiple faculty and student exchanges between the two universities.
One of the many highlights of the latest trip was meeting with fellow MBA students at Shandong University's School of Management. Shandong MBAs accompanied UConn to meetings with Jinan companies and met later to network, share experiences and exchange ideas. Shandong faculty and MBAs hosted a dinner banquet in honor of the UConn visitors and invited UConn faculty member Brian Brady to present a guest lecture on entrepreneurial marketing to the associate dean, faculty and select students the following day.
Curriculum
The MBA travel program comprises two separate, but integrated, courses, OPIM 5894 – Global Supply Chain Management taught by Professor Tim Dowding, and MGMT 5894 – Management Issues in Asia taught by Brian Brady. Students may opt to take one or both courses.
As part of the curriculum, students toured and met with executives at over ten companies including Diageo, Henkel, GE Healthcare, RR Donnelley, WPP/Ogilvy & Mather Asia, SinoTruk and Tsing Tao Brewery. The group also had a private meeting with Elizabeth (Betsy) Shieh, an officer in the Foreign Commercial Service (U.S. Dept. of Commerce) at the U.S. Embassy in Beijing.
"I frequently travel to Asia on business, and participating in this study program has been invaluable," says Jean-Pierre (JP) Karam '14 MBA, a senior project engineer at Becton, Dickinson and Company. "It has given me a first-hand look at how other companies operate in China and given me a benchmark for my company."
Photo: UConn MBAs pose with their peers at Shandong University in Jinan, China.