This article first appeared in the UConn Business magazine, Volume 3, Issue 2 (Spring 2013)
Innovation for Business Growth in Fairfield County
Over 110 UConn Alumni and business leaders from the greater Stamford, Connecticut area gathered at the "Innovation for Business Growth in Fairfield County" event at the Stamford Learning Accelerator. The event, hosted by the UConn School of Business and The Business Council of Fairfield, Connecticut, featured a panel discussion on topics such as new business growth in Connecticut and why companies are relocating to Fairfield County. 
UConn MBAs Take 1st Place in Illinois Strategy Case Competition
A team of four UConn MBA candidates took first place in the 5th annual MBA Strategy Case Competition hosted by the University of Illinois at Urbana-Champaign. Ten schools participated in the competition: Arizona State, Baylor, UConn, Hong Kong UST, Illinois, Iowa State, Michigan State, Minnesota, Penn State, and Purdue.
Undergraduates Place in 4th Annual Cornell Real Estate Competition
A team of undergraduates from the UConn School of Business placed among the top three universities in the Fourth Annual Cornell Real Estate Case Study Competition in New York City. Fifteen of the best international undergraduate real estate programs were represented as they vied for the top spot.
UConn MBAs Sweep APICS Case Competition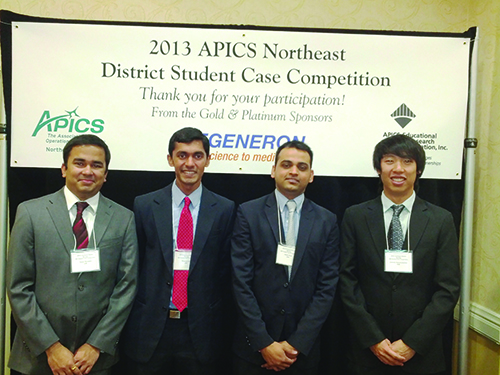 University of Connecticut MBAs took the first, second, and third place awards in the APICS (the Association for Operations Management ) Northeast Region graduate level student case competition. Twenty-one teams from across the northeast participated, including undergraduate and MBA teams.
The Business Career Center Breaks the Mold on Career Fairs
The School of Business Career Center (SBCC) hosted its inaugural Business Career Expo during which they welcomed over 480 registered business students and over 100 key corporate professionals to an invitation-only career event. The day was structured around three components: networking, information sessions and personal career placement conversations. The Expo was marketed to employers and students alike as "Not your Classic Career Fair" and was the first event of this kind for not only the School of Business, but the University as well.
UConn BCLC Students Help Rebuild Community in Macon, Georgia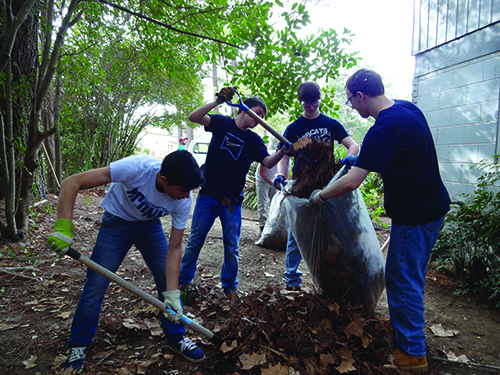 Students from the UConn Business Connections Learning Community (BCLC) traveled over 1,000 miles over their winter break to volunteer for tornado relief in Macon, Georgia. The group of 26 students helped Rebuilding Macon, Inc. to restore and fix up low-income, elderly, and disabled homeowners' properties. Rebuilding Macon focuses on the concerns of the elderly and disabled low income homeowners. With volunteers like the Business Connections Learning Community students, great strides have been made in improving the surrounding community.
Katherine Pancak named among Inman News' Top 100 Most Influential Real Estate Leaders
Inman News, a national real estate news service, has named Katherine Pancak, Professor in Residence of Finance and Real Estate at the University of Connecticut in Stamford, among its 100 Most Influential Real Estate Leaders for 2013. The 'Top 100' list "recognizes those who embody leadership, ingenuity, strength, conviction, power, persistence, perseverance and progress—their voices and actions can move the industry toward change."
Finance Society Visits Morgan Stanley, Gets Inside View of Wall Street 
In the early hours of Friday morning, October 26, 2012, eighteen members of the School of Business Finance Society embarked upon a trip into Manhattan to meet with Dan Toscano '87, Managing Director and Co-Head of Global Leveraged
and Acquisition Finance at Morgan Stanley. Mr. Toscano and his team hosted a Teach-In on Global Capital Markets for the business students. While learning about the inner workings of one of the leading global financial service firms in the world, the students followed up a question/answer session with a trip to the trading floor of Morgan Stanley's world headquarters in New York.
UConn Faculty Explore Sustainability Initiatives through CIBER's "Green Business: Australia" Program

The UConn Center for International Business Education and Research (CIBER) hosted the inaugural "Green Business: Australia" Faculty Development in International Business (FDIB) program. Objectives of this development program focused on how Australian businesses are incorporating sustainable development strategies for environmental, social, and economic benefit.
UConn Graduate Programs ranked among Top 200 "Best Masters and MBA Worldwide" 2012-2013
The UConn School of Business was recently ranked by Eduniversal among the Top 40 programs in North America and Top 200 worldwide for three graduate programs:
Best Masters in Engineering and Project Management Global Ranking: MS in Business Analytics and Project Management – #35 in North America
Best Masters in Business and Commercial Law Global Ranking: MBA/JD Degree Program – #37 in North America
Best Masters in Executive MBA Global Ranking: Executive MBA Program – #40 in North America