This article first appeared in the UConn Business magazine, Volume 3, Issue 2 (Spring 2013)
Risk management gains growing interest
At the forefront of risk management education, the University of Connecticut School of Business introduced its first annual Risk Management Conference last fall, attracting over 160 participants including over 100 corporate attendees.
The conference, Risk Management: New Challenges and Opportunities, was organized by the Master of Science in Financial Risk Management (MSFRM) program and sponsored by several multinational corporations in the greater Stamford and Hartford, Connecticut areas. David Fourqurean, Senior Vice President and Operational Risk Manager at Wells Fargo, participated in the conference as both an attendee and a panelist.
"Based on the discussions we had that day, I believe it was one of the most valuable conferences I've attended in recent years," says Fourqurean. "While similar events target a narrow slice of industry participants, the Challenges and Opportunities conference promoted a well-rounded dialog by providing a forum across industry, government, and academia. I particularly appreciated the fresh insights provided by the students," he adds.
The conference agenda emphasized the common forces affecting a wide range of institutions, including banking, insurance, and investment management, as well as regulators, industrial firms and accounting/consulting firms. Topics included:
Measuring and Managing ERM Effectiveness
New Perspectives on Risk Appetite and Hedging Policies
Moving Towards a More Integrated Approach to Risk Management
Risk Management from a Legal/Regulatory Perspective
Risk Management: Advancing Stakeholder Mandates. What are the implications and practical application in insurance, banking, and asset management?
Emerging Risks – Identifying and Managing Over-the-Horizon Risk Events.
"These are topics that you don't see in books, partly because the industry has so recently become increasingly relevant, and partly because these are the stories and experiences that you can only truly understand from people who have gone through a crisis first-hand and learned from it," explains Rodrigo Toledo '13 MSFRM, a current graduate student who attended the event. He particularly enjoyed the variety of topics and noted a high level of interaction between professors, practitioners and students: "It was a wonderful forum to learn from each other," he says.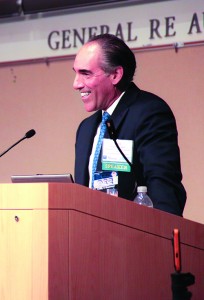 Setting the stage for the conference, Frank Minerva '01 MBA, Managing Director and COO of UBS bank, delivered the welcoming address, presenting the audience with a discussion on preparing for unexpected risks, such as Hurricane Sandy.
Keynote speaker James B. Comey, Jr. shared with the crowd his many experiences as the former Deputy Attorney General of the United States, and currently as the General Counsel at Bridgewater Associates. In his current position, Mr Comey oversees the legal, compliance, and security departments.
The next risk management conference shows great promise for once again bringing together financial and accounting professionals, faculty and graduate students to discuss key issues and challenges in risk management. The conference is best suited for those working in the financial/regulatory sectors, in a financial position, or anyone who is part of the accounting or consulting communities which deal with risk management.
MSFRM: Practical Focus
One of the newer graduate programs at the School of Business, the MS in Financial Risk Management (MSFRM) has placed emphasis on the growing needs of the business community. "In putting the degree program together, we took input from corporations and listened to what was of interest to them. What they told us was that we needed to keep the program focused on the practical, not the theoretical," says Jud Saviskas, Executive Director for the School of Business at UConn Stamford.
Students are in agreement with the importance of practical experience. Rodrigo Toledo researched risk management programs at other universities but found UConn to be unique: "Risk Management is a very young profession so there are only a few schools that offer this type of program, and I found many of them to be very theoretical. The MSFRM [at UConn] incorporates interaction with professionals. That is one of the most important aspects of the program," he says.
Kashif Ali, '13 MSFRM, a Fulbright scholar from Pakistan, agrees. "I transferred from a very academic program in Nebraska. UConn is faster-paced and everyone has industry experience, from the professors to speakers in the classroom." As part of their course requirements, students work on company-sponsored team projects and interact with guest speakers from organizations such as IBM, UBS, GE Capital, the Connecticut State Controller's Office, the City of Hartford, and Atlantic Asset Management.
In addition to guest speakers during class, the MSFRM program offers optional pre-class dinner discussions, providing a friendly, PowerPoint-free environment for open discussion and Q&A. The initiative has brought in a broad range of key executives from RBS, Morgan Stanley, Nomura, Country Risk Solutions, GE Energy Financial Services, and The Hartford, with one or two topics as the focus for each meeting. "One of our pre-class dinner discussions featured a professional with over forty years in the financial industry," says Toledo. "It was completely amazing."
With enrollment increasing each year since its inception, the MSFRM program now operates as a two-cohort system in Stamford and Hartford. With Hartford's insurance and manufacturing industries demanding preparation for operational risk leadership roles, and Stamford's financial sector requiring skills as they pertain to investment risk, the program is tailored to industry needs in each location. Distance learning technology has helped facilitate interaction between cohorts for courses that overlap, with a class physically taught at Stamford one week and virtually projected to the Hartford cohort, and vice versa the following week.
The MSFRM program has attracted a range of students, from recent graduates to professionals with as many as twenty-five years of risk management experience, though nearly all have some financial background. With approximately half of the students from countries across the globe including Canada, Chile, China, India, Oman, Pakistan, Turkey, and Vietnam, the program has a strong international presence.
Working in the commercial banking industry in Chile, Toledo wanted to study in the United States to learn about bigger financial markets, improve his knowledge, and seek new opportunities. "I was very surprised at how open the professors and directors are to everyone, asking for feedback from students and immediately open to new ideas," he says.
Toledo is grateful for the support for international students as well: "There are so many opportunities to interact with other students and learn about other cultures from our peers. For instance, we had a party to celebrate the Chinese New Year." Despite the distance, there is occasional opportunity for the Stamford and Hartford cohorts to interact—both groups found time among their work and studies to attend a women's basketball game in Storrs.
Commenting on his transition as an international student, Ali shares a similar sentiment: "I feel like family here. We socialize and know what we want to do, so all of us are helping each other to get ahead."