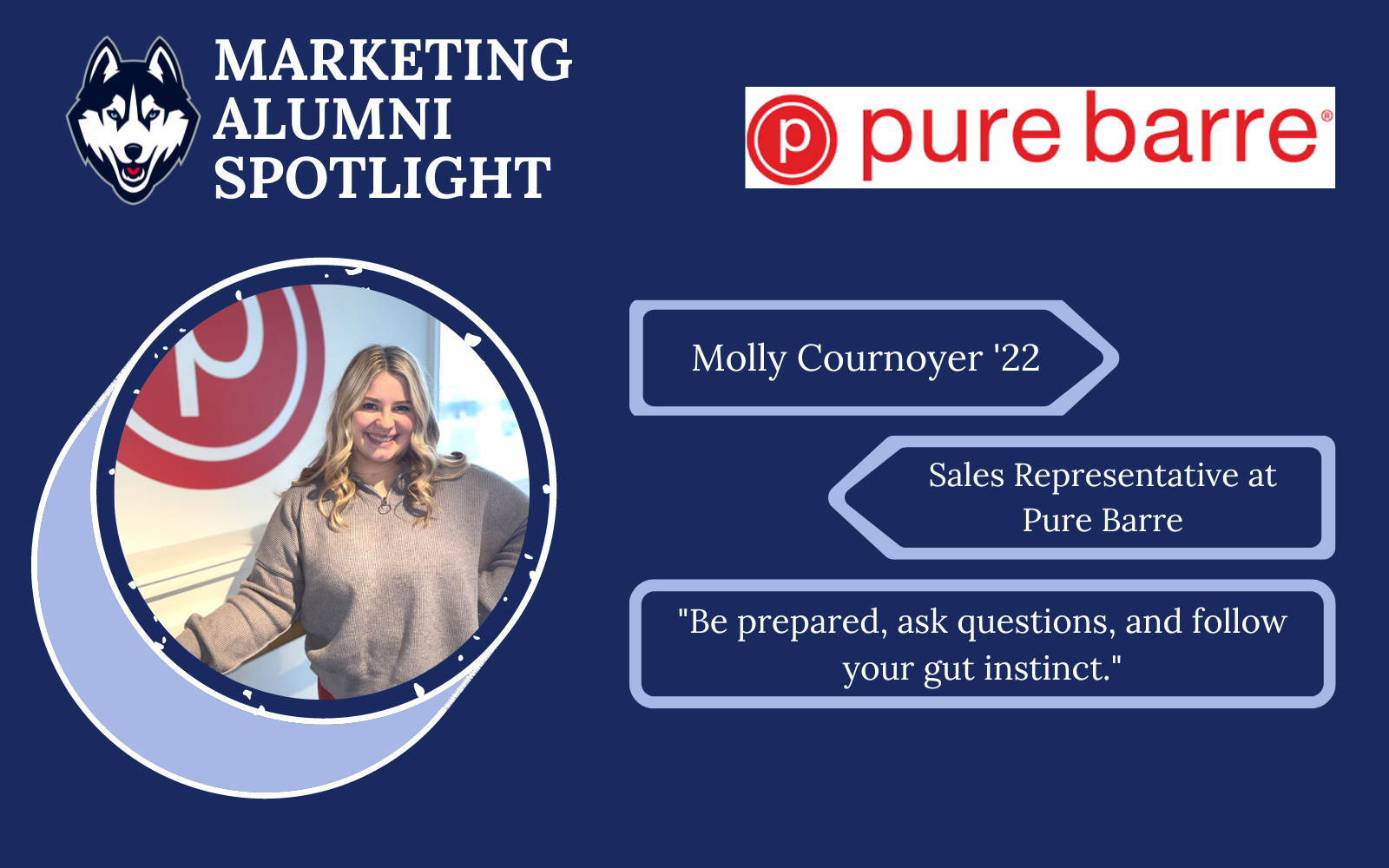 Molly Cournoyer graduated from the UConn School of Business in December 2022. During her time at UConn, Molly made sure to focus on both her physical and mental health to ensure success in starting her career. Molly explained, "I think in today's world being able to work from home can get in the way of work life balance as you can just hop on your device to answer a few emails. By choosing to prioritize my health while in school I became a better student and now a more successful employee."
Molly is currently working as a Sales Representative for Pure Barre. The company's focus on health and wellness is what attracted her to the role. "The team is very focused on having a healthy mind and body for the clients, along with each other;" she continues, "The deciding factor for me was how I felt in the studio. I would say I'm a pretty intuitive person so when I felt at home as I walked into the studio I knew it was a good fit.". For Molly, a typical day in her role is centered around strong customer service. She works to make sure members are getting what they are looking for out of their memberships, as well prospecting for new members. Her main objective is to get them into the studios and eventually into memberships that will work for their own routines and personal goals.
Molly recalls her favorite professional experience so far would be making so many connections with her professors while at UConn, especially those who are adjunct professors. "Having professors who are still in the field has been such a great opportunity for connections that will help in my professional life;" Molly stresses the importance of networking, "The connections you make can bring so many opportunities your way. Something that I've done to advance my career is keeping an active LinkedIn account and consistently growing my network.". Molly's advice to current undergraduate students is to be prepared for whatever comes your way. She notes that "When you are in an interview you are also interviewing that company. Be prepared, ask questions, and follow your gut instinct. Learn to be your best self. If a company is not going to accept you for who you are, and what you have to offer then there are bigger and better things coming your way!".