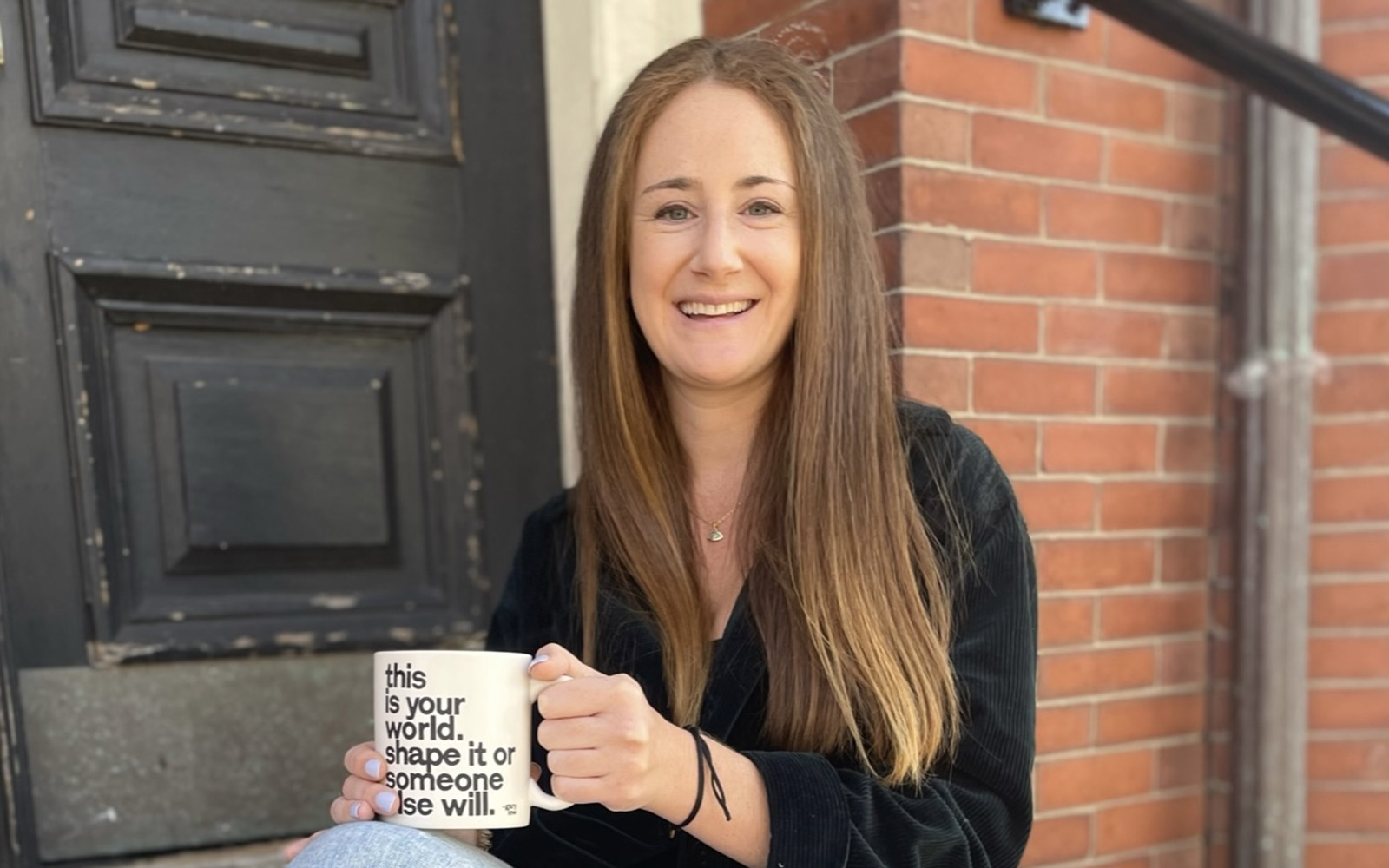 UConn alumna and serial entrepreneur Michelle Wax '12 has created her fourth startup, a customized coach service to help people meet more compatible dating partners using a personalized strategy.
Her company, called Michelle Wax High Caliber Dating & Relationships, isn't a matchmaking service. Rather, Wax helps clients define what they are looking for, build self-confidence, and find new ways to break out of dating ruts.
"Many people tell me that dating is boring, draining, or lackluster, but it doesn't have to be that way. Dating can be exciting," Wax said. "Unfortunately dating is something that people are expected to know how to do. But if you don't have good role models, you can struggle."
In fact, a 2020 study by the Pew Research Center said nearly half of people surveyed believe that dating today is much harder than it was a decade ago. During the pandemic, people felt disconnected and now they are ready to prioritize their relationships, Wax said.
"Many people meet the love of their life through online dating but, like an investment portfolio, you need to diversify," Wax said. "One of the things we talk about is 'What event or organization can you attend that would allow you to meet new people?'"
"Through one of my other endeavors, "The American Happiness Project," I learned that much of happiness in life comes down to our relationships, not only with other people but also with ourselves," Wax said. "Often the people in our lives are a mirror of who we are."
Wax, who credits her grandmother with instilling in her the attitude to pursue your dreams, said she addresses dating in two ways. She wants her clients to discuss their mindset and beliefs around dating and address any issues that are holding them back. She also coaches them on the practical approach to meeting new people, such as how to keep a conversation lively or how to walk into a restaurant and make a good impression.
Family, Friends Still Remain the Most Common Matchmakers
The dating business is now a $7.5 billion industry, with the majority of it concentrated in the United States. Sixty-nine percent of adults are "partnered"—meaning they are married, living with someone, or in a committed relationship.
Of those who are unattached, only about half of them are interested in dating. For those who don't want a relationship, 20 percent said they are too busy, 18 percent feel they have no luck in dating, 17 percent feel no one would want to date them and 17 percent say they are too old to date. Among younger people, many said they just like being single.
Among those happily coupled, the most popular way to meet a partner was through family or friends. But meeting a prospective partner online (either through a dating app or via social media) dating is common among younger adults and the LGBTQ community. Others said work, school, bars and restaurants, and places of worship are their choices for meeting dating prospects.
Wax said her coaching service is available to everyone, but that her typical client is between 25- and 45-years old.
Entrepreneurship Started with Cookies
Wax began her entrepreneurship journey in her 20s, owning two successful companies in the food industry, including a cookie-baking company. Although the businesses were doing well, but she found herself easily stressed and with self-doubts.
That experience propelled her to travel across the country in search of the key to happiness. "Happiness is everyone's ultimate goal, but how do we get there?" she has said. "We think that we will be happy when we reach that accomplishment or buy the house, or start the company or meet the perfect person. It's always in the future."
After speaking with happy people—from all 50 states and different walks of life and various circumstances—she discovered that the key to happiness is to take control of your life and be purposeful. Whether speaking with senior citizens or teenagers, they all said they don't need to accomplish something enormous to feel fulfilled. It often starts with small steps.
Her findings resulted in the "American Happiness Project," a documentary followed by workshops and programs designed to make participants feel more energetic and have a greater sense of fulfillment. She combined her discoveries with research on the neuroscience of how human brains are wired and how people can use that to optimize happiness.
Her latest business is related, but narrows the focus exclusively to dating. In fact, before embarking on her new company, she tried the approach on herself, and met the man she's been dating for two years.
As a Werth Institute Mentor, Wax Hopes to Inspire Others
In addition to running her business, Wax is the entrepreneur-in-residence at UConn's Werth Institute for Entrepreneurship & Innovation, where she is creating new mentoring partnerships for students and teaching workshops on attaining business goals.
"I feel like I've come full circle since I was a UConn student," said Wax, who majored in management with a concentration in entrepreneurship and was a leader in the Entrepreneur Club. "I'm the same person that I was when I was a student here, but I'm also completely different."
She tries to use her experience as an entrepreneur to inspire others.
"I believe the value I bring is seeing that a unique path or approach to life can be done, and you can create the reality that you want, regardless of what's happened in the past or what other people are telling you is possible," she said. "Starting a company can be risky, but I see the bigger risk is being in the exact same spot one year from now and regretting not starting. The time is going to pass anyway, so you may as well go after what you want."
Dating Happiness Often Impacts Other Goals
New Year's Eve is often the time when people set goals for their career or their health, and Wax believes everyone should have relationship goals as well.
"You can't control when people come into your life, the timing of it," Wax said. "But I encourage people to be a little bolder. I think many people believe they should follow the same 'rule book.' There are many people out there, and you shouldn't hesitate to stand out or take a chance."
"I recently had a woman go through coaching who had been single for a while, and told me she is starting to set boundaries to ensure her happiness," Wax said. "It was the first time she felt happy being single.'
Wax tells her clients that they can create the reality that they want.
"We are more in control of our lives than we believe. There's incredible power and control in the belief that you can achieve something," she said. "When you learn to pursue what you really want in a relationship, it has a beautiful trickle-down effect in other areas of your life as well."
Be The One will offer several free introductory online coaching courses this winter. For more information, please visit www.michellewax.com/events.