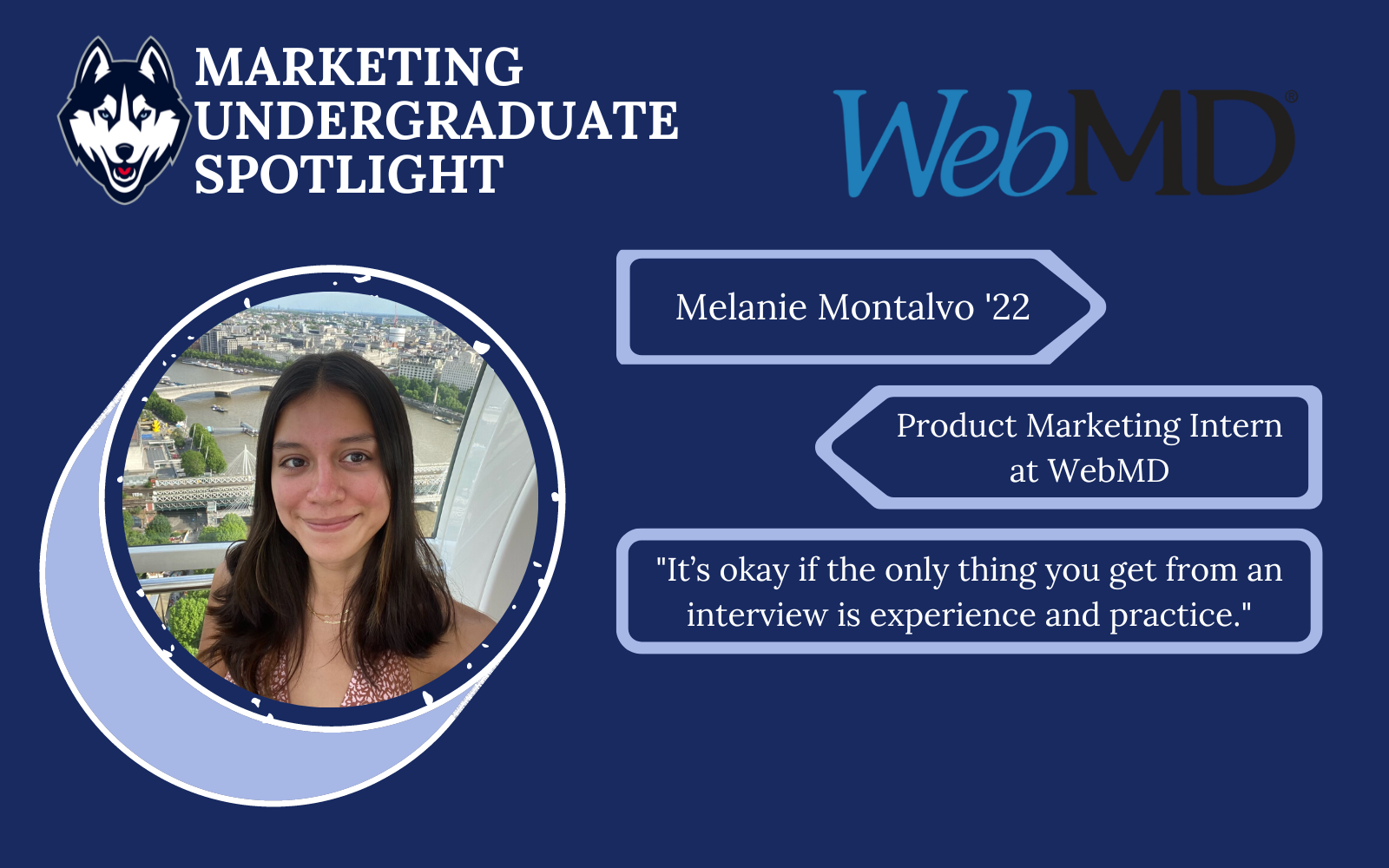 As a Marketing major with a Management minor, Melanie Montalvo plans to graduate from UConn in December of 2022. Aside from her studies, Melanie is currently a Product Marketing Intern at WebMD. Melanie has been in this position since June of 2022. What attracted Melanie to her current position is the great reputation of the company. At the time, Melanie was not familiar with what Product Marketing was. After doing some of her own research, the role piqued her interests. The interview process for this role at WebMD was "fairly simple and straightforward", in Melanie's opinion. She had an initial phone conversation with a recruiter and then was asked to do a video interview. The interview was with the Product Marketing Manager and two other team members. The deciding factor in accepting this role was that it was a remote position. Over this past summer, Melanie also took online classes and had a side job. If she had to commute into New York City it would have been a lot more stressful for her, so she was relieved to have the remote option.
There is no typical day as a Product Marketing Intern at WebMD and Melanie is always working on different projects. She is currently overseeing all updates to any product decks which are client facing. WebMD has been modernizing their product offerings and creating new mockups. Melanie is managing this project and something similar has not been done at the company in years. A lot of this work looks like collaborating with other teams, such as project management and creative, and working with an external agency to create new templates. Melanie's favorite professional experiences so far have been with her team. "I am constantly being supported and my work is always appreciated and acknowledged. I definitely think having such a close team creates an environment where I am comfortable asking questions and for help. It's great that there has been trust established and my manager gives me meaningful projects to work on. I also enjoy having weekly team meetings where we discuss work but can also be lighthearted." Melanie recalls.
Some advice Melanie would give to undergraduate students who are currently looking for internships or full-time roles would be to not be discouraged by rejections or not hearing back from positions you have applied for. "There are tens if not hundreds of applicants for each position and the reality is that you won't hear back from most of them." Melanie states, "I went through probably around 15-20 interviews and the more comfortable I got with interviewing, the more confident I was which led to offers. It was definitely discouraging at first, but everyone goes through it, and you eventually will land something that is meant for you. It's okay if the only thing you get from an interview is experience and practice.".