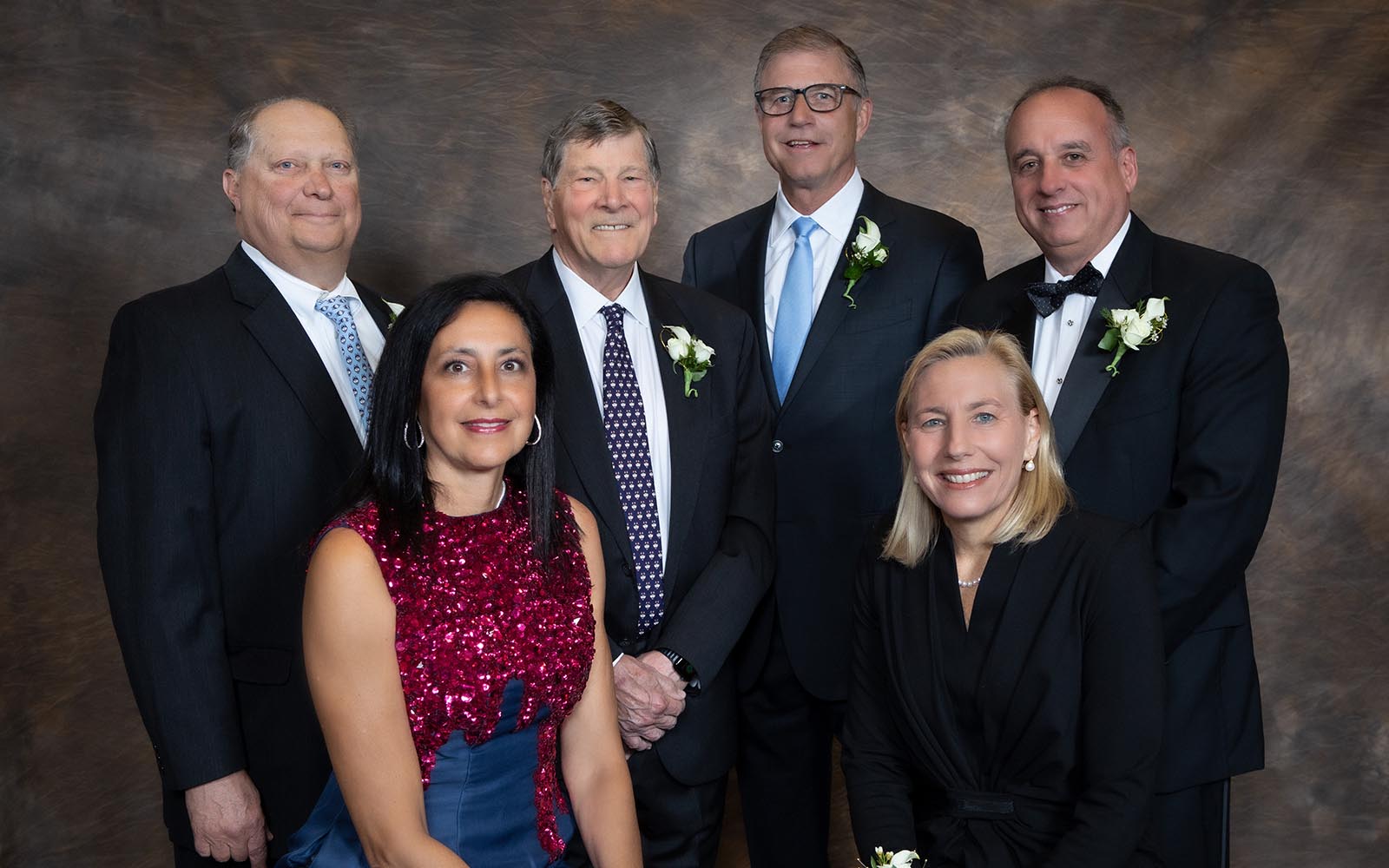 Five new inductees into the UConn School of Business Hall of Fame shared their wisdom, advice, and fondest Husky recollections during the celebration Friday night at the Hartford Marriott Downtown.
The inductees, all business powerhouses and UConn alumni, were honored by 250 people in attendance, including Interim President Radenka Maric. The celebration is the School's premier event and honors alumni who have achieved professional success, have given generously to the community, and possess outstanding character.
This year's honorees included:
Noha H. Carrington '85, CEO of Carrington Advisors, has a long and distinguished career as an investment adviser. At Carrington, she provides fintech services to early-stage companies. Previously she was COO of Wellpay Corp., which provides digital payment solutions in the medical industry. Carrington graduated summa cum laude from UConn, with a major in finance, and went on to earn an MBA from NYU. She serves on the UConn Foundation Board of Directors.
Joanne C. Crevoiserat '85, is CEO of Tapestry Inc., a global brand that includes Coach, Kate Spade and Stuart Weitzman. Prior to joining Tapestry, she held senior finance positions with the May Co., Walmart stores, and Kohl's, and as Executive VP and CFO at Abercrombie and Fitch. A Connecticut native, Crevoiserat graduated summa cum laude from UConn in 1985 with a major in finance. Her first job was in a finance training program at G. Fox, where she became addicted to the pace and energy of retail commerce.
Richard E. Eldh '81, is the founder and former co-CEO of SiriusDecisions Inc., a B2B research and publishing organization serving high-performing, global companies in tech, healthcare, and financial services, including AMEX, JP Morgan Chase, Google, IBM, Samsung and more. Headquartered in Wilton, the company grew to $100 million in revenue and supported 350 employees with offices all over the world under Eldh's leadership. Today, Eldh serves as an investor, advisor, educator and mentor, and his passion is supporting the development and education of underprivileged young adults.
Nicholas R. Morizio '74, is President of the Hartford and New Haven offices of Colliers International. With more than 45 years of experience in commercial real estate, he has marketed properties exceeding $800 million. He has also led several professional organizations and is the recipient of numerous awards, including the Lifetime Achievement Award by the UConn Center for Real Estate. Loyal to his alma mater, Morizio has served as a counselor for the UConn Real Estate program and as a member of the Dean's Advisory Cabinet at the School of Business.
Richard J. Tavolieri '89, is the Hartford Managing Partner of Deloitte, where he has worked since graduating from UConn. With wide-ranging expertise, Tavolieri has served clients with a focus on life sciences, manufacturing, technology, retail and more, while supervising a team of 350. He also leads recruiting activities for Deloitte and engages with university leadership. He has led fundraising for scholarships and professorships and been a guest lecturer in the classroom.
'Creating the Next Leaders of the World'
Several of the inductees credited UConn for helping them discover their lifelong passion.
Crevoiserat said she had planned to become a lawyer until her business courses expanded her mindset and introduced her to finance.
"You're creating the next leaders of the world. Thank you for what you do every day," she said to the faculty in attendance. To the students she said the sky is the limit, and that with their UConn education as a foundation, they will be more than ready for the challenges ahead.
Carrington also spoke of how her college education prepared her for a career in finance. Today, she said, she sees the importance of a strong alumni network that supports the work of the university. She encouraged alumni to mentor students and share their invaluable lessons with the next generation.
Eldh drew laughter from the audience when he said that unlike some of the other inductees, summa cum laude wasn't listed before his name. He said college was a very social experience for him, and that he might not have been inducted if the dean had seen his transcript.
But in a serious moment, he offered a lesson to the students in the group, saying that trust is something badly needed in the world today. He believes in integrity in business, competence in leadership, individual selflessness and the importance of fairness. "If you have those things, you'll build a great company," he said, to applause from the audience.
Morizio also drew chuckles from the audience when he described how he flunked out of the School of Engineering but made the dean's list in the School of Business. "I said, 'This is my calling!" he recalled. In addition to his career success, he said he is grateful to have made great friends at UConn who have remained by his side throughout his life.
Friends were also on Tavolieri's mind, who said one of his friends had just told an embarrassing story in front of his kids. "There's no proof of that!" he said. "There was no social media back then."
Tavolieri, who met his wife Dawn at UConn, said she would go to the library to study; he went to sleep.
But on a more serious note, he said as that as a recruiter he believes today's students are brighter, smarter and better scholars than ever before. He urged alumni to take the time and energy to give back to UConn to be a part of its upward trajectory.