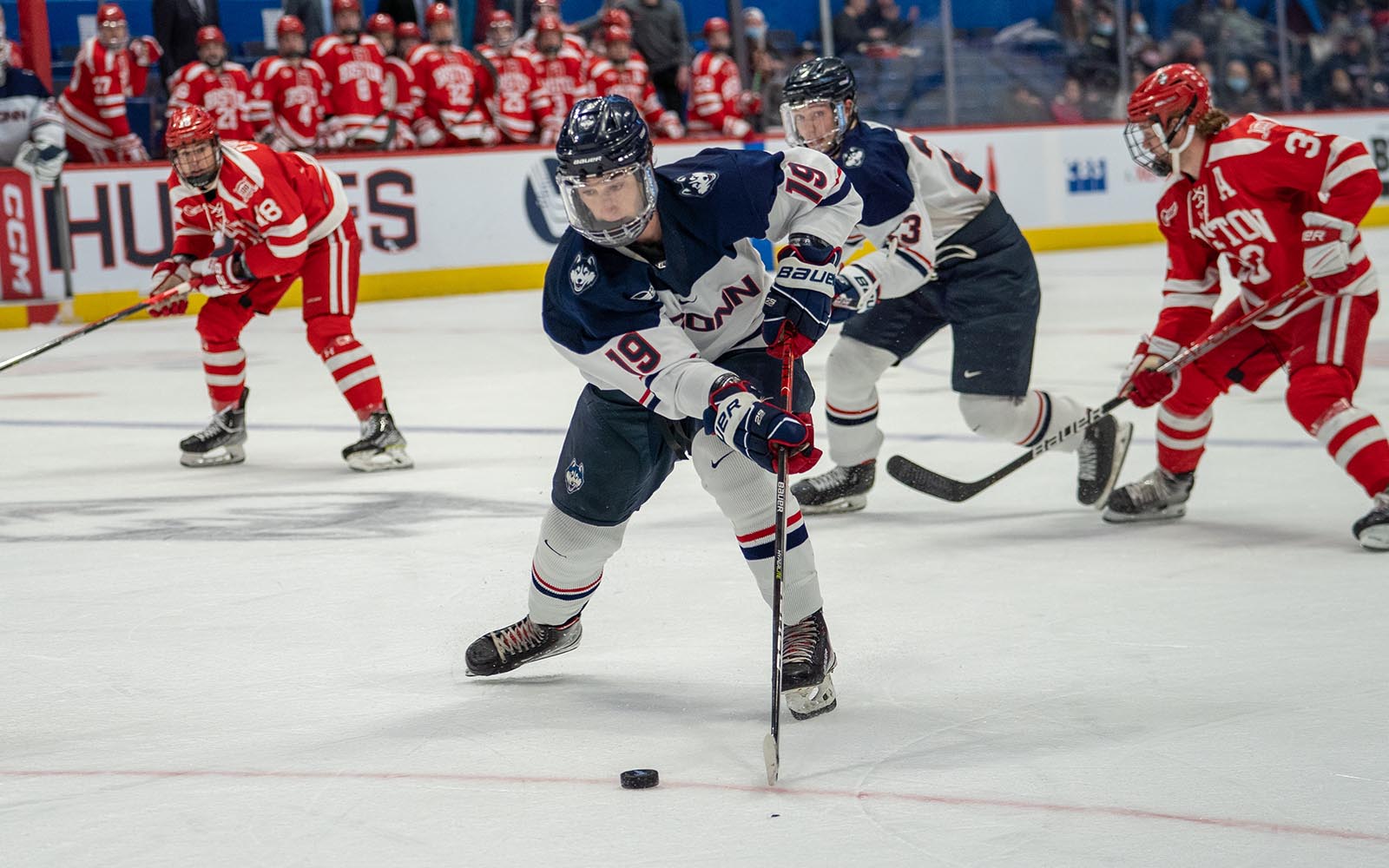 During what should have been the pinnacle of his college hockey career, as a forward for the Yale Bulldogs, Kevin O'Neil had to accept the biggest defeat of them all—the Ivy League teams canceled the 2020-21 season due to the pandemic.
O'Neil said he felt more than a little lost.
"For almost 20 years of my life, I'd played hockey every day,'' he said. "It was weird not to go to the rink. Our volunteer assistant coach helped us get some ice time, so we could workout, but we had to come up with our own drills.''
"I just wasn't finished playing hockey,'' said O'Neil, who played in 94 games for the Bulldogs over three seasons, scoring 17 goals and 27 assists. "Right away I started looking at different schools so that I could take advantage of that fourth year of eligibility.''
Now a UConn Husky, O'Neil wears the No. 19 jersey on the ice, and is working toward his master's degree in Financial Risk Management at the School of Business' campus in downtown Hartford.
"Today I use my experiences from Yale when we're at a team meeting. I want to bring some enjoyment to the team,'' he said. "It's not easy practicing almost four hours every weekday, and then playing games on the weekends. But I try to bring a great attitude to the team and to my teammates, because I know it could all end tomorrow.''
That hasn't been lost on men's ice hockey head coach Mike Cavanaugh.
"Kevin has been a terrific addition to our program. His maturity level on and off the ice has been exemplary,'' Cavanaugh said. "He brings great energy to practice and the locker room every day."
Hoping for Tournament Play
The Huskies won their game against Merrimack by a score of 6-2 on Tuesday, capping their fifth straight Hockey East victory.
"It feels great. The team is happy and everyone is very excited. It's all coming together,'' O'Neil said. "We learned some things the hard way early on, and guys have stepped up. We're peaking at the right time.''
O'Neil came from a family that enjoyed the outdoors and he was three or four when he learned to skate in his hometown of Latham, N.Y., north of Albany. By age 5, he was playing hockey. The O'Neil family had a backyard rink that he and his friends would use, and neither snow nor cold weather deterred them.
At age 13, when his local hockey team disbanded, O'Neil and another player joined a team in Syracuse, some two hours from home. "It was a big commitment for my family, and I think at that point hockey changed from recreational to something more serious,'' he said.
He attended high school at Albany Academy before being recruited by colleges, including Yale, where he majored in physics. The four years that O'Neil spent as a Bulldog were some of the happiest in his life.
But late last month, when Connecticut's four NCAA Division 1 hockey teams met for the Connecticut Ice Collegiate Hockey Tournament in Bridgeport, O'Neil had a moment when his two worlds collided.
UConn and Yale had adjacent locker rooms, and O'Neil was having a pre-game snack when he ran into his former coach.
"I didn't think it would be that weird, but it was harder than usual to get motivated,'' O'Neil recalled. "Obviously, I root for Yale when I'm not playing against them. It was a little awkward at first, but cool to see him and catch up.''
UConn defeated Yale, by a score of 5-1, including a goal by O'Neil. The team continued on to play Quinnipiac, which had beaten Sacred Heart. Ultimately Quinnipiac walked away with the trophy.
With seven games yet to play, the team is hoping for a playoff invitation and, ultimately, to play in a national tournament.
Hockey First, Then Finance
"I want to play professional hockey for the next three years, but ultimately my degree will allow me to plan my career. I'm going to have to work at some point,'' O'Neil said, laughing. "It has been cool to progress in hockey and my business career at the same time.''
O'Neil's father is an accountant and former CFO, so his son grew up with discussion of finances at the dinner table.
"I'm interested in the stock market and the intricacies of what makes it move,'' he said. "I am curious about how people invest their money and how those investments set them up for financial wellbeing in the long term.''
O'Neil lives in Storrs, but attends classes in Hartford. His demanding schedule requires him to stay on top of his course work. But playing games in Hartford is a good meeting point for his parents and his older sister in Boston, who attend almost every home game. Some of the die-hard fans from Yale have even attended his UConn games.
O'Neil said he's not superstitious, but has a consistent pre-game playlist, highlighted by "The Nights'' by Avicii, and a habit of taping his stick at the same time. His hockey hero is Artemi Panarin of the New York Rangers.
"I wouldn't say I get nervous before a game, but maybe some pre-game jitters in warm ups,'' he said. "But once you get on the ice, it all goes away.''
O'Neil said he's enjoying his time at UConn but he misses the variety of food options he had in New Haven. Living in Storrs has forced him to learn to cook, which he says is a good thing, and his new signature dish is Italian sausage with peppers and onions.
His former teammates at Yale included a bunch of pranksters, and it was tradition for the equipment guys to take a freshman's jersey and stick it in the net during the first road trip.
At UConn, the team is less prone to antics, but the players are very close and often hang out together.
"We play videogames together, like 'NHL 22' and 'Fortnite,' '' O'Neil said.
Really? More hockey?
"You can never get enough hockey,'' O'Neil said.