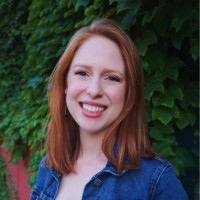 Emily Vasington '16 came to UConn confident that she had a passion for marketing. During her undergraduate career, Emily joined the professional marketing and sales fraternity Pi Sigma Epsilon (PSE). Through her membership in PSE, Emily gained appreciation for the variety of areas within marketing and specifically enjoyed gaining exposure to consumer marketing and brand management. Emily later served as the president of PSE, which she shares allowed her a unique opportunity to interact and share her passion for marketing with other students while learning how to manage, recruit, and oversee an organization.
Emily accepted a Brand Management internship at Whirlpool during her junior year. After a successful summer interning in Benton Harbor, Michigan, Emily accepted a full-time offer to return to Whirlpool as an Assistant Brand Manager on the Maytag brand. In this role, Emily assisted in the successful launch of new products by establishing a positive brand image with consumers. While working on the launch of new products, it is imperative that brand managers successfully demonstrate the differentiation and value of a product over competitor offerings. A successful launch will help determine the future of the product and increase brand equity.
After two years on the Maytag brand, Emily challenged herself by accepting a new role within Whirlpool on the 'Internet of Things' team. Emily worked as an Associate Digital Product Manager on this team for an additional two years. Emily shares that this is her favorite experience thus far because it exposed her to new areas of the business and pushed herself outside of her comfort zone! In this role, Emily served as a liaison between business teams like sales and marketing and the developmental side of the business, such as hardware/software developers. One project Emily worked on during her time on the team was a re-launching of the KitchenAid app. This project was focused on rehauling the app to update the design, look and feel to better fit the brand image. Emily shares that was especially exciting being able to work on brand management products for Whirlpool because Whirlpool is a 100+ year old company. Modernizing the brand to compete with younger competitor companies was a special task for Emily.
To continue advancing her career, Emily has chosen to go back to school and is currently and MBA Candidate at Harvard Business School. Emily explains that she chose to go to Harvard because of their unique approach to the MBA Program. Harvard creates a general management experience rather than focusing on one area of business. This means that Emily is taking classes with all other MBA students, and can draw on the experience of students who have worked in diverse business roles in numerous industries. While specific marketing skills can be learned on the job, understanding how parts of the business work together and how to be a strong leader and imperative skills for any successful employee.
Emily's vast career experience has revealed to her the importance of trying new things and challenging yourself outside of your comfort zone. Emily advises all aspiring marketers, "Every career move is a bit like building your toolkit … Even if it seems risky, it's worth it…. When you push, you grow."