I have been sharing thoughts regularly since my return to the School of Business after 15 months in the Provost's office. In June, I reflected on George Floyd's death and in August, I urged us all to be active—to vote and to respond to the census. As I look at the election, the big news is fuller engagement. At this writing, we know that over 66% of eligible voters voted, well above the 60% engagement in 2016. We responded to the imperative to choose. Engagement is good for our democracy and our communities.
In September I spoke about our international students. Many international applicants could not join us in 2020 because they could not get visas or feared an unfriendly environment in the USA. We do not yet know how the change in the Presidency will change immigration policy nor how the evolving pandemic will affect our ability to deliver life transformative education. But change is coming and will have consequences for UConn and Connecticut. We must anticipate change and involve our alumni, students, and applicants in managing that change. We appreciate your engagement with us on this journey.
Innovation and change are central to our forward progress. Online learning is not perfect, and we eagerly anticipate a return to a more human-touch experience. However, our virtual tools and creativity have allowed us to do exciting new things. Our faculty responded to the global pandemic with speed and agility, transforming a semester in mid-flight and creating a new course on COVID-19, exploring its impact from vaccine development to its impact on business. Some 4,000 students—a UConn record—enrolled in the course.
Our Business Law program answered the call for equity and inclusion by establishing the new Equity Now Speaker Series, featuring national experts. From their legal backgrounds they explore today's social issues with students, alumni, faculty, and staff. Our new UConn Geno Auriemma Leadership program provides graduate students with insights from accomplished executives and leadership-skills-based workshops. We have forged important new alumni-student mentoring programs in our Women in Business and Business Connections Learning Community programs. And we continue to bring prominent business leaders to share their experience with us, most recently, our alumnus, the former Walmart CEO Bill Simon '81, '88 MBA in October's Rosenberg-McVay lecture. Engaging our community in critical conversations is central to our role as a public, land grant, research university.
For our next conversation, please join me on Wednesday, December 9 for a Virtual Town Hall meeting for alumni. I'm excited to co-host this event with alumna Corliss Montesi '86. We will discuss the "state of the school" in a year of major change, and address topics that are timely and important to you. Please register today.
2020 has certainly been a year of profound, unprecedented global change. At UConn, we are meeting these challenges as a community, relying on science and knowledge to inform best practices. Doing so requires innovation, but also humanity and kindness.
Your help and support are critical to our success. Thank you.
Sincerely,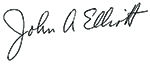 John A. Elliott
Dean and Auran J. Fox Chair in Business