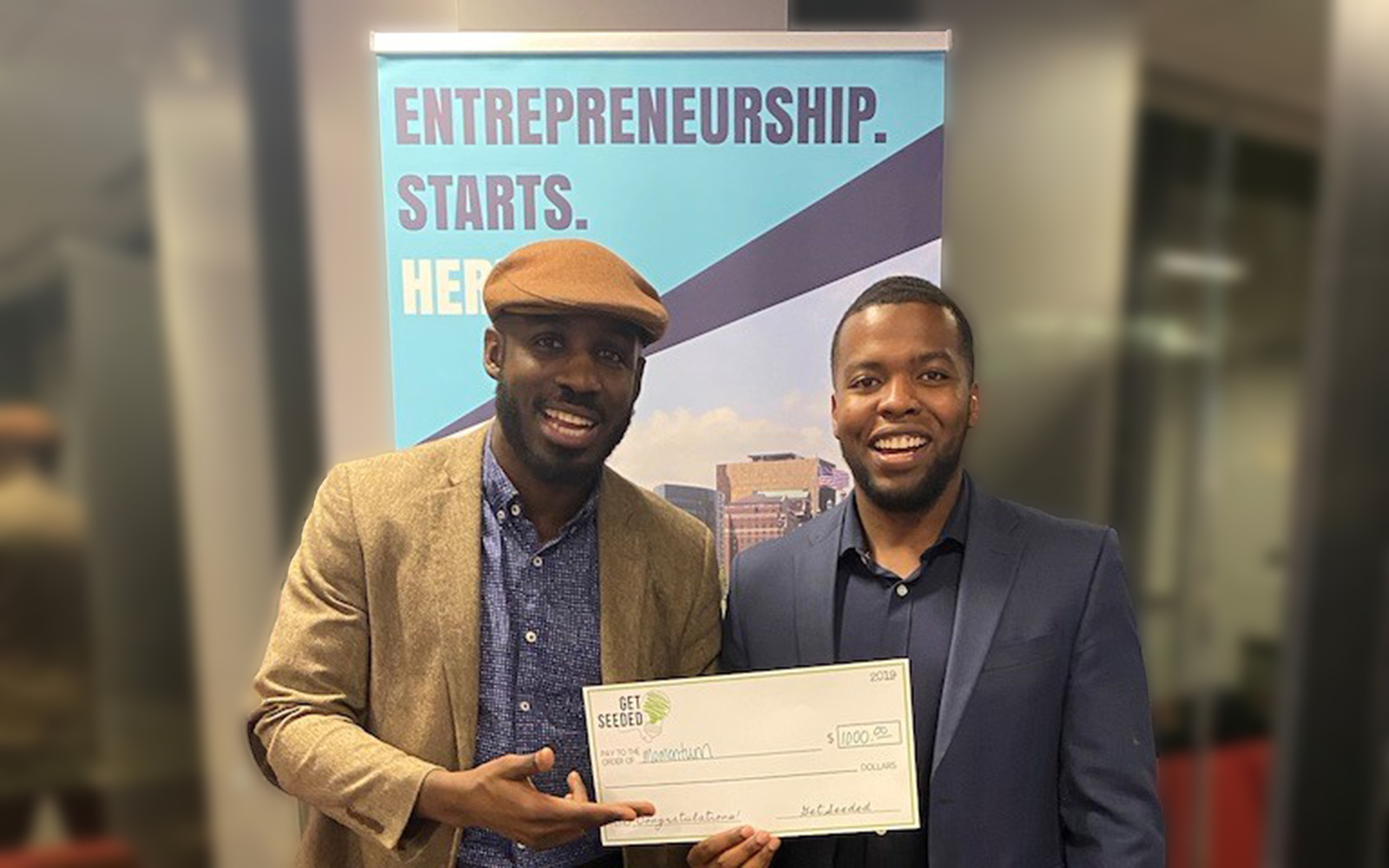 Startup Bridges Gap Between Struggling Students and Organizations That Help Them
The Florida high school that Janoye Williams was slated to attend was well-known for one thing: underperforming. In fact, it had earned an "F" rating among its peer schools.
Fortunately, Williams' strong test scores, combined with the help of a determined grandmother, enabled him to attend a prestigious magnet school instead and access a better education.
Before long, he realized his friends in the neighborhood were not getting a robust education, were unaware of enhanced career opportunities, and were not afforded any guidance to plan for life after high school.
"I felt like society gave up on my friends," Williams said. Now a Commodity Manager at Pratt & Whitney, Williams is completing his second graduate degree in business at UConn, and trying to make life better for teens who struggle.
Startup Advances to Prestigious Wolff Competition
Junity is a startup that Williams created with two close friends. The company is developing a mobile app that connects teenagers and guidance counselors with educational, employment and mentorship programs. The user will enter his or her zip code and receive information about opportunities close to home.
The company's target audience will be students from low-income areas and first-generation college students. They expect to start the service in Connecticut and then expand to other states.
"Our goal is to eliminate the disparity that exists today by becoming a bridge between students in need and the resources that can help them," he said. "We hope to inspire and motivate people to take advantage of the opportunities around them, and get them talking."
Williams recently completed the School of Business' Connecticut Center for Entrepreneurship & Innovation's Summer Fellowship and the startup's progress was so impressive that the founders were asked to compete in the School's prestigious Wolff New Venture competition in October.
"Through UConn we've been able to take our business to the next level," Williams said. "Summer Fellowship taught us how to tell our story to others and how to network with supporters. Thanks to the program, my calendar is completely booked. The mentoring, networking, advice, and support provided was invaluable."
'I'm Not the Only One Who Has A Story Like This'
Williams earned his master's degree in Financial Risk Management from UConn in 2016, and is now completing the MBA program. But he's also experienced some bumps in the road.
Williams moved to the U.S. from Jamaica at age 6. He and two siblings grew up in a single-parent home. He managed to do the FAFSA form himself, and that's when he discovered that his mother was supporting a household of four on just $23,000 a year. "We knew poverty," he said.
The magnet high school that Williams attended was only 7 miles from home but the bus ride was typically at least two hours long. He usually rose at 3 a.m. to get ready for school and didn't return until 7 p.m. Williams joined ROTC at Penn State University to finance his bachelor's degree.
He applied to hundreds of internships, had many interviews, and got many rejections because he didn't have the professional skills to make the right impression. Having a mentor to coach him through the interview process would have been enormously helpful, he said.
"I'm not the only one who has a story like this," William said. "Through my job at Pratt I learned about amazing organizations that are ready to help any kid in need, so why is it that youth continue to struggle? I hope that Junity will bridge the gap between local opportunities and the diverse pool of young, ambitious talent looking for a hand."
Williams is joined in the business by friends Chiziterem Uwaga, who has a background in product development, and Alula Shiferaw, who is versed in business development.
The startup is still in its concept phase, but is making significant progress. Through the CCEI invitation-only Summer Fellowship, the team identified customers and develop its business model. They've hired a project manager to assist with the app's development. Now they're preparing to host workshops to make sure they're ideas are in sync with what students need. They are also seeking a corporate sponsor for the software development.
The data gathering will be an enormous task, Williams said. "It's a huge undertaking because while some resources cover the whole state, there are many that serve just one or two cities. There are many organizations that offer wonderful services for youth, but it's a huge undertaking to link them all. Many are very niche programs. I think this will help organizations as well because they will discover areas where there is duplicity and can pivot. Ultimately this can serve as a catalyst for community engagement."
Williams, 28, said he doesn't mind juggling the startup with his job, coursework, and buying a new home.
"Junity is one of my main passions; it doesn't feel like work to me," he said. "I'm someone who is at peace when he has a lot to do!"
Junity is one of five startups competing at the Wolff New Venture competition on October 19 from 5 to 7:30 p.m. To learn more about the competition or to watch Junity's live presentation, please visit: https://ccei.uconn.edu/wolff-new-venture-competition