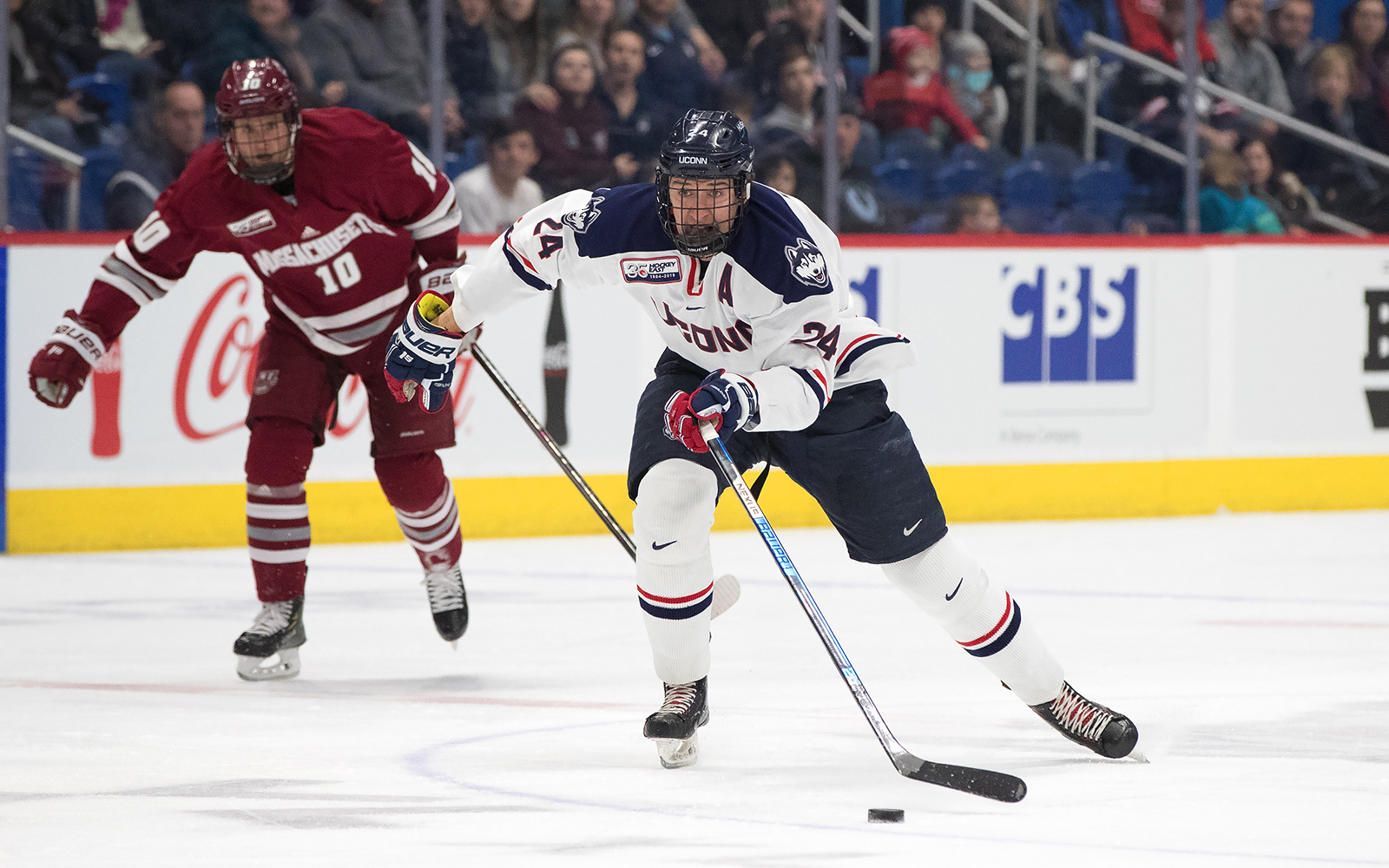 UConn men's hockey co-captain Ben Freeman said it's hard to describe the feeling when the puck sails into the net, the red goal-light glows, the horn wails, and the crowd roars.
"But I can tell you that scoring a goal is one of the best feelings in the world, and seeing the puck push the net back is something special," said Freeman, 23. "Next thing you know, you're surrounded by your teammates, and everyone is screaming."
"I never go into a shift saying, 'I'm going to score,'" said the 6-foot-5 forward, who is majoring in healthcare management in the School of Business. "I just focus on what I can control and on being the best player I can be."
Last year, as a junior, Freeman played in all 34 of UConn's games, scoring seven goals, including three power-play goals, and nine assists. On the ice, he wears No. 24.
He and co-captain Wyatt Newporter are leaders of a young hockey team, in which 19 of the 27 players are underclassmen.
"If our team is down, I try to bring a lot of energy, and show the rest of the team that we're not giving up," Freeman said. "I try to lead by example, by pushing myself to excel on the ice and off, in the classroom, and on campus."
Hockey head coach Mike Cavanaugh described Freeman as both humble and grateful, traits Cavanaugh has also noticed in his player's parents. Freeman has the ability to handle various situations well, Cavanaugh said, and that has been a benefit to his teammates.
"Ben is a very calm, cool and collected guy. One of his greatest strengths is that he's that way every day," Cavanaugh said. "He's a calming influence in the locker room if players are uptight about an exam or about the amount of ice time they're getting. He's very well balanced and a well-rounded individual, and that's something we stress here. Hockey, academics, a social life…if one of them is out of balance everything else is thrown off."
First Hockey Practice Didn't Go Well
Those who have known him the longest weren't initially sure that hockey would become Freeman's passion.
"I think I started playing hockey from the time I could walk," said Freeman, who grew up in Falmouth, Maine. "My dad [Paul] and his brothers played hockey for fun, and by the time I was four or five, he had built a rink in our backyard."
"My parents tell me the first time I played, I hated it," he said, laughing. "But I don't remember that at all."
He also played soccer in high school and was captain of the baseball team, but hockey was always his favorite sport. He never wanted to play anything but offense, because, for him, the excitement is found in the chance to score.
Freeman played two years at Falmouth High School and then three years at Northfield Mount Hermon School in in Gill, Mass., a preparatory school 50 miles north of Springfield. When he began looking at colleges, UConn was the best fit both academically and athletically. Even though his younger brother, Jack, is a student at Boston College, the family all cheers for the Huskies, regardless of opponent. His parents are regulars at the games.
Playing at UConn, where the team is part of the NCAA Division I Hockey East Association, is more physical and more demanding than high school hockey, said Freeman, who weighs 205 pounds.
"One thing that's drastically different is the speed of the game," Freeman said. "Because it is so much faster, you have less time to make decisions with the puck. You have to be ready to go."
Freeman is proud to say that he has all his teeth, and that his worst hockey injuries have only been bumps and bruises. Head strength and conditioning coach Moe Butler prepares the players for the physicality of the game, while Cavanaugh prepares them to be resilient, disciplined and mentally tough, Freeman said.
His parents taught him to never quit and to strive to continually improve. "In tough times, just know things are going to get better," is an outlook that Freeman said he learned from them.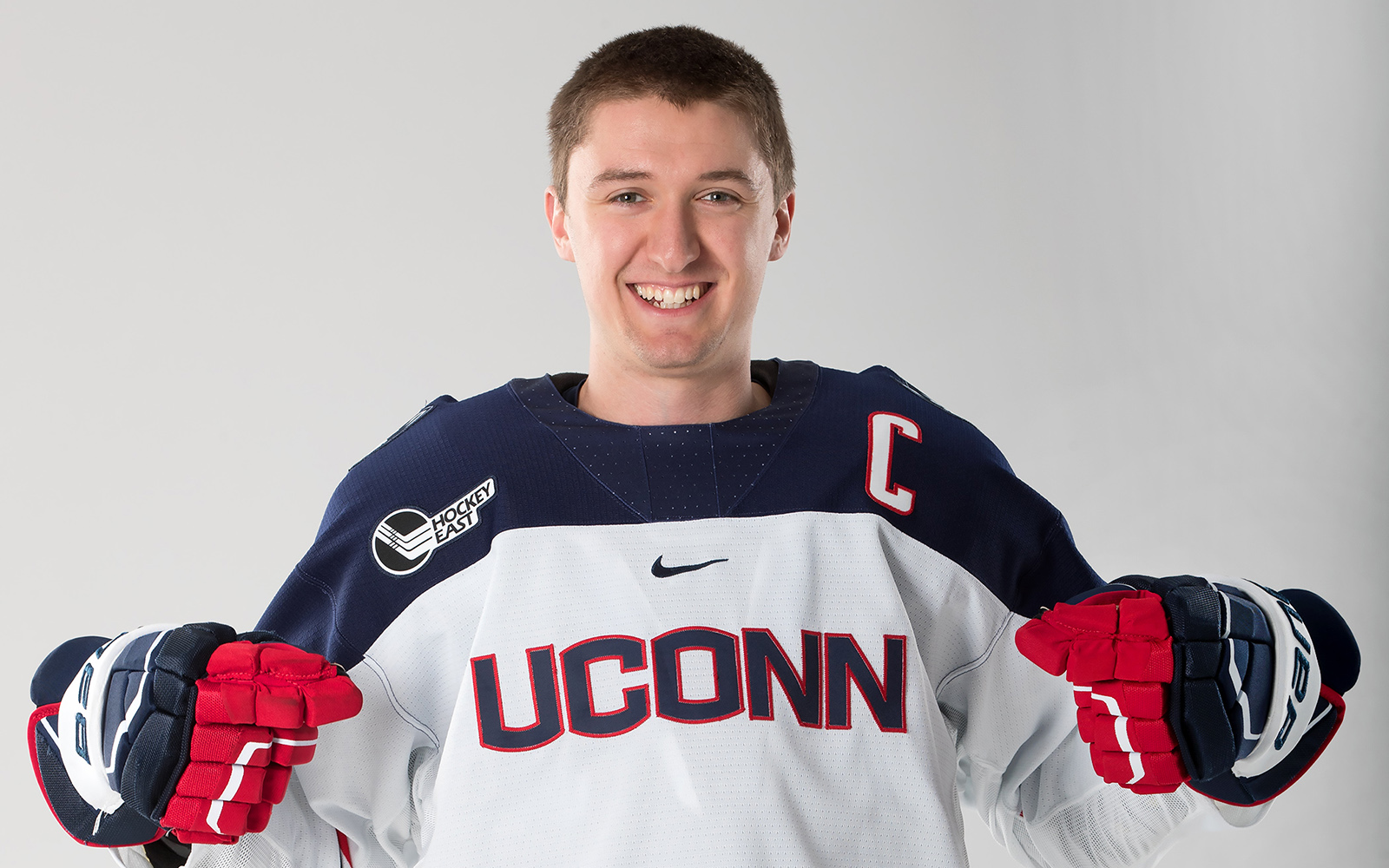 Hockey First, Then A Career in Healthcare
After graduation, Freeman hopes to play professional hockey. But once his skates are hung up for good, he said, he is well prepared for a career in business.
For as long as he can remember, Freeman has made it a priority to take care of his body, eat right and follow a training regimen. His inspiration came, in part, by watching his mother, Theresa, work as a physical and massage therapist.
His passion for wellness and interest in business led to his career choice. One day he hopes to become a hospital administrator.
"I know I got a great business education at UConn, but, just as important, employers know it too. The Business School is on the rise and gaining traction in the business community," he said. "When we have speakers come in from prominent businesses, they are just as excited to meet us."
Freeman said he has been too busy to think much about the twilight of his UConn career. But he thinks he will most miss seeing his senior teammates every day.
"I'd say our camaraderie built naturally after spending three to four hours a day together," he said. "We like to hang out after practice and have fun. We've become like a family and they're like my 'other brothers.' We've been through so many ups-and-downs together. Not having them around every day, I think that's what I'll miss the most."
'Come On Out and See Us Play!'
The team typically practices Monday to Thursday, up to three hours a day, and then has games on Friday and Saturday nights. Sunday is the recovery day.
Despite the busy schedule, Freeman said he and his teammates find plenty of time to enjoy a college social life. "We have fun just like everyone else," he said.
In his free time, Freeman likes to read to students at area elementary and middle schools. "The kids love meeting a 'real, live UConn student in the flesh,'" he said. "We ask them who wants to go to UConn and they all raise their hands!"
Freeman said he wishes he was going to be on the hockey team when the new, $45-million arena is built in Storrs, adjacent to the Freitas Ice Forum. Construction on the 2,500-seat arena is slated to start next fall and will take about a year, with a tentative completion date of Fall 2021. "I'll definitely be back to see it when it opens," Freeman said.
With his northern roots, Freeman said his favorite of opponent has always been the University of Maine. "Although I don't have any friends on the team, when we play UMaine, I get fired up!," he said. "I grew up going to those games, so it's a special rivalry for me."
Freeman urges students, faculty and staff to support the team when it plays at the XL Center in Hartford.
"I know it's hard to get to Hartford sometimes, but I want people to know this is a resilient team," he said. "We're early in the season and we're building up. Come on out and see us play!"