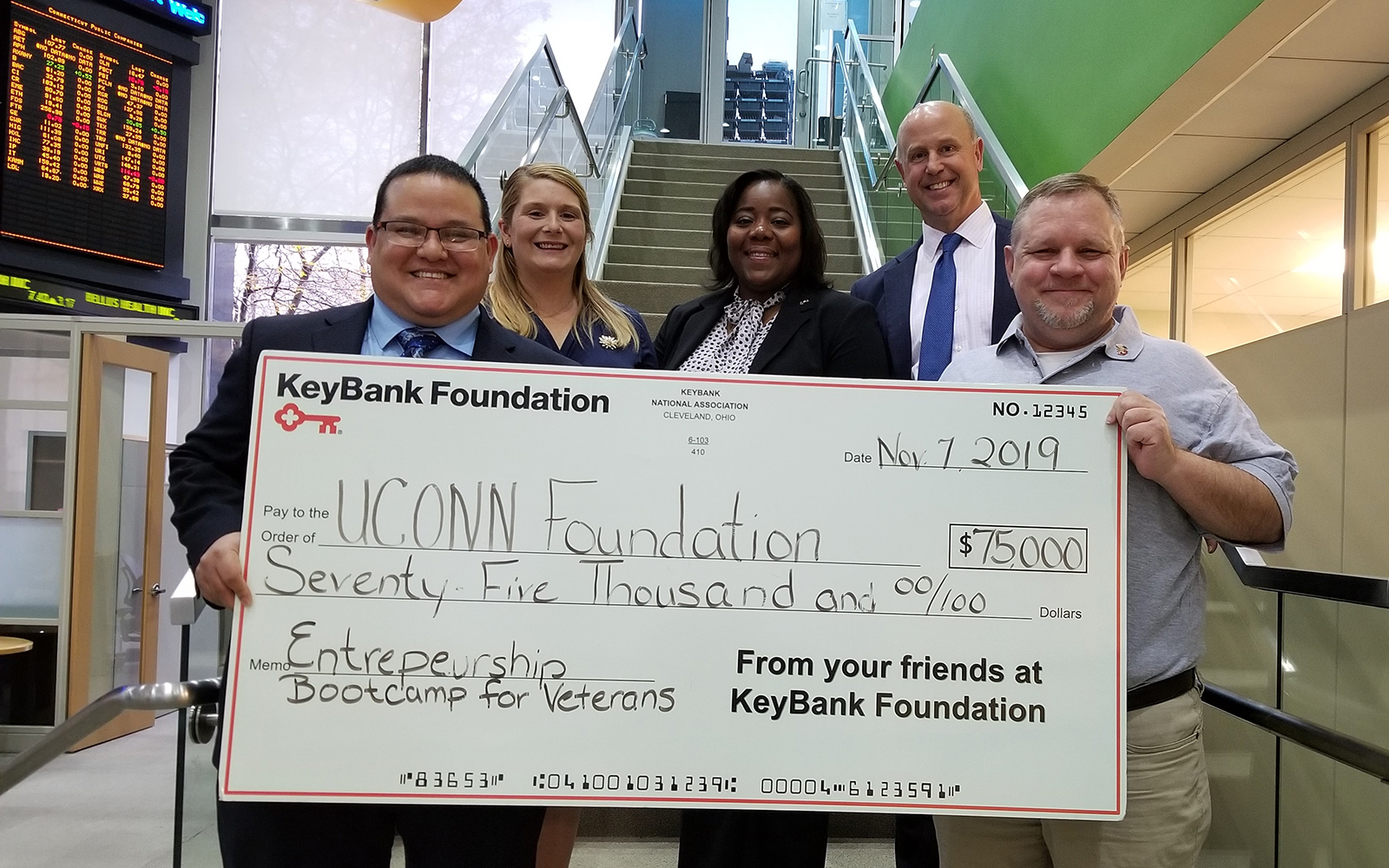 The KeyBank Foundation on Thursday presented a $75,000 grant to UConn in support a School of Business program that helps U.S. military veterans become small-business owners.
The Entrepreneurship Bootcamp for Veterans (EBV), established at UConn 10 years ago, educates and mentors U.S. military veterans as they launch their first businesses and continues to offer support as they grow. Offered at no cost to participants, the program includes online coursework, an intensive 10-day, on- campus "business bootcamp" experience and additional advising.
KeyBank's Connecticut Market President James R. Barger, a U.S. Navy veteran, said the program has established its value. To date, the EBV has graduated more than 200 veterans and caregivers who have launched 175 businesses, created 430 jobs and generated $150 million in gross revenue.
"We are impressed with the caliber of UConn's program and the results they've achieved, and we are proud to support it," Barger said. EBV Program Director Michael Zacchea, a U.S. Marine veteran, attended the ceremony along with EBV graduates and board members.
The 2019 class, which graduated in August, includes 19 veterans and one caregiver, 14 of which are from Connecticut. Several of the class members were wounded in combat. Among the cohort was U.S. Navy veteran Jorge Rodriguez, and his wife and caregiver, Jessica Rodriguez, who have used what they learned in the program to launch Bees with Purpose in Griswold, Conn. Jorge's military career was cut short after being injured during his deployment to Iraq. He found a new sense of purpose and a new career path in beekeeping. The couple attended Thursday's ceremony.
"The EBV has given Jorge and me the opportunity to pursue our dream of starting a business. After Jorge was wounded in Iraq, his brain injury compromised his ability to speak and walk, and we as a couple both had to adjust greatly. He couldn't work, and I left my job to become his full-time caregiver," Jessica Rodriguez said.
"As he recovered, Jorge developed a passion for beekeeping and we found that this hobby gave him a new way to connect with others…and develop a new sense of purpose.
The program continues to grow and change to meet the challenges of incoming classes.
"We are now entering a new phase for veterans reintegration," Zacchea said. "The class next year will be 20 years from the tragic attacks of 9-11. We expect we will begin seeing older veterans who are transitioning out of careers that began as a result of 9-11, many with significant, life-long health issues looming before them. They are veterans of multiple combat tours in Iraq, Afghanistan, North Africa, and other places."
"Our mission in the next 10 years will be to help transition those retiring from the long-term military posts into civilian careers than can sustain them and their families going forward," he said. The EBV is currently recruiting candidates for its 2020 program, and classes will begin July 6, 2020.