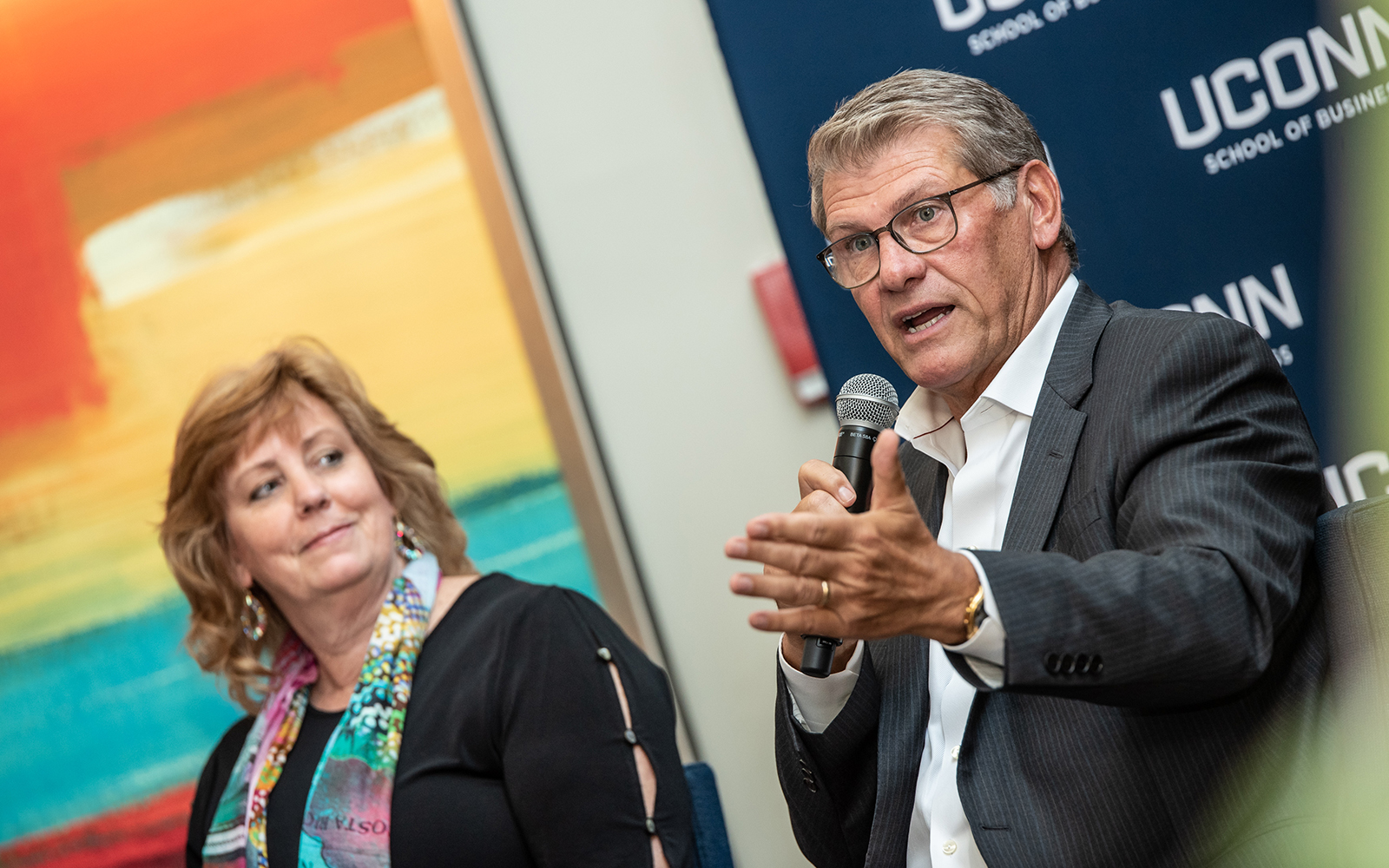 Embrace disruption or be left behind.
That was one of the powerful messages shared by World Wrestling Entertainment (WWE) Co-President George Barrios '87, '89 MBA, one of the keynote speakers at the Geno Auriemma UConn Leadership Conference in Stamford, Conn.
"Don't do the right thing. Good isn't good enough. Do the brave thing," said Barrios, whose organization has thrived after a complete digital transformation. "What seems ridiculous one minute seems ingenious the next."
The theme of this year's conference was "Leading in Complex, Uncertain & Ambiguous Times." Some 150 executives and rising managers attended the two-day event, which featured 15 C-Suite experts from a broad range of industries, spanning aerospace, food, fashion, and entertainment.
'Insight We Never Had Before'
At media giant WWE, the company's embrace of big data is so sophisticated it can pinpoint your favorite wrestler, what device you use to watch wrestling events, and even the places where you rewind the match and watch it again.
Innovation has reinvigorated the Stamford, Conn.-based company from its Hulk Hogan days to a mega-giant now valued at $6 billion. Its growth has been generated by its transformation to one of the most successful multi-platform media businesses, leading in traditional, digital, social and direct-to-consumer programming.
"We use data to understand what fans love," said Barrios of the network's 2 million global subscribers. "Our digital transformation has given us insight we never had before. It has made us smarter."
Rapid-Fire Change is Everywhere
Each speaker shared a story of dramatic change, but perhaps none more powerful than Akhil Johri, Executive Vice President and CFO of United Technologies. The company is spinning off its Otis Elevator and Carrier air conditioning subsidiaries while simultaneously preparing for a merger with Raytheon.
"It's exciting, scary, and crazy," he said. But UTC's vision is to be the premier aerospace and defense company, and that requires a perspective that isn't distracted by other initiatives. "Focus drives performance," he said.
At YouTube, where alumna Liz James '08 is the Global Head of Unskippable Curriculum, some 400 hours of content is uploaded every minute. For advertisers, that has created an urgent need to stand out among the competition.
"Despite what people think, attention spans aren't shrinking; you're just seeing the viewers' preference for good content," she said. "We help our advertisers to be 'chosen' out of all the content out there."
Finding the Right People is Key
Geno Auriemma, the head coach of UConn Women's Basketball Team, hosted the event, which he created after recognizing the need for a high-level leadership conference in Connecticut. While winning 11 NCAA championships, Auriemma said he has learned the importance of recruiting and building an unselfish team.
"It's not those who got away that will hurt your success; it's bringing in the wrong people," he said. "When you're recruiting, get the right people and don't compromise."
Geoff Tracy, an entrepreneur and restaurateur who owns half a dozen restaurants in Washington, D.C. agreed. He described a member of his wait staff who served drinks to a couple that wanted to sit outside, under an umbrella, despite a downpour.
"You've got to empower your teams to make good decisions. My best employees are entrepreneurial and infinitely adaptable," said Tracy, a West Hartford native. "They are making the calls and, most importantly, coming up with solutions."
Alignment, Honesty Make Great Leaders
Several of the speakers addressed the challenges of leading in times of great uncertainty.
"When there is turmoil, that is when there is the greatest opportunity to be a leader," said Dawn Hudson, one of the keynote speakers. She drew on her experiences as the former Chief Marketing Officer of the NFL and Former President of Pepsi North America.
After a player battered his fiancée, the NFL partnered with the "No More" organization, which fights domestic violence. As a result, prominent NFL players presented strong anti-violence messages. The organization even gave "No More" air time during the Super Bowl.
"Get a point of view, get people on the same page and do something different," Hudson said.
A leader has to be out front with a driving message, added alumna Joanne Crevoiserat '85, CFO of Tapestry, the parent company of Coach, Kate Spade, and Stuart Weitzman.
"As you lead through turbulent times, communication is the most important elements. Address sticky issues, don't dodge them," she said. "Help people understand their roles, whether that's driving revenue, making better jeans, or improving distribution. People come into work every day and want to win."
While difficult decisions will always exist, the key is that all sides be heard, said Tina Thornton, Senior Vice President at ESPN. When the debate is over and a decision is made, everyone needs to be committed to the course of action.
"When making decisions, I use my boss' motto: Discuss, Debate, Decide, and Align," she said. "The more aligned your team is, the more successful you'll be."
Don't Forget the Short Term as You Prepare for the Marathon
Alumnus Patrick Harris '70, former Chief Financial Officer of the LA Lakers, talked about how that organization transformed from a successful basketball team to an entertainment phenomenon.
"We realized we were not selling basketball. We were selling entertainment. Most people wanted to see the fast breaks and the dunks. We created 'showtime,'" he said. "We'd invite celebrities and their guests to come to our games and sit by the court. Our motto was, 'If a visitor comes to LA and wants to see a movie star, they should go to the forum.'"
Alumnus Jon Pedersen '93, Senior Vice President and Chief Financial Officer of iHeartMedia Market Group agreed, and said that reinvention is critical.
"You take a talent like [radio personality] Elvis Duran or Ryan Seacrest. These are people who are passionate about what they do," he said. "They understand that their mission is to engage listeners. They work exceedingly hard at what they do and they care about their craft. They don't just have a great voice. They move along with the landscape."
In wrapping up the two-day conference, Professor Lucy Gilson, Associate Dean of the School of Business and the conference's Academic Director, urged the participants to bring their best to their job every day. People succeed when they are "passionate, persuasive, people focused, and persistent," said Gilson.
Auriemma agreed.
"I know you're all focused on the next big career move, but my big belief is that you should be the star of whatever you're doing today. Own it. Be the best that you can," said Auriemma. "If you do that, you'll never have to worry about your next job. People will be knocking on your door."