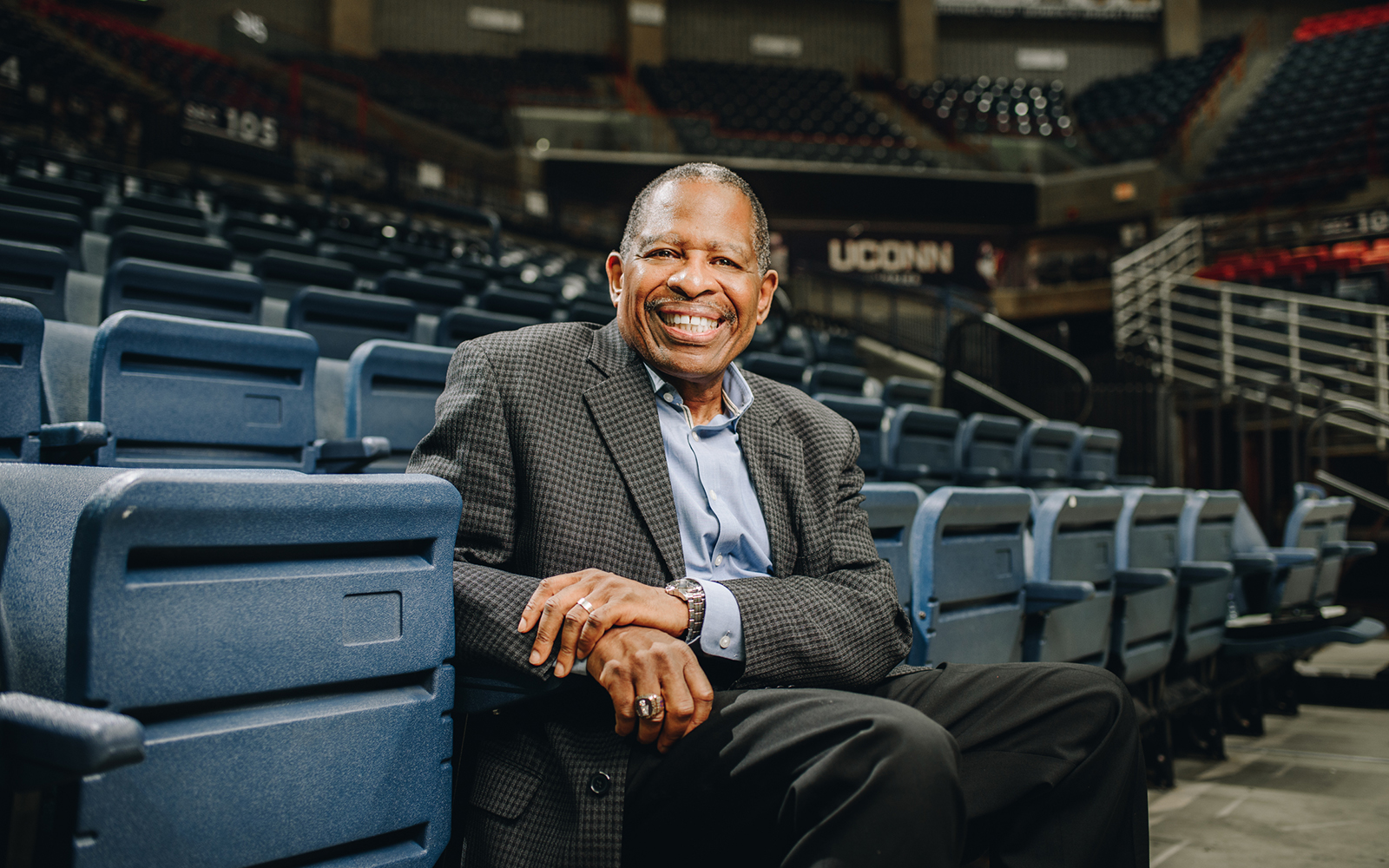 As a 10-year-old boy, Patrick Harris '70 (BUSN) cried when he realized his dark skin prevented him from being served at a Woolworth lunch counter in Bridgeport, Connecticut.
But the racial discrimination he encountered didn't derail his spirit for long. He went on to become one of the most powerful executives in the NBA, as Vice President, CFO of the Los Angeles Lakers.
On Tuesday, he returned to UConn to share the story of his success and some of the lessons he has learned. Harris was the guest speaker at the School of Business' Rosenberg-McVay Business Leadership Luncheon. More than 100 alumni, graduate students, and community partners attended Harris' presentation titled "Diversity: The Key to Becoming a Champion."
"I hope all of you take with you the spirit that I have – the belief that diversity will make you a champion in all that you do," said Harris, who graduated in 1970 with a degree in accounting, and was inducted into the School's Hall of Fame 30 years later.
A Different UConn in the Late 1960s
When he attended UConn, Harris was one of only two African American students in the School of Business. There were fewer than two dozen men of color on campus. He described his professors as his 'treasure' for their guidance, including urging him to apply for jobs at major accounting firms, whose names he had never heard.
Earlier this week, he addressed students from UConn's Scholars House, a living-learning center that supports male African American students.
"I said, 'Wow, this is a beautiful place to learn, have a social life, and enjoy the environment of being in school,'" he said. "Going to UConn, I'm not sure how anyone can NOT succeed…This is an icon of a university. I'm proud to be an alum and wave that flag," he said.
He said especially for first-generation college students, there is so much pressure to succeed that they'll often steer away from the business school, where the bar is set particularly high.
"You see, we're all running the 200-yard dash," Harris said. "But many African American students are running the 200-yard dash with hurdles!"
At the same time, minority people sometimes make life harder than it needs to be, he said.
"A lot of people want to help you if you allow them to. They want to support you to be the best you can be," he said.
For employees who find themselves working in a place that lacks diversity, the best approach is to strive for excellence.
"Excellence always shines," he said. "If you're good at what you do, and participate in extracurricular activities, you'll be known," he said. Learn to be a polished speaker so that, when you have something important to say, the audience is yours. "Then they'll all say, 'There's the best and I need the best.'"
Most Powerful African American Sports Exec
In 1983, L.A. Lakers owner Jerry Buss hired Harris as the vice president of finance, making him the first man of color to have such a powerful position in the sports world.
But for Harris, his "defining moment" had come earlier during a pivotal business dinner. He hadn't expected to do much more than dine with Buss and real estate developer Herb Simon, but suddenly Simon looked him dead in the eye and asked Harris why he should purchase the Indiana Pacers. Harris, always well prepared, was able to speak eloquently about the purchase and was well-versed in the finances and other appealing aspects of the sale, essentially sealing the deal. That dinner paved the way to the much-coveted job with the Lakers.
Harris, who brought Lakers' "swag" for the audience, said he often speaks to young elementary school students about their aspirations through a program called NBA Cares. Most of the kids hope to become professional athletes, and Harris likes to bring a prominent basketball player with him, often Jason Collins, who stands 7-foot-2.
"The kids are in awe. They're looking at him and he's a giant," Harris said. He then asks them how many want to be a sports franchise owner.
Then he shows them his NBA championship ring, something that Collins doesn't have.
"I say, 'The world is a lot larger than a basketball court,'" he said. "You can go to great heights by knowing numbers."
Seanice Austin, director of the Office of Diversity and Inclusion in the School of Business, said Harris' speech gave her much to consider. She will share his message with students, especially his willingness to accept mentorship and suggestions from others.
"I think Patrick was spot-on when he said we need to address and confront diversity and inclusion head on," she said. "And I think that is what our new President, Thomas C. Katsouleas, will be doing."