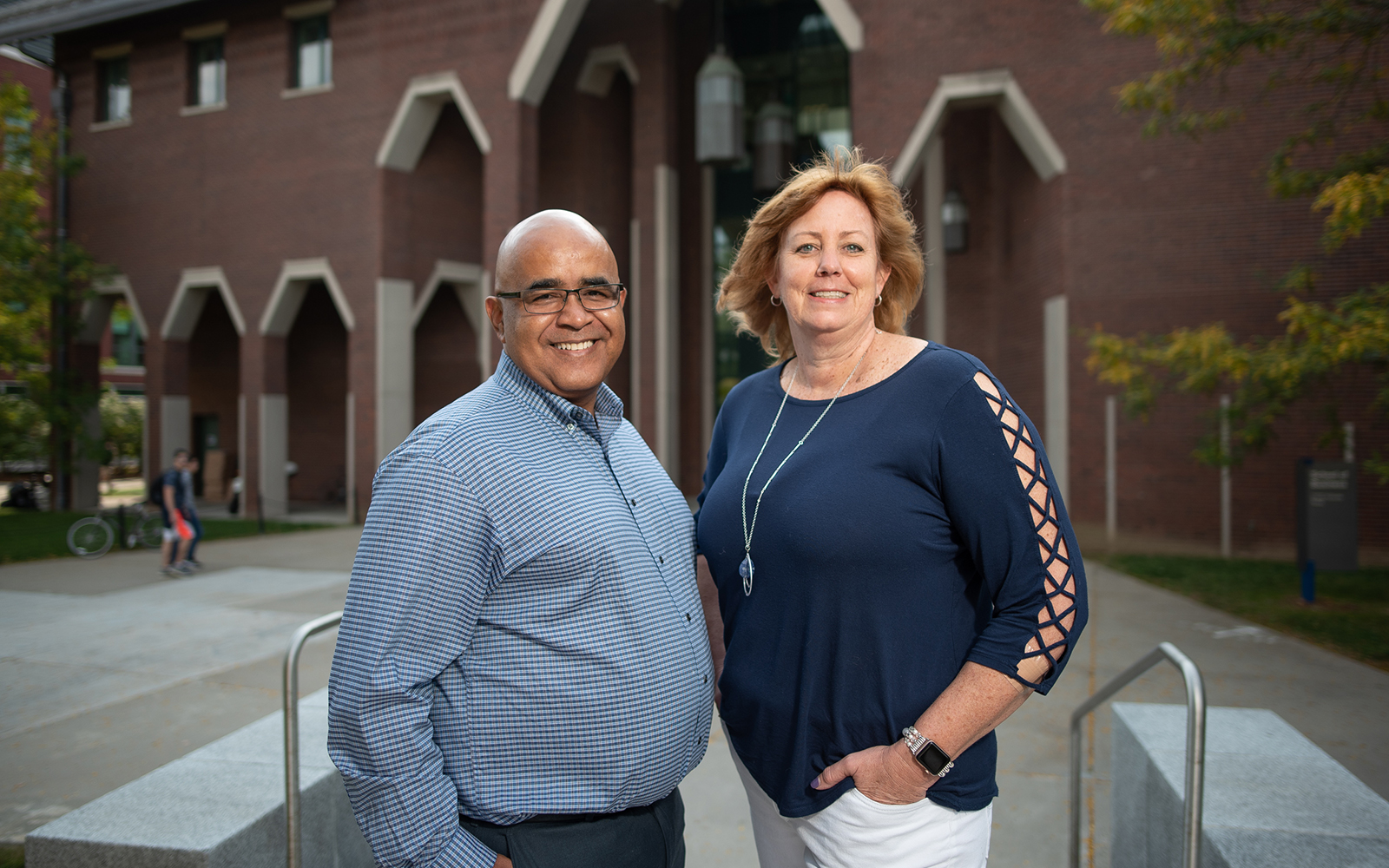 The School of Business has announced the appointment of Professors Lucy Gilson and Jose M. Cruz as new associate deans. They join Professor Bob Day in rounding out the three-person team reporting to Interim Dean David Souder.
Both Gilson, who had previously led the Management Department, and Cruz, who had been the director of the Graduate Program in Business Analytics and Project Management, have made significant contributions to the university over the years, Souder said.
"It is exciting to welcome them into the Dean's office to contribute their passion and energy on behalf of all students, faculty, and staff," he said. "They are the right kind of leaders for the School because they combine a deep knowledge of the traditions that have established our foundation with creative ideas for how to keep building on that foundation in the future."
Gilson to Spearhead Faculty and Outreach
Gilson is now the associate dean for faculty and outreach. She is also the academic director for the Geno Auriemma UConn Leadership Conference, visiting scholar at Universidade Catolica Portuguesa (Lisbon), and the senior associate editor of Group & Organization Management.
Gilson is internationally regarded for her research on teams and creativity, having published over 50 scholarly articles, book chapters, and editorials. She is soon to be inducted as a Research Fellow for the Southern Management Association, a subsidiary of the Academy of Management, which publishes the highly regarded Journal of Management.
"I'm thrilled to be joining the Dean's Office at such an exciting time for UConn. We have a new President who is focused on research and hiring talented faculty to propel our university forward. These goals squarely align with ours in the business school, where we already have a very talented, internationally recognized faculty, who excel at research, as well as in the classroom. Being given a green light to add to this base is always exciting," Gilson said.
Her responsibilities will also include outreach, and Gilson will be leading the school's Communications, Alumni, IT, and other outreach activities.
"We have great teams of talented people who are working hard to share with our alumni and business partners all the things that we are engaged in at the School of Business. This this is no small task. We have over 60,000 alumni spread all over the world, who want to know more about what we are doing," she said. "We need to communicate with them on an ongoing basis while at the same time continuing to build upon our strong relationships within the business community. This means increasing our social media presence while, at the same time, and somewhat surprisingly, boosting our face-to-face interactions."
Cruz Leads Graduate Programs
Cruz is an associate professor of Operations and Information Management and Analytics. Earlier this year, he received the AAUP Service Excellence Award, presented to only 10 faculty members at UConn annually. He has also received the School of Business' Ackerman Scholarship award twice, the Outstanding Graduate Teaching Award, Outstanding Undergraduate Teaching Award and Distinguished Service Award.
He is credited with helping to grow the MSBAPM program from about 50 to 500 students and for creating the high expectations that led it to be named among the Top 20 such programs in the nation. His colleagues have said that he is a hard worker who continuously challenges them to reach higher. Cruz has taught in the MBA, EMBA, MSBAPM and undergraduate programs.
His research is multidisciplinary, and combines his background and interests in management, engineering, computer systems and applied mathematics. Cruz's interest includes complex decision-making on network systems with a focus on global issues. He has published his research in the European Journal of Operational Research, Naval Research Logistics, International Journal of Production Research and more.
"As an associate dean for graduate programs, I see great potential for growth nationally and internationally for all our graduate programs," Cruz said. "I am excited to work jointly with great faculty and staff in building synergy across the programs (graduate and undergraduate), departments, and campuses. I look forward to helping with the sustainability of our programs and to continuing to make UConn School of Business a destination for great students and future alumni."