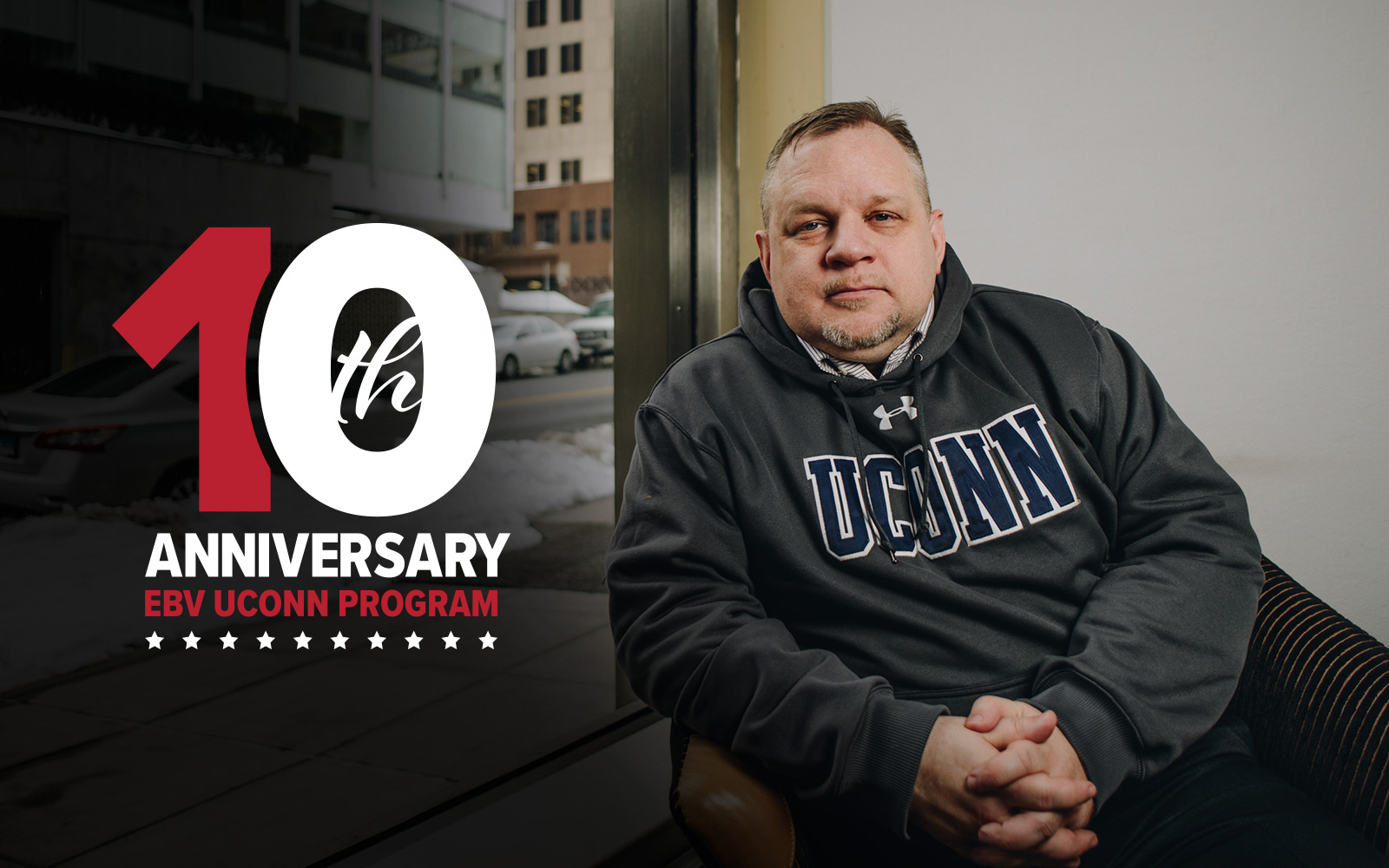 Tony Audette is a former U.S. Marine combat veteran, and award-winning industrial designer, who is using his degree in automotive engineering to start a custom-made, high-end motorcycling manufacturing company in Manchester, Conn.
Jorge Rodriguez, a combat-wounded U.S. Navy Corpsman, and his wife Jessica Rodriguez, a nurse and caregiver, are starting a beehive and honey franchising company in Griswold, Conn., called Bees of Hope.
And retiring U.S. Air Force Colonel Scott Cummis, a medical doctor who was severely injured when he was hit by a car and is now confined to a wheelchair, is starting a medical-device company in Washington, D.C.
They are some of the 20 graduates of the School of Business' Entrepreneurship Bootcamp for Veterans (EBV) program, who completed an intensive 10-day curriculum to prepare them to become small-business owners. The graduation ceremony took place on Aug. 18.
This year marks the 10th anniversary of the highly successful program, which also provides ongoing support as the veterans embark on their new careers. With this year's class, the UConn program now boasts 218 graduates. They have started 168 businesses, producing more than $145 million in gross revenues and more than 430 jobs. In addition, 34 EBV graduates have found career-track, full-time employment, and 21 have accessed career-track educational opportunities.
This year's class included 19 veterans and 1 caregiver. Twelve of the participants live in Connecticut and two more are Connecticut natives. Several in the class of 14 men and six women were wounded in combat.
EBV Director Michael Zacchea said the program will face new challenges in its next decade, as it serves an older and more battle-scarred population.
"We are now entering a new phase for veterans reintegration. The class next year will be 20 years from the tragic attacks of 9-11. We expect we will begin seeing a lot older veterans who are transitioning out of a career that began as a result of 9-11," he said.
"They will be veterans of multiple combat tours in Iraq, Afghanistan, North Africa, and other places. They will have significant, life-long health issues looming before them," Zacchea said. "They will be coming home to a country that has enjoyed a decade-long economic expansion, but to a country where it has become harder for veterans to access to start-up capital."
"At the same time, they will be retiring out of service to a country exhausted from a full generation of war, that has "moved on" from the immediate urgency of the wars," Zacchea said. "Our mission in the next 10 years will be to help those veterans retiring to reap what I call a 'peace-time dividend,' hopefully, as the wars end."